With this mod you can create your own custom made items within the game of Minecraft PE. Through a simple menu you easily customize your new to be item and you can even give it special abilities like teleportation, laser beam, knockback, no fall damage, hulk ability and more.
In the item editor there is also a set of predefined items to give you an idea of how the mod works.
Creator: _Sin0psysS_
Features
Customize up to 10 new items with name, name, texture & abilities
Items save when you exit the game
Almost infinite possibilities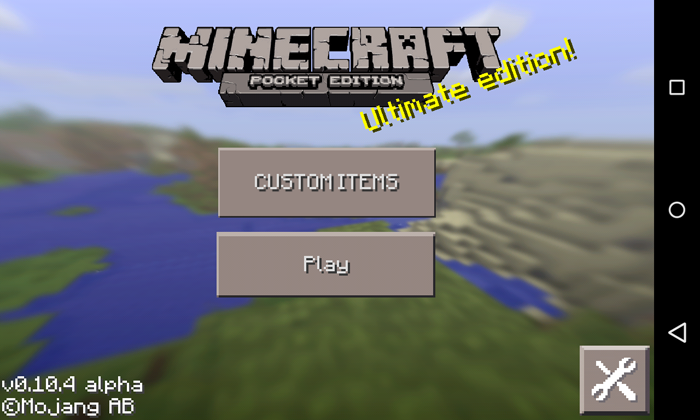 Predefined Items
Health Pack
Monkey Power
Teleporter
Magic Pickaxe
Double Jump Rocket
Laser Gun
Jetpack
Gold Powder
No Fall Damage Bucket
Creeper Sword
20 Abilities
Double jump
Teleportation
Speed
Instantly mine ores
Midas touch
Explosive touch
Invincibility
Regenration
Walk on water
Fly
MLG (avoid fall damage)
Monkey
Food
Hit damage
Fire Hit
Knockback
Hulk
Bow
Fire Aspect
Laser beam
How to customize an item?
Tap on the CUSTOM ITEMS button on the start screen of Minecraft Pocket Edition. Next a new graphical user interface (GUI) will popup. Select the first item button.
Make the specific customizations to the item and then click the Save button in the bottom of the screen to exit the GUI. Remember to enable the switch next to the Item #[number] button to make sure the new item is created.
A Few Explanations
Names: The custom item can be customized in many different ways. To change its name tap on the My Item 1 text and edit it to the name you want.
Max Per Stack: This is useful if you are creating a food item. It allows you to control how many items can be held in your hand at the same time.
Item Abilities: Think some before deciding on which abilities to combine. Monkey and the double jump abilities work fine together while jump and explosion obviously plans for failure.
Save! Don't forget to save your item before entering a world!
Install Guide
Click the download button in the bottom of this page.
Extract the _Sin0psyS folder in your download folder.
Extract the .js file and then use BlockLauncher to open it.
The menu got several different options to customize your own modded items.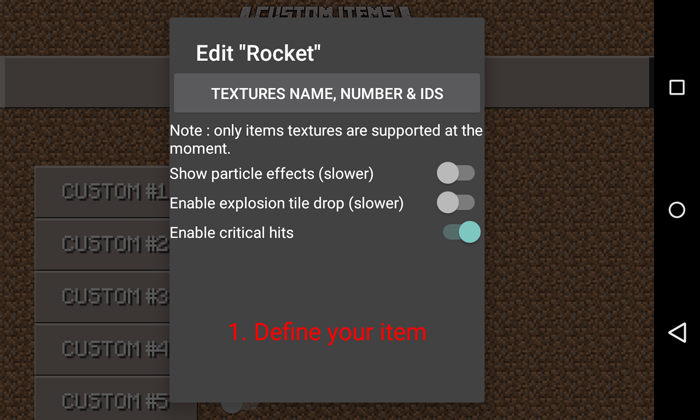 Here are a couple of different options you can select for your item customization.
Here you can see examples of items and some of the special abilities (e.g. the hulk and teleportation abilities) in action.