A multiplayer-compatible, UI-supported, and programmable(yikes!) worldedit-like addon based on Scripting API. Still in early development, so we welcome any advice – join our discord/QQ group!
Developed with ♡ by NorthernOceanS.
THIS PROJECT IS IN EALRY DEVELOPMENT SO IT ONLY HAS FEW FUNCTIONALITIES & MIGHT BE BUGGY.Share your idea & advice!
QQ group: 820683439
Discord: https://discord.gg/HUcknnV
Join our server to have a taste of it:114.215.181.102:19132
NormaConstructor is a worldedit-like addon that takes advantage of the Scripting API.
Download:
Navigate to the link provided below, and download the circled.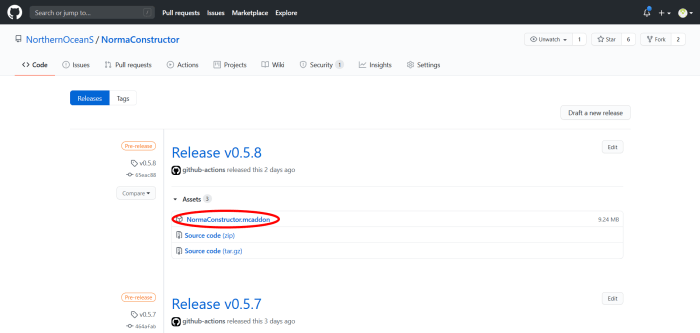 (You just need the latest version.)
Usage:
Type /function getTools to get the set of…well, tools.
Refer to the video to learn how to use it.
(I've already received complaints that the procedureis too complicated. There is a workaround now. Turn ON the options on the left side of the UI, so you can get multiple data with one click. For example, by turning all three of them on, you will just need to set the length, place a block and click with the stick.)
I mention that the addon is programmable, but I was too busy providing a documentation. If anyone is interested, contact me through discord/QQ.
Hope you like it.
Add a video to explain how to use it.
Minor adjustments to words and phrases.

Update supported generators.
Add more contacts.
Update supported minecraft versions.

Elaborate on how to use the addon & add a picture of UI as featured image.

Update the in-game screenshot as a picture for demonstration .

Downloads
Supported Minecraft versions
1.14
1.15 (beta)
1.16