The Nuclear Weapons Add-on replaces four items in Minecraft PE with things which are much more destructive. These weapons really test the explosion limits and some of them might even crash your game if you are on a less powerful device. But the worst thing that can happen is that you simply have to restart your game. Hopefully it will be enough to quench your thirst for destruction!
Creator: Tanzil
How to use the weapons?
The following items in Minecraft PE have been replaced with explosives and weapons which are much more powerful compared to before in terms of destruction.
Bow: Rocket Launcher
Snowball: Throwable Explosive
Egg: Grenade
TNT: Nuclear Explosive
The items are used just the same way as before but you will notice that the aftermath for each weapon is much different.
Here I tested the rocket launcher (which replaces the bow) and with just one or two shots I had destroyed the entire building.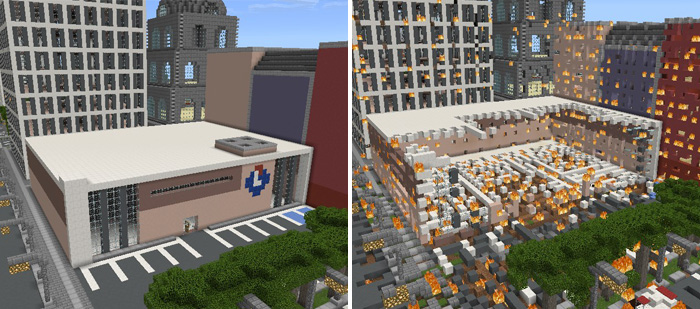 The nuclear explosives (replace the TNTs) are similar in destructiveness to the TNTs in Nukes PE. This TNT will most likely lag your game a lot. If you are using a less powerful device we would recommend you to avoid using this particular item as it might crash your game.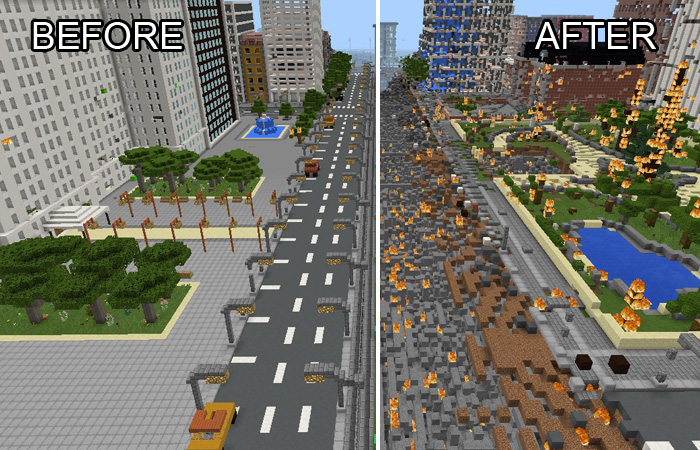 The other weapons offer similar explosions. To really get a feel for it we recommend you to download this addon and try it out for yourself!
Installation
Add packs for a world
Do you want to download it as a .RAR file? (It works just the same as a .ZIP file.) Click here.