If you think about it, obsidian is only used for nether portals, so why don't we make more uses for it? The Obsidian Pack brings new items, blocks, and weapons to Minecraft that can only be obtained by, well, obsidian. These new items are great for close and far combat, so why don't we get started…
The first item on the list is Compact Obsidian, which is the basis for all the new items. You can obtain it by putting obsidian in a blast furnace: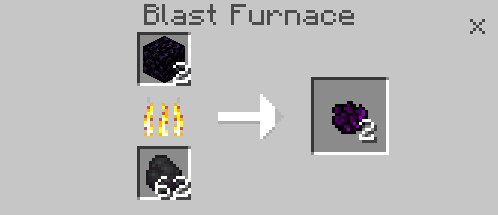 Now with this new substance, we can make all the new items and tools, so let's take a look at the second thing on our list…
Crystallized Obsidian:
This is a new ore. When obsidian and gases combine, you get Crystallized Obsidian! When you find this ore (which is anywhere under y=20) you can smelt it into Crystallized Obsidian: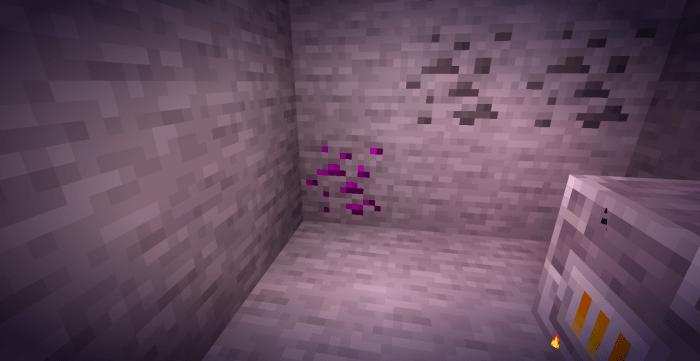 Obsidian Sword:
This new weapon is a hit and run weapon! One hit on most mobs kill them instantly! The recipe for this new OP weapon is: two compact obsidian and one stick: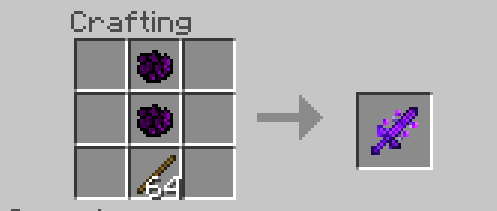 that is a cool looking sword, but that's not it…let's look at the next item…
Obsidian Mace:
Yes, you read that right, this brings the first mace to Minecraft! This mace is anything but small, in fact, it's pretty big, and might slow you down while carrying it! But don't worry, the heavy load is worth it, this mace takes 15 hearts from any mob, even the players! The Obsidian Mace's recipe is also small, so it's worth it…it is: two sticks and one Compact Obsidian: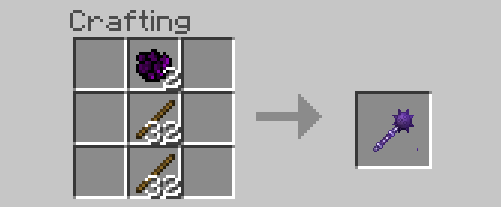 this item is, as I said, big and bulky…so let's meet its counterpart…
Obsidian Scepter:
This scepter is light weight and easy to carry, and what's better is that it is great for mining and gives you Conduit Power (the one that lets you breath underwater)! The technique for mining with this weapon is a little different…in fact very different…you just run into any stone or mineral and the block will break upon impact, pretty cool right? The recipe for this item has a little more to it, but is still straight forward, this includes: One Crystallized Obsidian, two sticks, and two golden nuggets: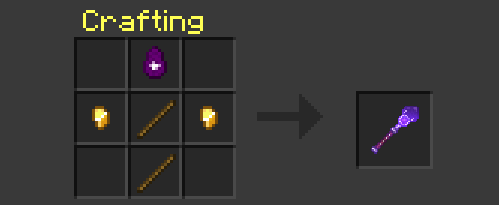 let's keep going…
Obsidian Bullet:
I know what you're thinking, 'Why in the world would I need a bullet, there are no guns!?!' and that is partially true. The bullet isn't exactly a bullet, it is a vile of Concentrated Obsidian that you throw at high speed, that as a result, has one of the biggest explosions in Minecraft history! The recipe is also (like everything in this mod) easy to obtain: One glass bottle and four Compact Obsidian: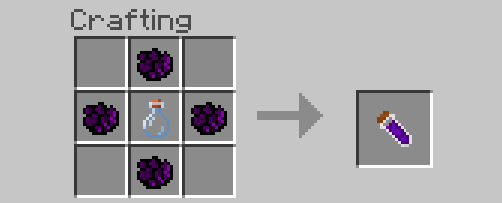 you might want to step back, or maybe back 10 blocks (it just depends on how attached you are to life) to avoid getting hit by this explosion.
Obsidian Soup:
This new super food is called Obsidian Soup. It gives you a fire resistance and a few other effects. The recipe is straight forward, and easy to obtain: One Bowl, and One Compact Obsidian.
Chiseled Obsidian:
This block, much like crying obsidian, has no purpose whatsoever except decorations. This block can be made in a crafting table, or a stonecutter.
Crafting Table recipe is: four flint and an obsidian block: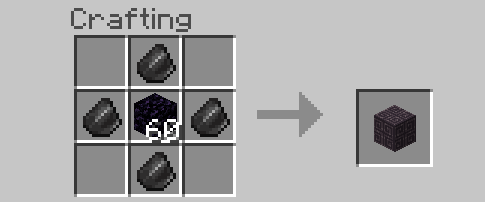 Stonecutter recipe is: one obsidian block: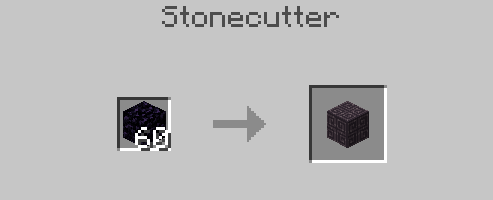 have fun decorating!
Miners:
These are a new kind of villagers that dwell in solitude on the tops of mountains or in roofed forests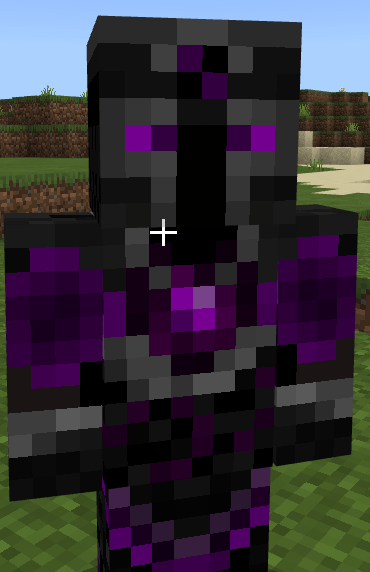 .
If you find one of these, you might want to have some emeralds and books on you, cause you will not want to pass up their loot!

Obsidian Colossus:
This new mob is very deadly, and very tough, they can spawn almost anywhere, but you will be rewarded when you kill them!
Obsidian Soul:
Featured above in the image, the Obsidian Soul can only be obtained when you kill an Obsidian Colossus. They are extremely useful, if you can kill the beasts.
Charged Obsidian:
This new item is Charged Obsidian, a super concentrated form of obsidian, that allows you to bend time and space (or really just teleport)!
The recipe isn't achieved easily, for you need: One Obsidian Soul, and four Crystallized Obsidian: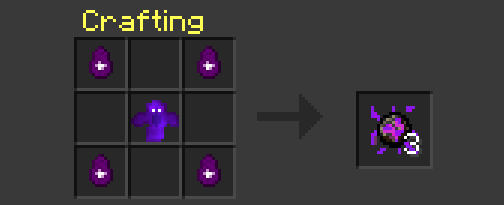 Now here we are, at the end of the page, wondering if this is worth the time. Well, the answer is yes! This pack adds a new edge to Minecraft that before hadn't existed, so what are you waiting for?
I'll go over some rules that I trust everyone will follow!
1. you can put this mod into videos, but you may not have a direct download link, please put the link to this page ONLY!
2. you may NOT edit the mod for personal use only, not to republish in any way, shape, or form!
3. again, you are not allowed to republish this mod anywhere on MCPEDL or any other site.
This mod available for Windows 10 (tested), Android (tested), and IOS (tested). To report bugs and leave suggestions, please do so by comments.
Have fun!
Added Obsidian Colossus
Added Crystallized Obsidian and its ore
Added Charged Obsidian
AND MORE!
Added .zip file for IOS users
Added installation details for IOS
Installation
For Windows 10 and Android: Click the download button above and wait for it to download. Then, go to your downloads folder and open the file, it should boot up Minecraft and import!
For IOS: If you are currently running IOS 13, the steps to enable the pack is:
Download the world/pack.
Open the Files app and navigate to the "Downloads" folder.
Press and hold on the pack or world to bring up a menu, then select "copy."
Open the Notes app and create a new note.
Tap in the note to bring up the edit menu, then select "paste." The file link will be pasted into the note.
Tap on the file to bring up a screen showing an icon, the file size, number of files, and "Preview Content" button.
In the lower left corner of the screen, tap the the "share" icon.
Select Minecraft from the list of apps in the bottom row of the share options.
Once you see the "import successful" message in Minecraft, you can safely delete the world/packs from Notes and Downloads, because Minecraft copies the files to the appropriate game folder when it imports them.
Downloads
Supported Minecraft versions
1.16