This add-on replaces some of the mobs in-game with the aquatic life. Some of the new creatures include sharks, whales, crabs and shrimps. Most of these won't spawn naturally in water though, so this means you will have to spawn them yourself using the various spawn eggs or by using text commands. Bring new life to the oceans with the OceanCraft PE Addon!
Creator: Fernancraft277998, Twitter Account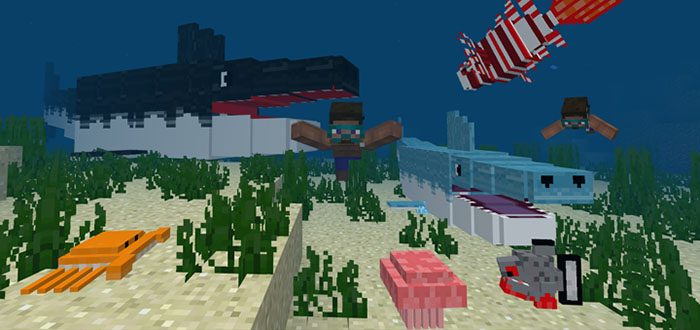 Features
Butterfly Fish: Passive (replaces Witch)
Lionfish: Aggressive towards players and fish, poisonous (replaces Zombie)
Stone Fish: Aggressive, poisonous (replaces Husk)
Jellyfish: Attacks fish and players, poisonous (replaces Cows)
Shrimp: Passive (replaces Pig)
Sharks: Hostile toward players, fish and sheep (replaces Guardian & Elder Guardian)
Crabs: Attacks players and fish (replaces Spider & Cave Spider)
Octopuses: Hostile, attacks players and fish (replaces Skeleton & Stray)
Whales: Passive, attacks fish and shrimp (replaces Polar Bear)
Mantarrayas: Passive, attacks fish (replaces Evoker)
Piranhas: Hostile towards players and other mobs (replaces Silverfish)
Swordfish: Attacks players and fish (replaces Zombie Pigman)
Installation
Activate the packs for a world in-game
You can get a .ZIP file for this addon here.