OPSSFM Add-On allows you to help your friends which is away from you (in-game) against the dangers of the night! Apply the add-on to your world, and take on simple instructions to try! Designed for Minecraft: Bedrock's mobile platforms (Android & iOS), which does not use Scripting API!
created by: r4isen1920
pack version: v2.0
Features
Easy to use, simple, lightweight, and pretty straightforward! Someone in the world simply sleeps on a Bed like how you usually would, anyone else no longer needs to sleep as well just to skip to dawn.
Great for multiplayer, and multiplayer-friendly. Which is the main purpose of this add-on.
Behavior Pack only. Requires cheats, and disables world achievements. Nothing I can do about it, since it is not minorly intended to be played this way.
Does not require experimental gameplay enabled: You can use it on realms too!
Does not run with Scripting API: Android & iOS can host this too. Still the same features and functions as the Scripting API version, but is much more simplier.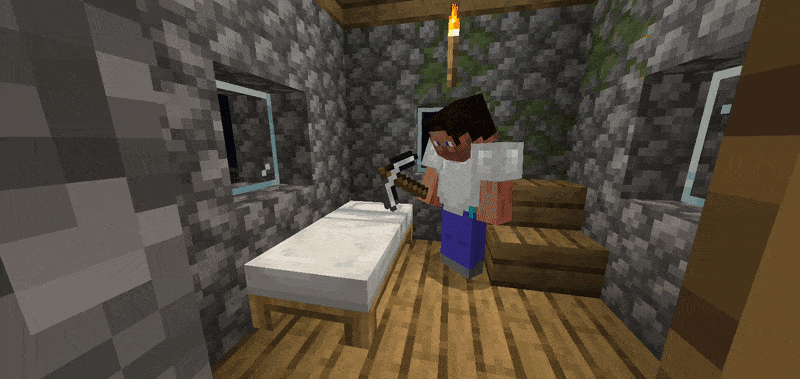 This is an in-game demonstration, in real-time, and in a LAN Multiplayer game.
Scripting API Version
There is another similar version of this add-on which uses Scripting API. Currently, Scripting API works on Windows 10 as of now. So alternatively, I created this add-on to allow mobile platforms to experience this feature.
You can download that version from here, created by BlkCatGmg.
Compatibility
Works properly on Minecraft Bedrock versions 1.14.30 (Full Release) or later.
In-app download available! No changes for the Behavior Pack, no need to show this on the main page.
No longer need to stand on the Bed before clicking it to skip to dawn, or to cycle through the Night; and improved stabilization.
Updated description.
Installation
Simply download, import the pack and then apply to your world! Designed for multiplayer.
Downloads
Supported Minecraft versions
1.14
1.15 (beta)
1.16 (beta)