A connected glass pack that removes the borders of glass and gives a nice, clean & modern look to your builds. This pack includes both glass blocks as well as panes.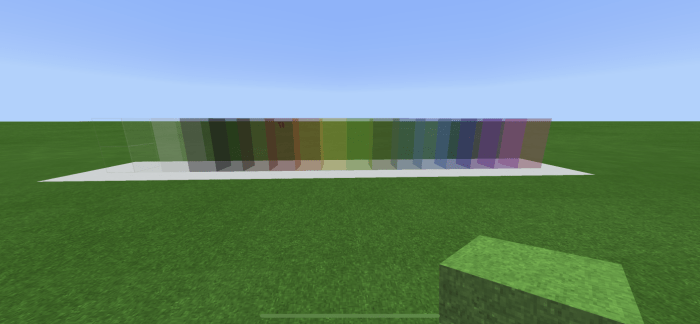 Clear glass still has a thin line because you wouldn't be able to see without it.
White stained glass is almost completely transparent.
Light grey stained glass looks more like white stained glass so you still have both options. (who uses grey anyway, right?)
Join my discord for updates & other resource packs: https://discord.gg/hhD5pPu
Changelog:
version 1.0.0 
- Manifest updated to latest version. 


Minor changes not listed.
V2- 
- Updated glass pane texture to remove the line above and below
- Slightly improved a few colors of blocks
Installation
!!!! IMPORTANT !!!!
Clicking .mcpack files has been bugged for a while now. 
To install you need to place the .mcpack file inside the resource_packs folder in your minecraft directory
OR
unzip the .zip file inside the resource_packs folder. 


Please do not claim the pack doesn't work if you have not done this. 
Downloads
Supported Minecraft versions
1.10
1.11
1.12
1.13
1.14 (beta)
Resolution
32x