The Parkour Mod lets you create parkour maps where each jumping experience can be completely different from the other. Every clay block has been redesigned to make use of the potion effects. For example, if you walk on top of a pink stained clay block you will bounce up into the air. And if you stand on top of a light blue stained clay block you will get an extra speed boost.
Create the parkour maps through the use of an advanced (but easy to use) editor, save the map and then share it among your friends. It's incredibly simple to use as the player just needs the map and the .js parkour file which can be downloaded in the bottom of the post.
Creator: Clagdriff
Building A Parkour Map
Begin by creating a new world and launch it. Type /create Parkour in the text chat to get started.
A graphical user interface with three new buttons will appear: ACTIONS, CREATE, TEST.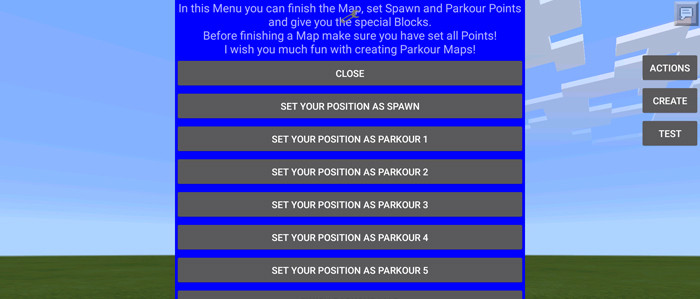 Actions
The ACTIONS button lets you access a great amount of options such as the ability to set the spawn position and finish line for each parkour level.
Create
The CREATE button is used to get in building mode. Only then you can access the ACTIONS button.
Test
To test the map tap on the TEST button and you will enter survival mode and be able to test the parkour map.
When you are finished creating the parkour map you can exit the map as normal to save the map.
Important: Make sure to always keep the parkour.txt file in your world map for the map to work, also make sure to always have the mod enabled!
Block Abilities
All stained clay blocks have got one new unique feature. Use them accordingly to build the parkour maps. Type /blocks in the text chat to see the abilities of each clay block.
Light blue: speed boost
Yellow: slowness
Lime: nausea
Pink: high jump
Gray: poison
Cyan: regeneration
Green: full life
Red: kill
Black: spawn
Blue: checkpoint
Maps Created