Hey, my name is CatAstrophe and welcome to the YouTuber Head Parkour Map! I have been working to bring you guys this map, which consists of 20 of our favourite YouTubers incuding Unspeakable, RageElixir, BrandonCrafter, LogZotZip, AGHQ and more! The levels of this map will get harder as you go further in the map. Do you have what it takes to win?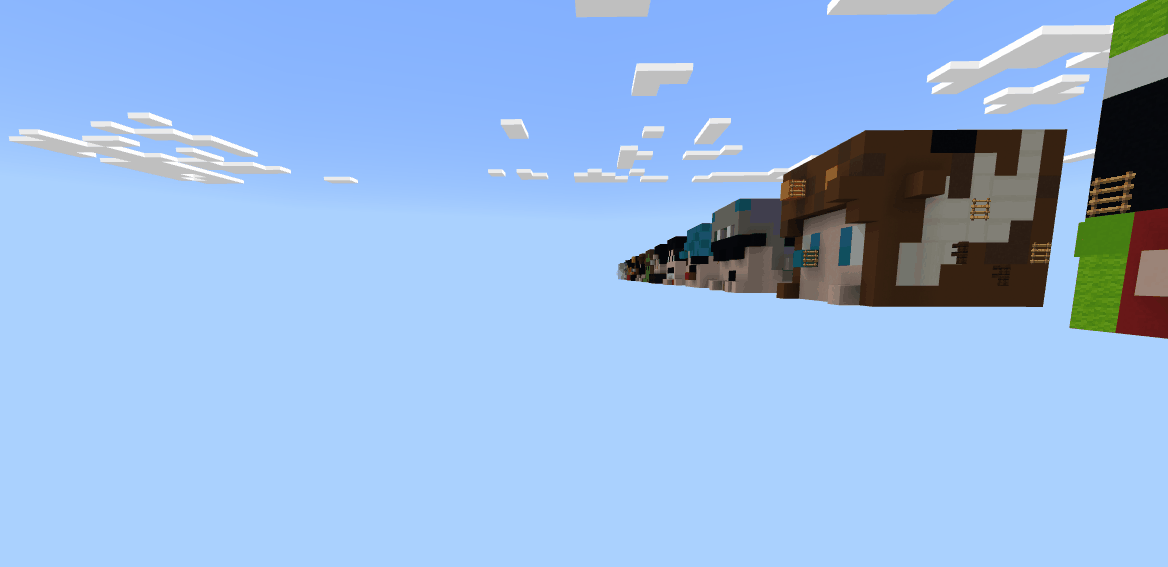 Each Head is 8×8 blocks with parkour around it, for you to jump and climb to the top, where you will press a button and be teleported to the next level! The map is situated in the middle of the sky, with a cloudy-themed lobby, where you can find a board of instructions so you know what to do. You can also play this map with your friends!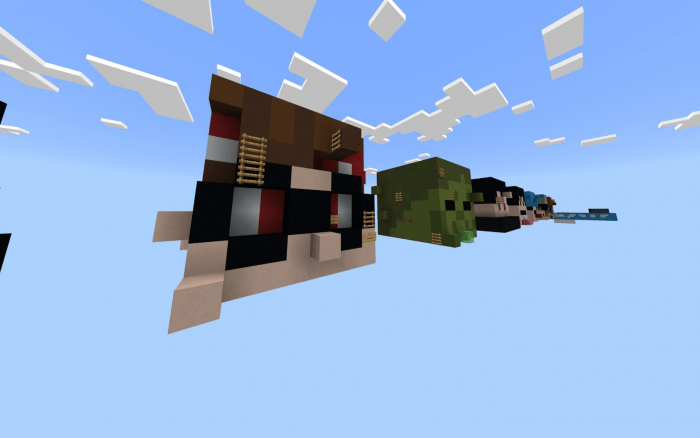 New Update: Level 3 has been made easier, and level 7 too.
New Update: Level 5 and 6 have been fixed so that they are slightly easier.
New Update: The last block and level has been slightly changed so it is more challenging!
New Update: Levels have been made slightly easier, and you die quicker when you fall to save time and keep the pace of the game!
New Update: Bugs fixed, Level 3 had been improved for smooth gameplay.
New Update: Bug fixes, new thumbnail for the map too! Levels have been improved.
New Update: CatAstrophe and AGHQ Head levels have been changed to make it more challenging! Bug fixes also have been made.
New Update! New thumbnail, and easier levels around the map for you guys to enjoy and time yourselves on!
New Update! Bugs fixed and levels' looks have been improved!
New Update! Bug fixes and the heads look more like the YouTubers! The ending was changed slightly so it finishes more easily!
New Update! Levels have been improved and more bug fixes! The map should now run more smoothly!
New Update! Added a thumbnail to the McWorld file, and check out the map trailer too!
New update! Bugs fixed, less glitches and levels spawnpoints improved.

Some heads have been made easier, due to the persistent high difficulty in all the levels. We also fixed the teleportation glitch at the end.
WE HAVE A NEW DISCORD SERVER! JOIN NOW, AND CHECK OUT THE COMMUNITY!

Link:
https://discord.gg/JNxSytD
Hey, DL! I have been working to make this map for MCPEdl for months, and it's been a very significant goal for me. I would really love for you guys to upload my map, it's all I've been working towards! Thank you for considering this.
I had to add the original file for you guys to be able to check it. The DOWNLOAD MAP HERE link is just an adfly link taking you to the mediafire link. Please remove the mediafire link, so I can use adfly!
Downloads
Supported Minecraft versions
1.7
1.8
1.9