Prehistoric Life is a complement designed for those who love dinosaurs, all with the possibility of taming.
In this second beta we added Shunosaurus, Cryolophosaurus, Ichthyovenator, Carnotaurus and Tyrannosaurus Rex all with posibiliti of domesticated and mountable  all over Minecraft.
With animations for walking, breathing, food begging and tail wagging.
Models and animations made by: Cesar
100% made on mobile
Behaviors performed by: William's
For Minecraft 1.16 Oficial
Shunosaurus

HEALTH: 500-600
DAMAGE: 18-21
SPAWN: Plains and Savanna
Diplodocus
HEALTH: 600-700
DAMAGE: 18-21

SPAWN: Plains and Savanna


Apatosaurus
HEALTH: 600-700
DAMAGE: 18-21
SPAWN: Plains and Savanna
Bajadasaurus
HEALTH: 600-700
DAMAGE: 18-21
SPAWN: Plains and Savanna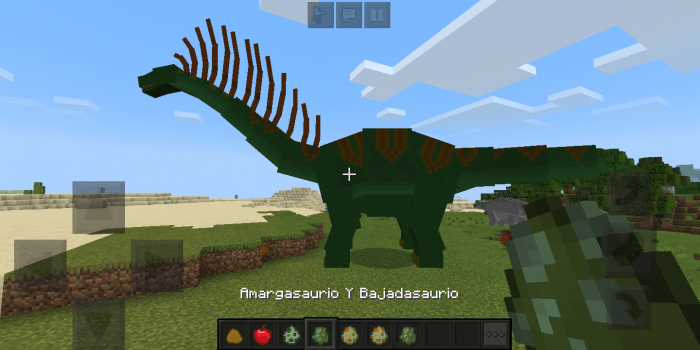 Brontosaurus
HEALTH: 800-1000
DAMAGE: 33-36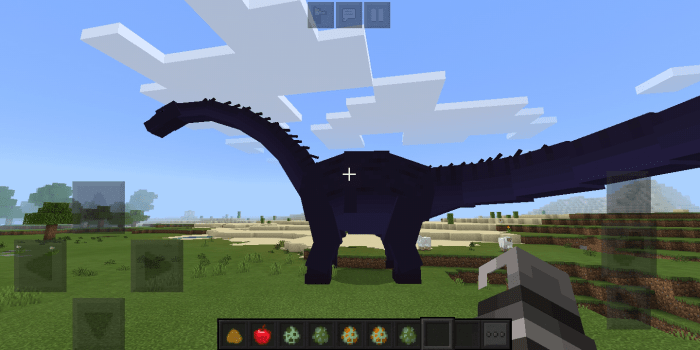 Brachiosaurus
HEALTH: 800-900
DAMAGE: 33-40
SPAWN: Plains and Savanna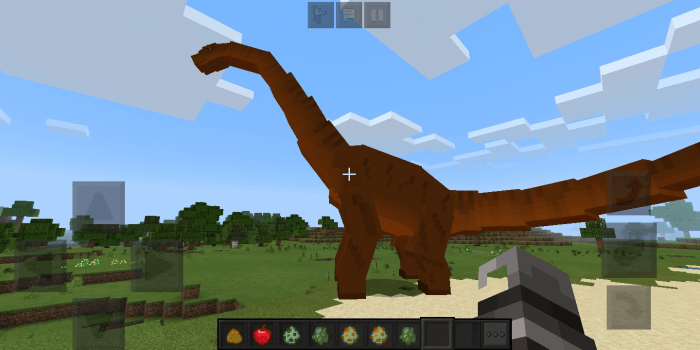 Cryolophosaurus
requested by @GABIRUSSAURO
HEALTH: 400-500
DAMAGE: 15-17
SPAWN: snow
Ichthyoventor
requested by @GABIRUSSAURO
HEALTH: 500-600
DAMAGE: 17-21
SPAWN: Rivers and coasts
Canotaurus
requested by @jacob_saga
HEALTH: 500-600
DAMAGE: 17-21
SPAWN: Taiga and coasts
Tyrannosaurus Rex
HEALTH: 700-800
DAMAGE: 21-30
SPAWN: Extreme hills
Can dye
to dye your dinosaur you need a dye of your favorite color and click on the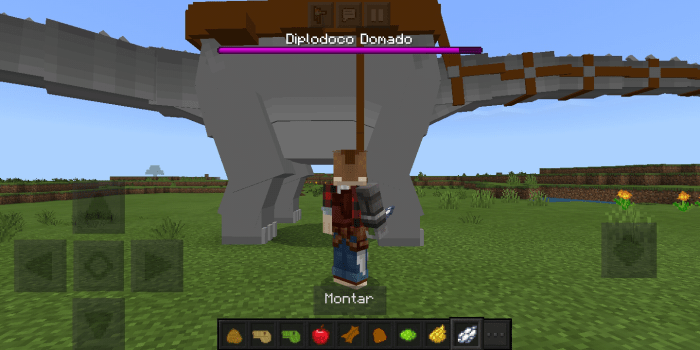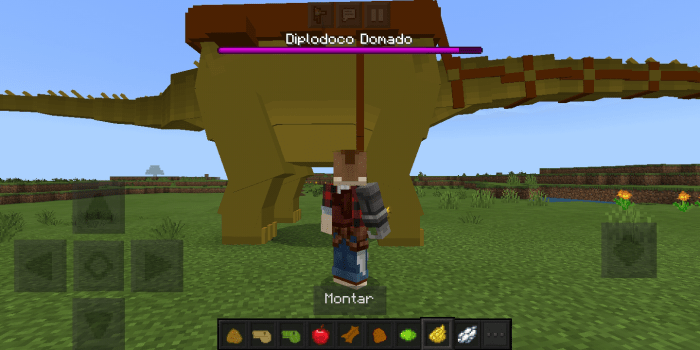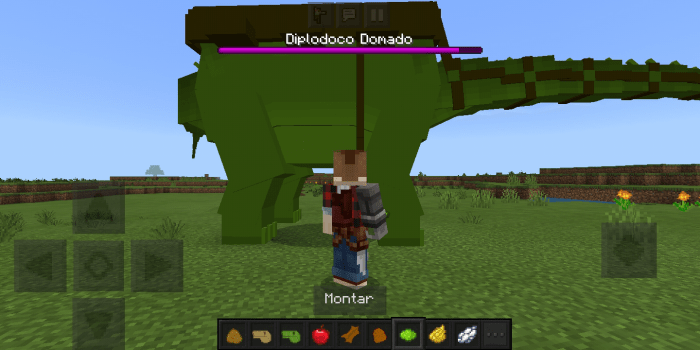 Domestication
(they are all tamed in the same way)
domestication food Herbivores
shunosaurus
diplodocus
apatosaurus
bajadasaurus
brontosaurus
brachiosaurus
domestication foot for Carnivores
cryolophosaurus
carnotaurus
tyrannosaurus rex
domestication foot for aquatic Carnivores
To tame a dinosaur, you need to find two of the same type and feed with apple them to get an egg

And carnivores with dinosaur meat

And ichthyovenator with clownfihs


The egg takes 9 minutes to hatch (the egg can be taken home)
All tamed of baby
Wait for it to hatch and then feed it before it grows.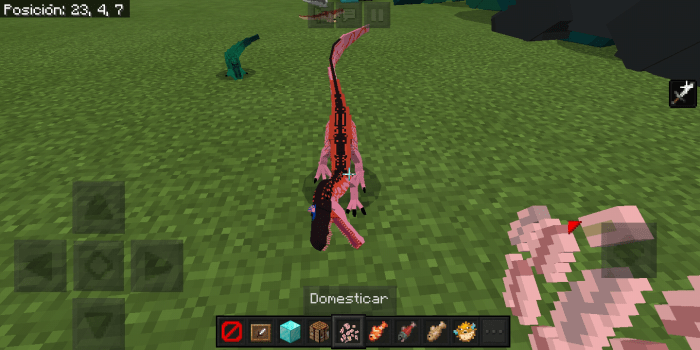 Can you sit
you can let him sit and stand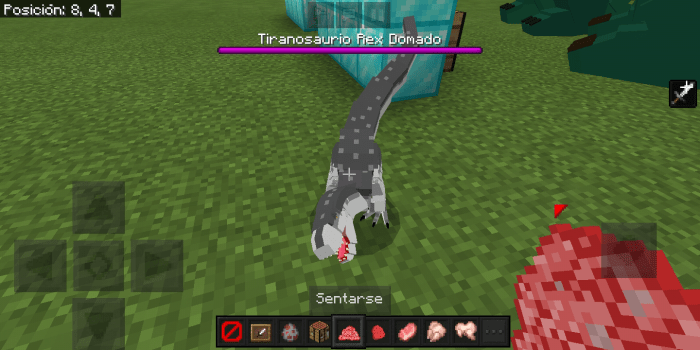 drop:

loose meat and loose skin the meat can be cooked in an oven and a campfire
is used to create a larger one as shown in the picture
9 Dinosaur skin
Saddle for sauropods
saddle the chair is created with
2 iron
1 string
6 large skins
Ability
Capacity Their specialty of these dinosaurs is a great load capacity by placing a chest that serves to transport what you need
The specialty of canivorous dinosaurs is that they can attack monsters with
creepers with gumpowder
skeleton with bone
zombie with rotten meat
enderman with ender pearl
spider and spider cave with string
ravager, pillagers, vex and evocator with crossbow
and to stop attacking the target you need the Follow-up whistle


Follow-up whistle
It is made in the stone cutter with
1 wooden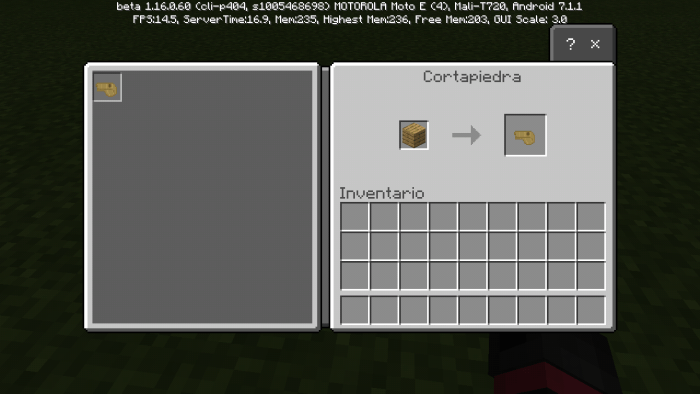 The wooden whistle will help you order your Dino to follow you or wander anywhere and to calm down dinosaurs after putting a target (we recommend creating a fence to prevent your dinosaurs from escaping)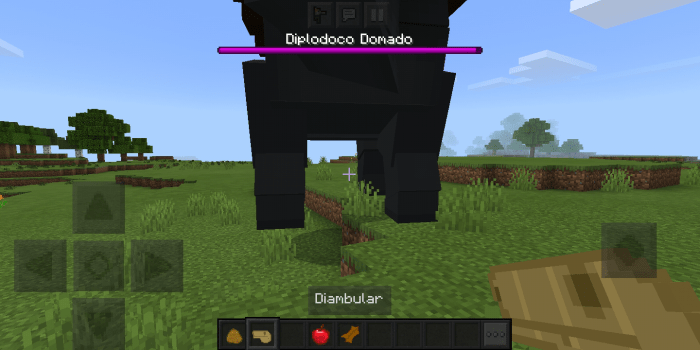 attack whistle
is created in the stone cutter with
1 bamboo
The Bambu whistle is useful if you want to attack an entity, your dinosaur will help you, if you don't want it to attack it, put it in passive.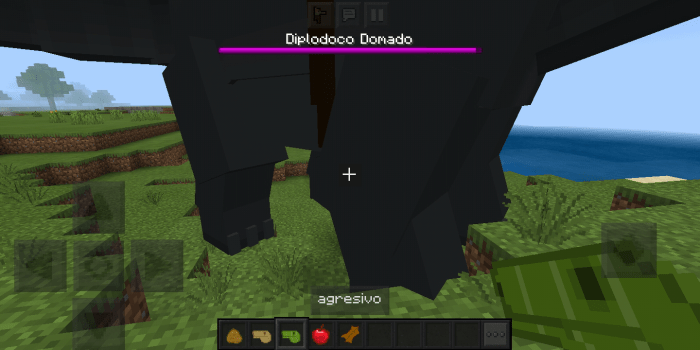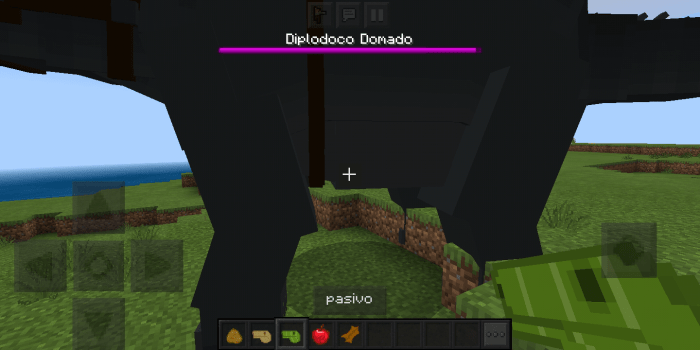 FOR MINECRAFT 1.16.100 BETA
We add a table to make the things that need skin
How
saddles
carnivores (cryolophosaurus, carnotaurus, rex)
sauropods
ichthyovenator
skin large
new armor of skin
Important


If you publish the add-on your channel, do it with the link

MCPEDL

.



Can't put the direct link to MediaFire.
Give credit to creators.


Leave your suggestion of any dinosaur you want in comments

.
5 new dinosaurs
cryolophosaurus
ichthovenator
carnotaurus
rex
shunosaurus
new food of domestication
new animation of roar
new table of craftyn (minecraft beta)
new armor (minecraft beta)
5 new dinosaurs
cryolophosaurus
ichthovenator
carnotaurus
rex
shunosaurus
new food
new animation of roar
new table of craftyn (minecraft beta)
new armor (minecraft beta)
Featured image
animations arrangements
translated page
bugs
optimization
error correction
Foto principal
error de corrección
arreglo de animación
página traducida
mejoramiento
reparar
featured image
correction error
animation fix
page translated
optimization
fix
Installation
1_skip the ad
2_download the addon
3_tap the download and Minecraft will open
Downloads
Supported Minecraft versions
1.16 (beta)
1.6