Mine, Unlock new mines, equip unique perks, LevelUP, open crates and finish quests to become the best and the richest PrisonMC player.
The map has over 5 unique mines and more then new 4 perks with a smart Leveling UP system and quest rewards.
# How to play ?
– Mines :
Every mine has its own price, Fortune level and its one theme (Biome).
To unlock the mine you have to unlock other first to be able to teleport to them, every mine has a certain ores and certain EXP-reward per ore.
– Sell items (Economy) :
Only the blocks that are able to be mined, will be selled.
Once you break any ore/block (Cobblestone, Stone, Iron ore, Gold ore, Diamond ore) it will automatically sell the ore/block drop for certain amount of Coins(Gold in scoreboard) and a randomized amount of EXP.
– Perks :
We are trying to give the Prison gamemode new mechanics and new stuff to make it more fun and grindy.
Every perk gives you a certain powerUP (Ability) but you have to purchase (Unlock) it first to be able to equip it.
Currently there's only 5 perks :
1. Healer : You will stop losing hunger bar.
2. Smith Solder : You will be able to sell stone for double price, but you will stop recieving EXP from mining stone.
3. Haste Orb : Every time you mine Iron ore you will receive Haste II for 2 seconds.
4. Ancient Drill : You will have now 10% to mine all the mine with 1 click but you will stop recieving EXP from Gold ores.
5. Eye o' Aris : Every 20 seconds you will receive a random effect (Haste III – Speed I – Saturation VI – Hunger II – Slowness V ) for 3 seconds.
– Random Events Settings :
Random Events is a new feature that pick a random event(Effect) every 50 seconds, most of the events only last for 2 ~ 10 seconds.
Some events may effect you positively and help you and some of them will try to make it more harder for you and finally some of them are just made for a fun experience.
Currently there is +10 Events.
– Crates & Luck system :
Crates are only obtainable from Leveling UP for now.
To gives Leveling UP a point and an importance we made sure that every certain of levels you will recieve more Luck chance.
Every more Luck chance you receive you will be able to get more Better tools/pickaxes from crates.
– Economy :
Now the based-currency is Coins, you can use this currency to purchase (Unlock) New mines.
To unlock new perks you need a new currency named Mana, you can only recieve this currency type from Leveling UP (10 ~ 50) or from Crates (100 ~ 340).
To unlock any crate type (Crate types coming soon on Update Beta0.7) you need a currency that's named Crates, you can only get this HUD-item from LevelingUP for now.
– Pictures of the map (Some of these pictures may contain texts and custom-stickers which don't exist in the map).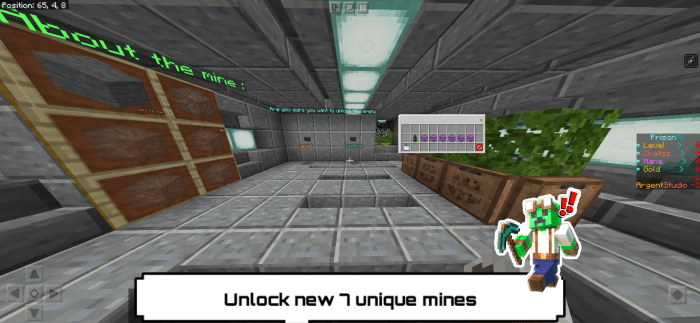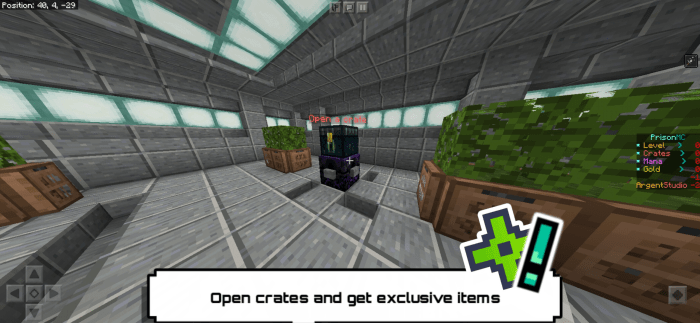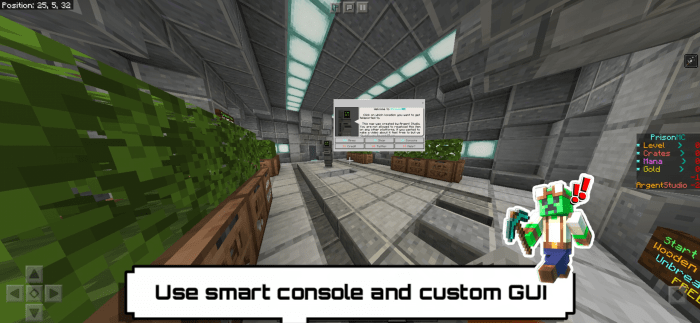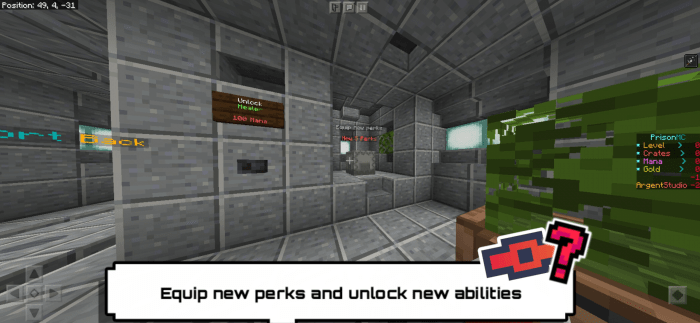 Notifications requirements has been removed (Linkvertise)
Discord invitation has been reupdated (Linkvertise)
Bug fixes and more
Item featured picture has been updated.
Random anti-cheat messages has been fixed (70%)
Random anti-cheat messages bug bas been fixed
No-events bug has been fixed
Random tp-back bug has been fixed
Craftable wooden pickaxe has been fixed
Bug fixes
Item featured image has been updated.
Bug fixes and more...
Better Description with more details on how the economy works.
The item thumbnail has been changed.
Bug fixes
World thumbnail has been changed.
Map life changes and bug fixes.
Installation
- Note : You're not allowed to reupload the same content in other platforms, If you wanted to record it you're allowed to but we do ask you to credit us.
- About the map :
Latest PrisonMC version :
   PrisonMC Beta0.5 (Monetized by Linkvertise).
  Map MC-version :
  +1.16.(HotFix) and +1.16.(Beta).
Downloads
Supported Minecraft versions
1.16.100
1.16.101
1.16.200
1.16.210 (beta)