This script will make every block explode randomly in Minecraft BE! Caution:  This may trigger anxiety! This may Choose between Easy, Normal or INSANE mode and test your luck!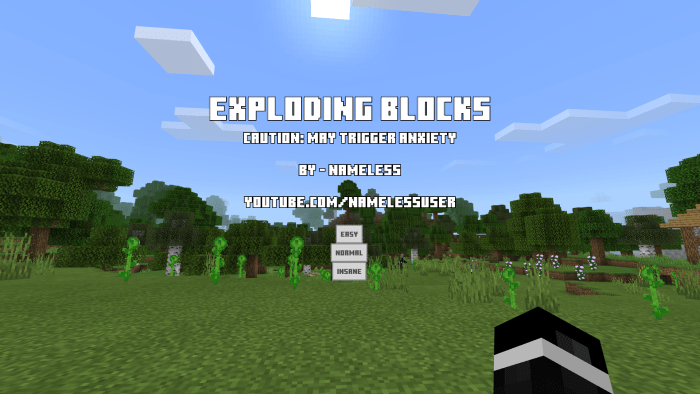 Welcome to the Exploding Blocks Script!
Watch this video
now
to see this awesome script in action!
:


DESCRIPTION:
Your survival world will never be the same because anything can explode! Tall grass, trees, leaves, dirt, and anything that you can punch! Goodluck Gamer!
MODES:
Easy – 6% explosion
Normal – 10% explosion
INSANE! – 20% explosion!
Note: These percentages were made to make the game still enjoyable even in INSANE mode
INSTRUCTIONS:
STEP 1. Create a world.
STEP 2. Add the "Exploding Blocks Script – Nameless" Behavior Pack (it will automatically import the resource pack)
STEP 3. Hit the Experimental Gameplay Toggle
STEP 4. HAVE FUN! 🙂
DISCLAIMER:


This only works for Minecraft Bedrock: Windows 10 Edition.
Make sure to enable the Experimental Gameplay option.
TERMS AND CONDITIONS:
You are

not allowed

to
modify this add-on/script

(however, this excludes the percentages

only

) and

claim it as your own

. You may share this add-on but you must credit me and place a link of this post or my youtube channel. (https://www.youtube.com/namelessuser)
FOR YOUTUBERS/CREATORS:
You are allowed to make a video about this add-on/ script but
you must mention me in your video

and

place a link of this post

and

my youtube channel

(https://www.youtube.com/namelessuser)

You may send me a message as well! 🙂
Have a great day!
Downloads
Supported Minecraft versions
1.14
1.15 (beta)
1.16