This add-on replaces two of the mobs in-game with radio-controlled cars. You control an RC car by using the throw mechanism to decide where you want your car to drive. It's a really fun and creative add-on which never really been done before. The add-on is very well made and includes custom sounds, particles and other cool details. You'll love it!
Creator: Vladu11, Twitter Account
How does it work?
The radio-controlled cars are sold by vendors in villages. There are two different RC cars each responding to a different controller. (This means it's friendly for multiplayer!).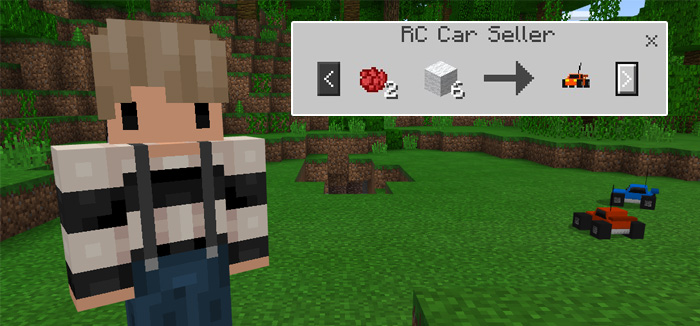 Before using an RC car you need to charge it. For that you will need a battery (replaces gold nuggets).
iOS / Android: Hold a battery in your hand, long press on the RC car and press Charge
Windows 10: Hold a battery and right-click on the RC car to charge it
During the charging process you'll see some cool particles and hear some sounds. It takes just a few seconds to fully charge.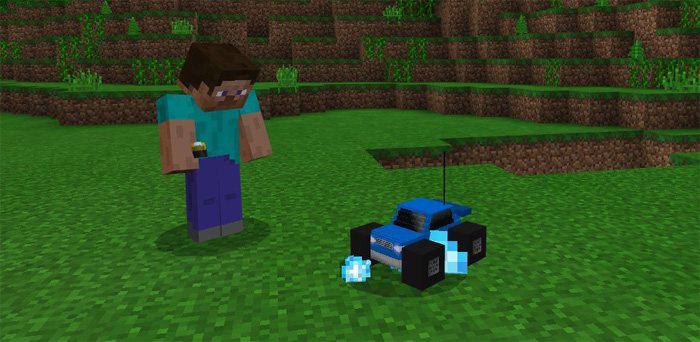 You can now control the vehicle by using the corresponding controller.
Blue Controller (Egg) – Blue RC Car
Red Controller (Snowball) – Red RC Car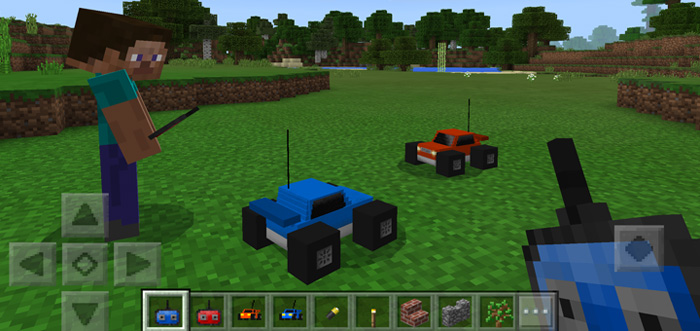 Throw the controller similar to throwing an egg or a snowball to control the vehicle. It has a limited reach so don't throw it too far away.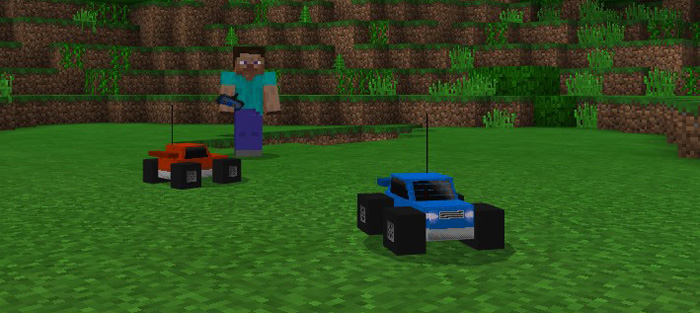 You can despawn a car by killing it. But it won't give up without a fight. However, it takes no more than two hits to kill it so it's not really any danger.
Features
Mobs

Blue RC Car (Wither Skeleton)
Red RC Car (Stray)
RC Car Seller (Villager)

Items

Blue RC Car Spawn Egg (Wither Skeleton Spawn Egg)
Blue Controller (Egg)
Red RC Car Spawn Egg (Stray Spawn Egg)
Red Controller (Snowball)
Battery (Golden Nugget)

General Features

RC Cars follow targets summoned by the controllers
Targets are invisible
Custom sounds for car engine, villagers and more
RC Cars can be renamed with name tags
Battery lasts for 5 minutes and then you need to recharge it
Supported languages: English, Spanish, Portuguese, German
You can trade materials with the RC Car Seller to get RC cars, batteries and controllers
Trailer
Installation
Activate the packs for a world in-game
You can get a .ZIP file for this addon here.