Have you ever felt that no matter how popular your server, realm, or world is, you always feel that there more room for improvement? If yes, I present to you MCPE DL's first addon to automatically build your minigames! Welcome to Realm Minigames!
𝐖𝐡𝐚𝐭 𝐢𝐬 𝐑𝐞𝐚𝐥𝐦 𝐌𝐢𝐧𝐢𝐠𝐚𝐦𝐞𝐬?
Realm Minigames is recommended for realms, but you can use it anywhere! It basically builds, sets up, and teleports everyone to the minigame. If you're an admin and you have some diamonds burning in your pocket, you can determine who to give it two using Realm Minigames!
𝐇𝐨𝐰 𝐝𝐨𝐞𝐬 𝐢𝐭 𝐰𝐨𝐫𝐤
?
Before doing anything, you need to type /function rm-setup in the Minecraft chat OR watch the video shown below:
Watch on YouTube: https://m.youtube.com/watch?v=jThetEGox8U&feature=youtu.be
𝐂𝐨𝐦𝐦𝐚𝐧𝐝𝐬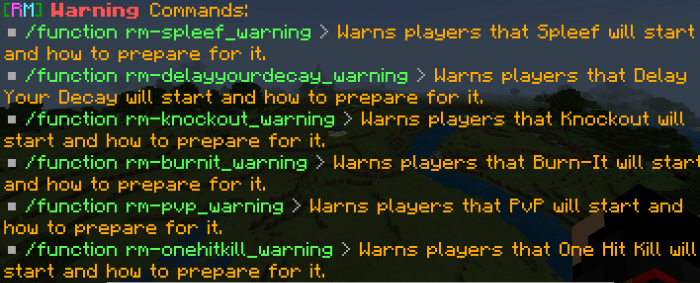 𝗜𝗳 𝘆𝗼𝘂 𝘄𝗼𝘂𝗹𝗱 𝗹𝗶𝗸𝗲 𝘁𝗼 𝘀𝗵𝗮𝗿𝗲 𝘁𝗵𝗶𝘀 𝗽𝗼𝘀𝘁, 𝗴𝗶𝘃𝗲 𝘁𝗵𝗲𝗺 𝘁𝗵𝗲
𝗺𝗰𝗽𝗲𝗱𝗹.𝗰𝗼𝗺
𝗽𝗮𝗴𝗲, 𝗻𝗼 𝗺𝗮𝗸𝗶𝗻𝗴 𝘆𝗼𝘂𝗿 𝗼𝘄𝗻 𝗹𝗶𝗻𝗸, 𝗴𝗶𝘃𝗶𝗻𝗴 𝘁𝗵𝗲 𝗔𝗱𝗳𝗹𝘆 𝗹𝗶𝗻𝗸, 𝗼𝗿 𝗮 𝗱𝗶𝗿𝗲𝗰𝘁 𝗠𝗲𝗱𝗶𝗮𝗳𝗶𝗿𝗲 𝗹𝗶𝗻𝗸. 𝗧𝗵𝗶𝘀 𝗶𝘀𝗻'𝘁 𝘆𝗼𝘂𝗿 𝘄𝗼𝗿𝗸!
- Added a video to teach you on how to download it.
- You're not allowed to give people your own link. Give them the mcpedl.com link.
- Fixed a mistake in changelog
 - - - - - - - - - - - - - - - - - - - - -
- Updated download links
- Changed wording on the page
Installation
If you do not know what installation link to press, I recommend you to do .McPack if you're on Android and iOS. I have no idea how .Zip works but I put it anyway if anyone knows how to use it.
Downloads
Supported Minecraft versions
1.10
1.11
1.12
1.9