Replaces "how to play" button in settings and make it Redstone Guide. A redstone guide will help you out with redstone such as building redstone mechanism with step by step instructions with pictures.
A Redstone Guide brings you a deeper explanation of how redstone work and how to use it. Every redstone items explain their uses, with the help of this guide it helps you to understand more redstone it has picture to help you understand better. Building redstone mechanism and contraption is done with a step by step tutorial with pictures so you can understand it clearly. It's also have some redstone techniques/tricks, to help you for making your own redstone creation.
How does it work?
It replaced the "How To Play" section in settings, you can access the guide in settings after you applied it. You can also see it in your inventory with redstone icon so you can easily access it while playing.
Trailer
Features:
Definition category
Provide an explanation of terms use in a redstone structure such as seamless, flush, stackable etc. in case you don't know what does it mean in redstone.
Redstone Components
Good for beginners, if you don't know how every redstone items work this is for you.
Redstone Tips
Give you some Tips about redstone that might help you to improve your redstone knowledge (Not recommend if you're new!)
3 Major Tutorials
Circuit
Contraption
Mechanism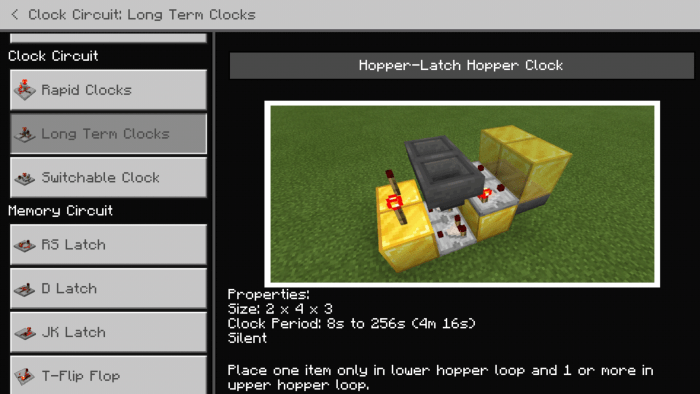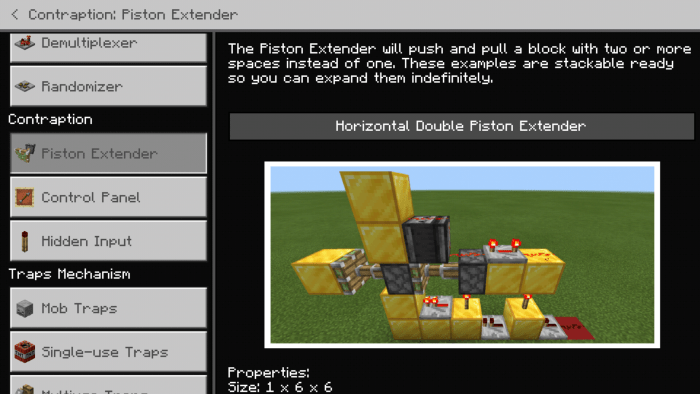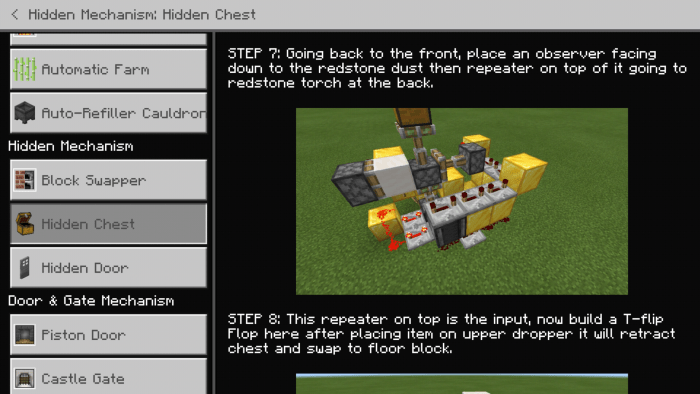 Download
For High-End Devices (HD Pictures)
For Low-End Devices (Blur Pictures)
In this update I focus on revising almost all pictures, fixing bugs, retesting contraption if its still work and for improvement. So there's only few features added
What's New
Added Door & Gates Mechanism
-Piston Door (No tutorial yet)
-Castle Gate (No tutorial yet)
-Lava Door (Tutorial included)
Added Jk Latch section (No tutorial yet)
Added Hidden Chest tutorial
Added Auto-Refiller Cauldron tutorial
Added piston clock in switchable clock
Added another example of subtraction analog circuit
Added Repeater Lock Mux in Multiplexer
Added Boat definition
Added Honey Blocks definition
Changes
Changes all pictures of circuit and contraption
Miscellaneous Components renamed into Misc Components
Renamed Password into Lever Passcode
Renamed Gated-D Latch into D Latch
Change some icons
Updates & Improvement
Better quality of pictures
Update of secondary function of repeater
Update Block Label section
Update the definition of slime block
Improve some definition of circuit contraption and mechanism
Added colored text in some words or phrase for emphasis and italic form of "note" for better user experience
Fixes
Fixed blur pictures exist in HD version
Deleted duplicate pictures
Fixed all known typographical errors
Fixed wrong pictures shown in analog subtraction
Fixed error in Misc Components section
Removed one example of Repeater T-Flip Flop which is no longer work in current version of Minecraft
New Features: (For full changelog see "Changelog" section
Added Definition category
Circuit section
Properties section
Redstone section
Block Label section
Transmission Circuit
Vertical Circuit section
Diode section
Analog section
Logic Circuit
Logic Gates section
Advance Gates section
Clock Circuit
Rapid Clock section
Long Term Clock section
Switchable Clock section
Memory Circuit
RS-Latch section
Gated-D Latch section
Added Mobile Components section
Added ABBA Circuit section
Added Piston Extender section
Added Hidden Chest section
Added Item Frame Lock section
Added Slider in resource pack settings to choose between two UI style
Installation
For Mobile Devices
I recommend you to use Google Chrome app or any other app that has desktop site features
Enable Desktop site
If Adfly ask you or forced you to open notification, with desktop site enabled you can skip it.
Downloads
Supported Minecraft versions
1.10
1.11
1.12
1.13
1.14
1.15 (beta)
1.16 (beta)
1.6
1.7
1.8
1.9