This add-on adds a really cool feature in Minecraft Bedrock. It randomizes your respawn point.This add-on is inspired from a java mod called Random Respawn.
This add-on makes vanilla survival much more better and enjoying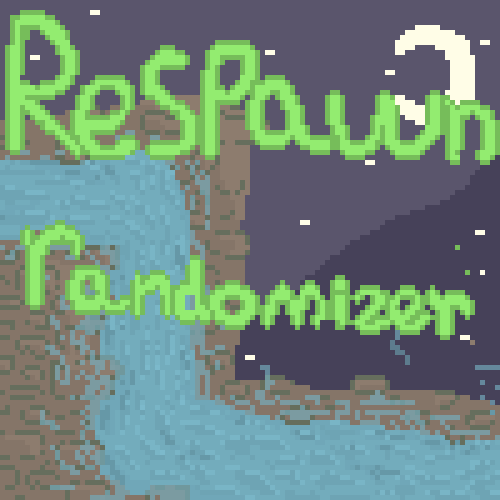 Art made by CedarStar
Let's get into more depth of this addon !
When you die it sets your spawn point randomly between -50000 to 50000 blocks of radius.The only way to prevent this is to sleep in bed and set your respawn point.If the bed is broken then your spawn randomizes once again.If you don't want to spawn randomly then you must set your respawn point on bed.
This add-on is totally survival friendly and it also makes the game a bit harder.
Watch the video to know how it actually works so that you won't have any complaints.
Known Bugs:
Currently due to a bug in spreadplayer command for players it spawns player at 225 blocks above grounds.So to prevent this we have given player resistance 5.
This add-on is not compatible with any other addon which adds player.json in it.So if you are playing it with any other addon make sure that it is kept above all other behaviour pack.
Terms of Use:
Don't redistribute the files of the add-on any other site or apps like mcbedrock,etc.
While showcasing this addon please give the link of this post or mcpedl and please credit the team in the description properly.
This add-on is copyrighted under Apache License.
You can modify this add-on for personal use only.
If you want to use it for a modpack then please ask Ishan[KBG] either in our discord server or his personal twitter.
Notice:
This add-on is a feature of our modpack in progress name Realism Craft.As this modpack is a taking a lot of time so for now we released this addon and in future we may release more add-ons if the modpack takes more time.
Created by:Ishan[KBG](Team Founder and Coder), iEmotionless (Team Manager and Coder), CedarStar(Team Manager, Lore Writer and Artist),HaxTheCharizard(Co-Founder,Pixel Artist and Coder)
Join our official discord server
Follow us on our Official Twitter account
Please leave your queries/suggestions/complaints about this add-on either in our server or in the comment section
Next Update-
It is going to be a super update since ıt will add sleeping bags,hammock and no bed.
Release date ıs 26th August 2020
Added ads in the download link of the add-on to get some support for our team
Added resistance 5 and removed feather falling since ıts just frustrating.
Added a video in the description for better understanding of the add-on
Fixed grammatical mistakes in introduction
Added more details in description- highlighted the important words,add one more term , updated the credit section.
Updated the thumbnail
Fixed Description and made it more bigger
Added Art in the description.
Fixed the grammar in introduction
Installation
When you open our website do these steps:
If you have android/windows 10 then download .mcpack file and after downloading click on it and then it will import the pack in game
If you are an iOS user then download .zip file
After you have installed the mcpack create new world and make sure to keep it above all add-on and after that create a new world.
No experimental gameplay required and make sure to turn on your cheats
Downloads
Supported Minecraft versions
1.16