1.12 Or higher is required for this to function!
Yes, Finally! This pack does support NATURAL GENERATION for Ruby Ore! This pack adds Ruby Ore and Rubies into the game, which is currently useless, but uses will be added in V1.0.1, as that is now my top priority!
Credits:
Thanks to @lolmarkdude2 – This addon would not be possible without his help, as he discovered a way to have custom blocks naturally generate in the over world.
Additions:
Ruby Ore: Naturally generates in Plains biomes in a pillar in groups of 1-7 on Y axis 255 – 58 (Only generates in dirt. This is because of current limitations in the game allowing further natural generation.) Extremely rare. Rarer then diamond, or emerald. Can only drop when mined by a Diamond pickaxe, and has a 50% chance of dropping with an iron pickaxe.
Ruby: Obtained by mining Ruby Ore with a Diamond Pickaxe, or you got lucky mining it with an Iron Pickaxe. Currently have no uses, but it will be implemented to have endless possibilities in the future.
Examples: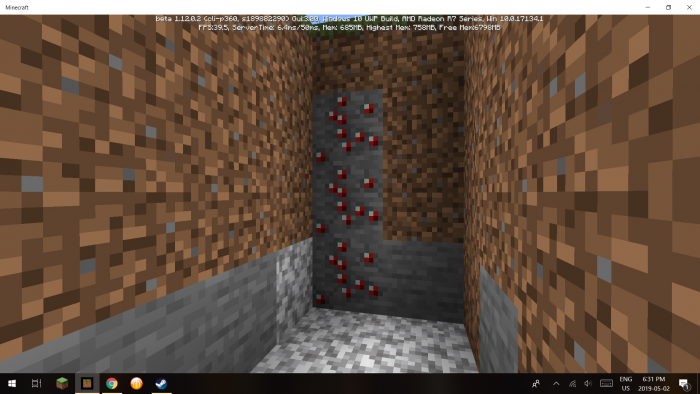 Ruby Ore Naturally Generated in the Overworld!
Note: If used in a video, Link back to this pack using the MCPEDL link, or you may receive a copystrike.
-Hotfix
This minor update fixes the download link as some people have had problems downloading. The next update to add features will be delayed a day to May 5th.
Downloads
Supported Minecraft versions
1.12