Enjoy the sacred treasure of ESCANOR, of the seven deadly sins, in your surviva and of GOLDEN SCANNER ARMOR
Become a bearer of MAEL's grace.
Although it is a bit simple addon, it is well worked and was created of course for anime fans.
FROM FANS TO FANS
If you are a fan of the anime "seven deadly sins" or also known as nanatsu no taisai then this is your mod. Now you can have the divine treasure of Escanor in your survival, with a slightly detailed crafting.
For all fans of the MAEL Grace Bearer.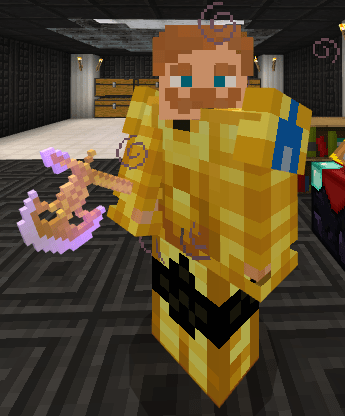 This addon adds to your minecraft the ax of Escanor, the sacred treasure Rhitta, from the anime seven deadly sins, with its respective recipe and texture.



three new items were added:
-handle
-gold stick
-Escanor axe (RHITTA)
Rhitta's damage is 40, or 20 hearts.
gold stick crafting:

HANDLE crafting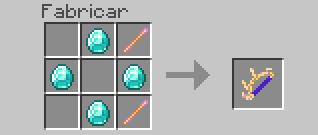 RHITTA crafting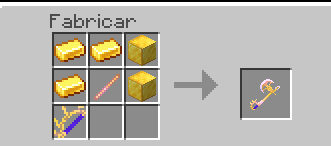 You can also have these items using the command:
/ give @s with the identifier "sds:"
RHITTA gives you the following effects when you have it equipped in your hand:

I did it is how you become the powerful SCANNER, bearer of MAEL's grace and member of the seven deadly sins.
follow me for more addons of the seven deadly sins or another anime.
I hope you liked it as it is my first published addon.
the texture of the gold armor has been modified to look like the scanor armor
A texture has been added for the gold armor, modifying some design files to make the armor look a bit 3d, like its shoulder pads.
IT SHOULD BE CLARIFIED THAT ALL THE WORK OF THE DESIGN AND MODELING OF THE TEXTURE HAS BEEN FOR ME, WHY ALL THE CREDITS MEAN.
THE POWERFUL SCANNER WITH HIS GOLDEN ARMOR AND HIS DIVINE TREASURE RHITTA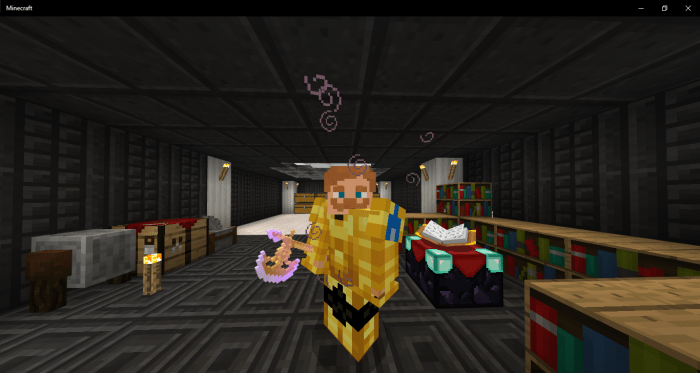 THE POWERFUL SCANNER WITHOUT ARMOR WITH HIS SACRED TREASURE RHITTA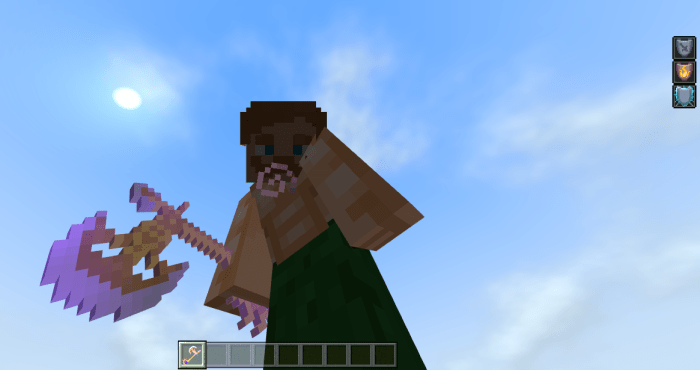 It also gives you the effects of: resistance 3, fire resistance and absorption 3, ALL THIS WHEN YOU HAVE IT IN HAND.
If you want to review this addon please do not change the link that I left, since that would bother me too much, for the same reason that it is a work done by me and nobody paid me to do it.
Also do not forget to leave the credits of your created MOKALAX I mean.
In any case I am very grateful for all the support you are giving to this addon and I have to mention that I am working on an update adding THE OTHER TREASURES, and then in a few days they will have the first version in which I added the sword of ESTAROSSA: FULL COUNTER.
do not forget to leave me in the comments that you have found this addon, and also that you would like it to add or modify, and I will clarify again.
FROM FAN TO FANS
A texture has been added for the gold armor, modifying some design files to make the armor look a bit 3d, like its shoulder pads.
download has been corrected
escanor armor has been added, modifying the original vanilla gold armor.
a new item was added: HANDLE to make the crafting more detailed
and errors were fixed
v0.1 addon hecho para windows 10, adroid, ios,
added rhitta crafting
added new item "gold_stick"
Downloads
Supported Minecraft versions
1.14
1.15 (beta)
1.16 (beta)