The Samurai Craft mod adds a complete samurai armor set and suiting weapons such as a katana. It also adds a spawn egg which can be used to spawn the Master Samurai boss. As every item can be crafted it's a nice addition to the normal survival game mode.
Creator: Kingbudderjr, Twitter Account
Armor
The armor adds several advantages to your character when worn. The boots will give you a jump boost and the leggings will make you run faster. The chestplate will give you some extra protection and the helmet is just for the looks.
Item IDs & Crafting Recipes
Samurai Boots (305) – 2 iron blocks + 2 redstones
Samurai Leggings (304) – 3 iron blocks + 2 coal + 2 redstones
Samurai Chestplate (303) – 5 iron blocks + 2 redstones + 1 coal
Samurai Helmet (302) – 2 iron blocks + 1 redstone + 2 coal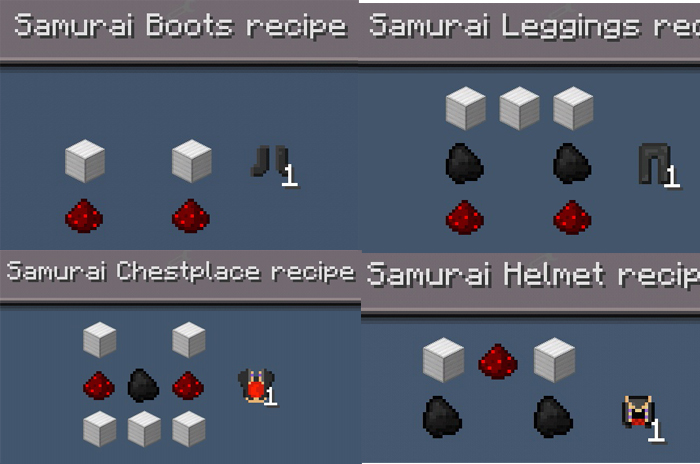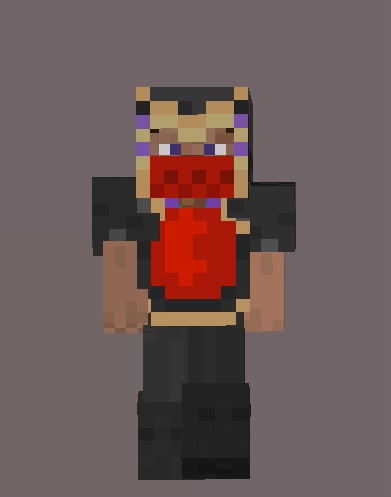 Weapons
Two obvious weapons exist in this mod. A katana (basically a sword) and shurikens (used for throwing).
Item IDs & Crafting Recipes
Katana (500) – 2 iron blocks + 1 stick (18 damage!)
Shuriken (501) – 4 iron ingots (tap on the USE button to use them)
Master Samurai Boss
Once you have geared up with the new armor and got hold of some shurikens and katanas then craft the Master Spawn Egg with two katanas and one egg. If you manage to kill the Master Samurai boss he will drop a Master Katana which deals 40 damage every hit!
Item IDs & Crafting Recipes
Master Spawn Egg (502) – 2 katanas + 1 egg
Master Katana (503) – dropped when killing the Master Samurai boss (40 damage!)