Have you ever wanted to build a accurate build of the real SCPCB seeds but they look bad or take too long to build or maybe you're just lazy? This map has just done the favour for you! This map build is extremely accurate, it even includes the little bit of extra detail and the room estimation is on point. This map only includes LCZ. Further updates to this map will include new features like the lift to the storage room where 939 is and HCZ etc. If you are interested, please scroll down for details about this build. Images for the build have been provided for you for influence.
This map only includes LCZ (at the moment) because this is an early version of the full build. I will make updates to the map, adding new features. Here are some pictures from my build. This is also my first map so feel free to correct me and give tips. Some functions like tesla gates and the elevator to Storage room 6 (will soon have) have no uses yet. They are only decorations and will have a use soon. If you are interested of what seed this is, the seed is "mcpescpcbv1". Some rooms have been ignored deliberately because they would cut into other rooms. Thanks for understanding!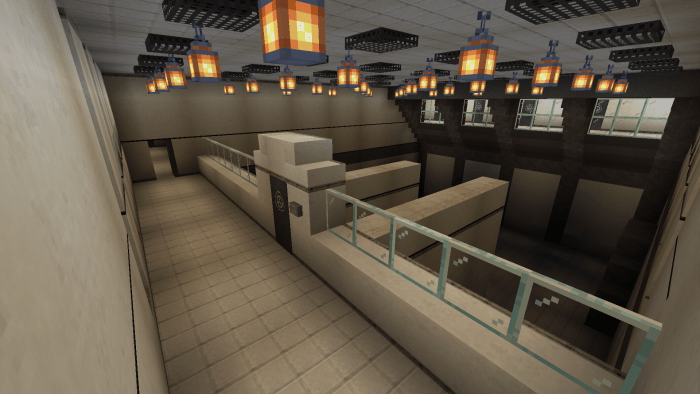 This is one of the scenes you will see in the intro of the game. Sorry for the darkness. Also no guards and Class-D walk through in the scene.
This is the tesla gate (has no use for now and no scientist runs through). I could use some help on this section.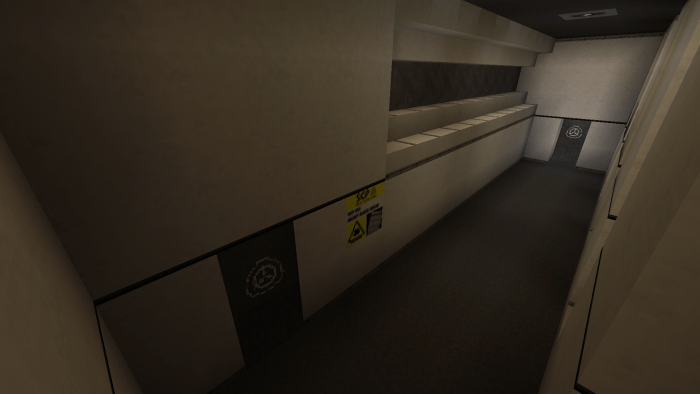 This is the room Infront of SCP-012's cell. The SCP is harmless (not in the real game only this build). If you can work commands, please help.
This is the entrance of Light Testing Chamber 2B. (SCP-173 does not appear in this one but does in the real game)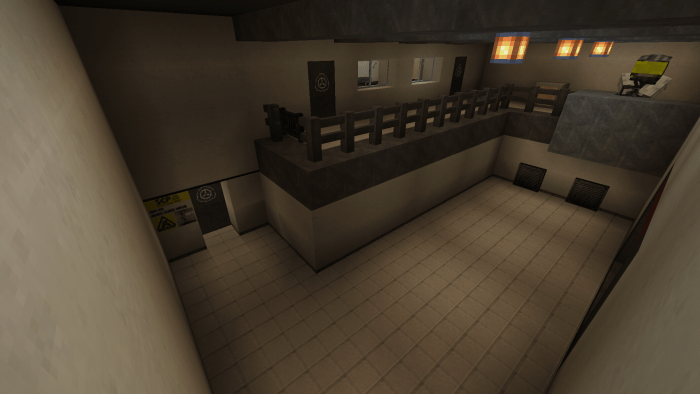 This is Infront of SCP-173's cell in the intro (SCP is also harmless but not in the real game). The guard is for decoration.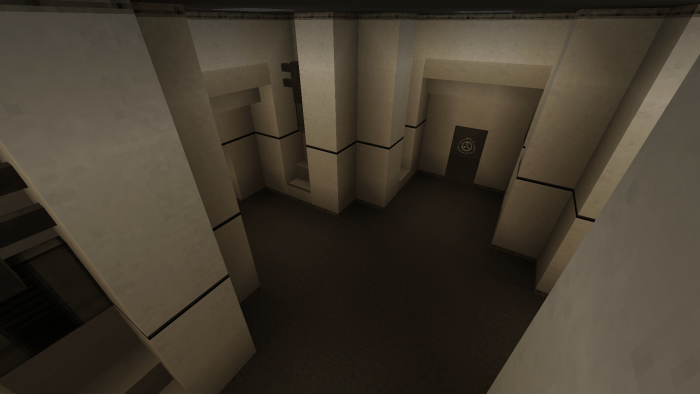 This is the four-way fork room (None of these rooms have sinkholes). If you can work commands, please tell me how.
———————————————-Hope you enjoy this accurately-made build! The next update (v1.1) will include Storage Room 6. Make sure you check out Julius Scizzor's creations because that's where I got inspiration from! Note: you can do whatever with this map: testing, role-playing and much more. If you want to make a video about this map, please credit me and Julius Scizzor. Also this is my first submission so feel free to tell me mistakes I have made so then the next build will be even better than before!
·SCP-939 instances can kill you.
·Room 3 Storage contains only 2 to prevent being trapped in the elevator.
·zip file is broken; needs fixing but not on this update.
·Mcworld download has been fixed!
·Room 3 Storage is not far from being complete, not much to do left!
·Sounds are implemented into the map
·SCPs are harmless for now
·You can do anything with my work as long as you credit me.
·You are not allowed to upload this map on any other website.
·Sounds are included in this map
·No SCPs in the build can kill you (yet)
·Some rooms may have something missing (decoration, room etc)
·Most items have no function
·Added sounds
·Realistic build, like the real one.
·No use of add-ons
NOTE: Some devices may crash when launching the world because of the texture pack. You have been warned.
Installation
1. Press the "SCPCB: Minecraft Map Build.
2. Wait for redirection to the site
3. Press the "SCPCB: Minecraft Map Build v 1" button 
4. Wait for the installation.
5. Enjoy!
Downloads
Supported Minecraft versions
1.13
1.14