| | |
| --- | --- |
| Server IP | projectbumble.apexmc.co:25588 Connect |
| Version | v1.16.201 |
| Status | Online |
| Players | 1/30 |
| Server Protocol | Bedrock Dedicated |
Immerse yourself in an entirely unique RPG experience for Minecraft Bedrock edition! Quests, Faction Wars, Dungeons, and more await you in this difficult and immersive twist on classic Minecraft SMP! EARLY ACCESS BETA — Come and see!!
Hey. Are you looking for an immersive and challenging Minecraft server? Something with RPG influence; dungeons, quests, pvp between factions? Introducing BumbleCraft!
Bumble is a project that we, a team of twelve, have been working on for awhile, and while it's still early and has a ways to go yet; we want some folks to join and help us test and stuff! We're taking inspiration from the likes of RLCraft and Wynncraft but putting our own spin on it, and despite the technical limitations of Bedrock Servers, are forging a unique experience unlike anything else currently available on Bedrock Servers!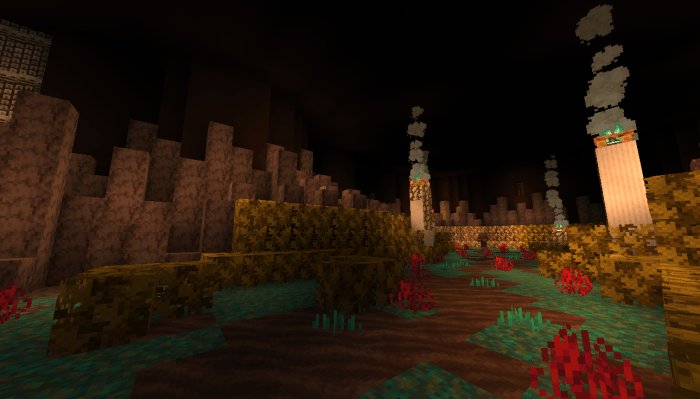 Players will begin in Harvester Town, and from there they will be able to set off into the wilderness to play like normal SMP, or they can talk to NPCs to start quests and explore dungeons to fight bosses (…. if strong enough). Dungeons are multiplayer friendly and will not break when ran alone or with a group!
Plunder dungeons and grind monsters for rare gear and powerful items!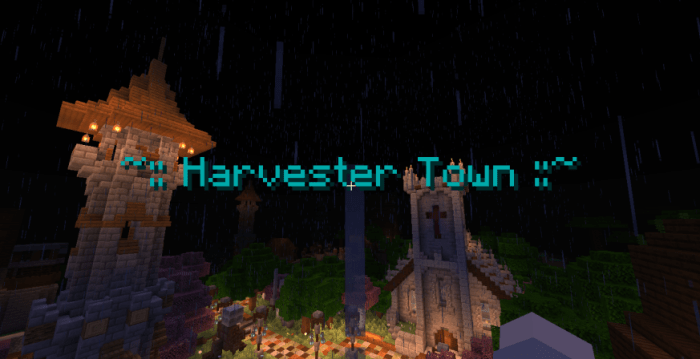 Making use of new features in 1.16, we're also able to rig the world up so that players can't break or place blocks in certain areas; meaning no griefing or cheating through dungeons/towns!
We're constantly looking for new ways to utilize new features and modding tools – allowing us to innovate and make Bumble a truly cutting-edge experience for Bedrock Edition!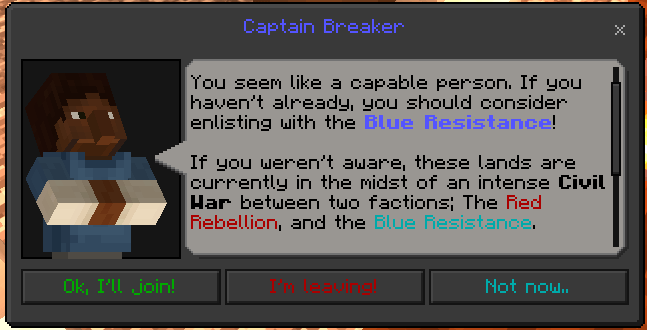 We've also taken notes from games like Skyrim, in how they handle Civil Wars! Once you've arrived in Harvester Town, you'll be able to find two Recruitment Barracks on either side of town – a Red one and a Blue one. Speaking to the NPCs that man each fort, you're given the opportunity to join one of the two factions! Joining a Faction gives you access to faction-only quests, traders, gear, and content! Compete with the opposing faction for control over the numerous forts that dot the landscape!
Joining a faction enabled PvP between you and players on the opposite faction – players who share your faction or civilians who aren't part of either faction cannot be hurt/attacked by players or attack other players! This approach allows us to cater to both casual players and PvP players! So whether you want to farm and explore, or become the greatest warlord of the land – BUMBLE has you covered!
ARE YOU A DEV OR ARTIST?
Consider joining up with Bumble and contributing content for the server! Even if you just want to draw up some items, weapons, or armor – submit it in our Contributor Corner in Discord and we can make your content a reality! Come get creative and Bumble with us!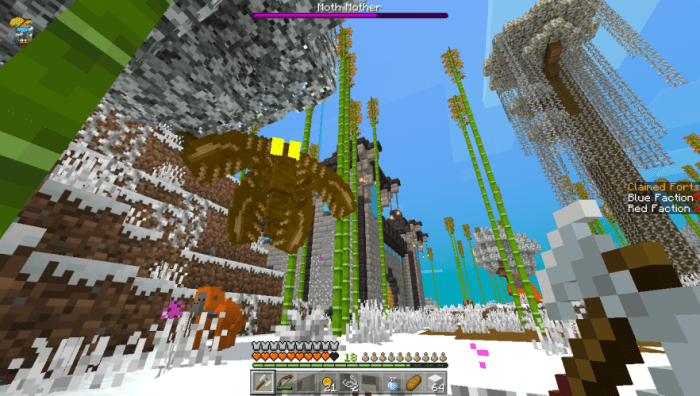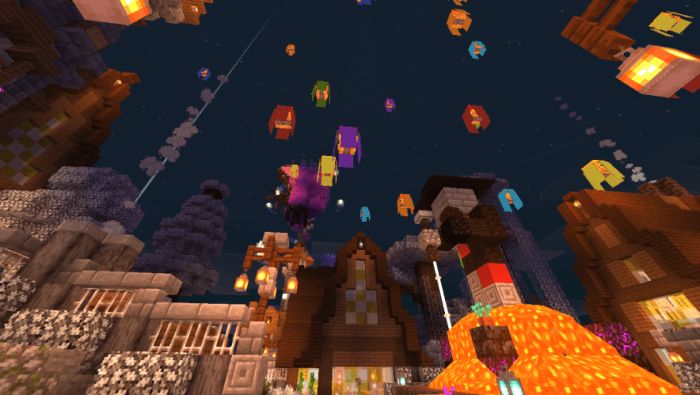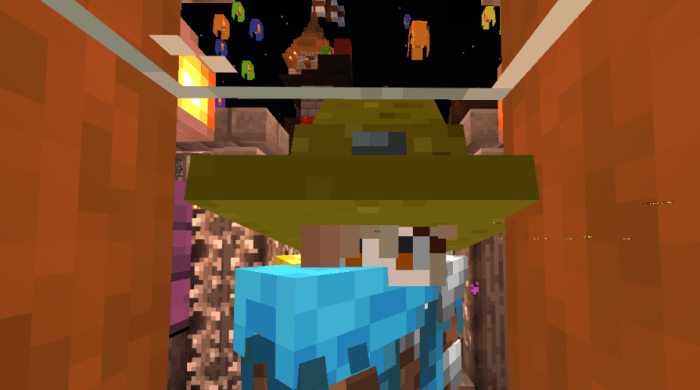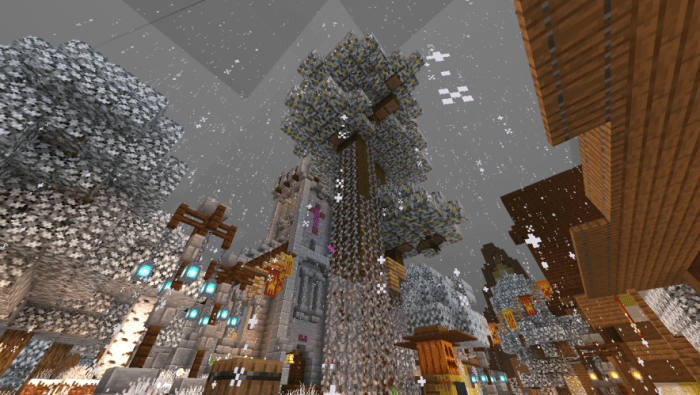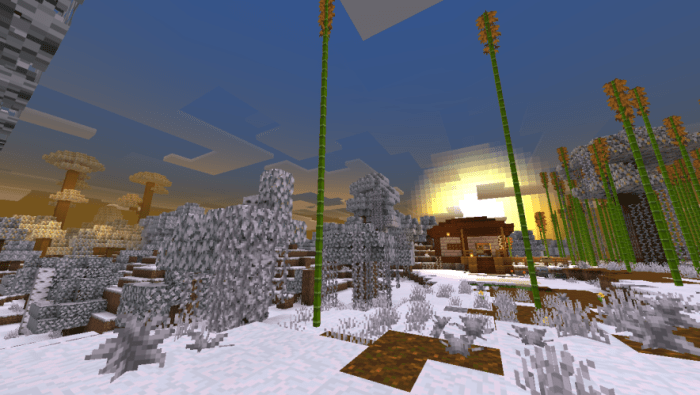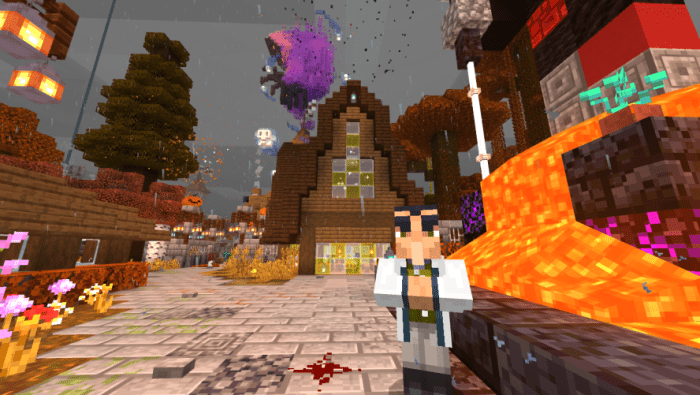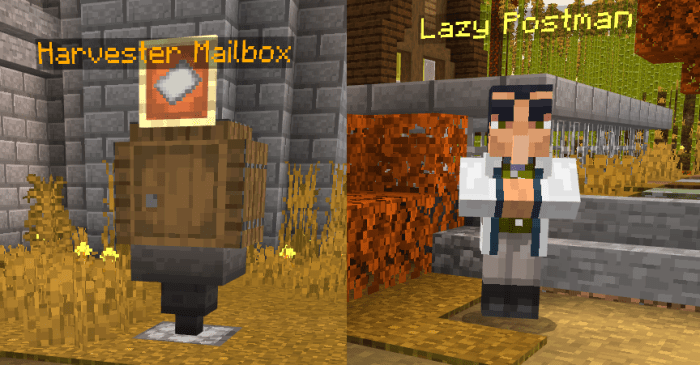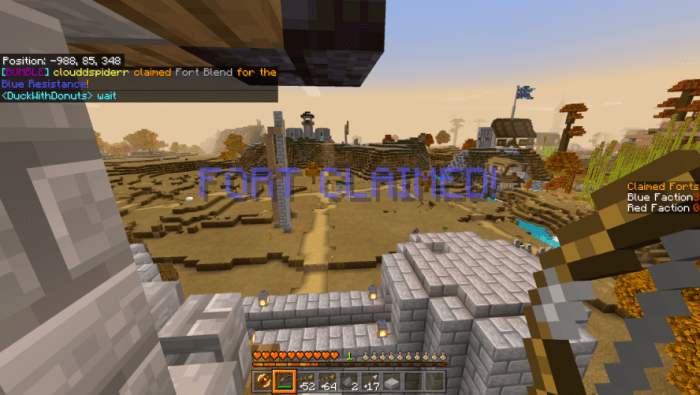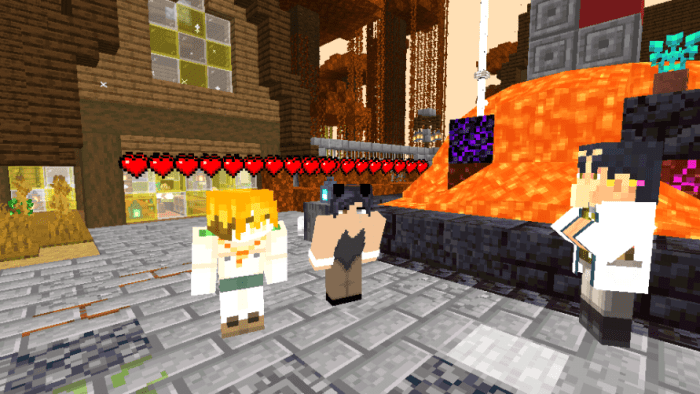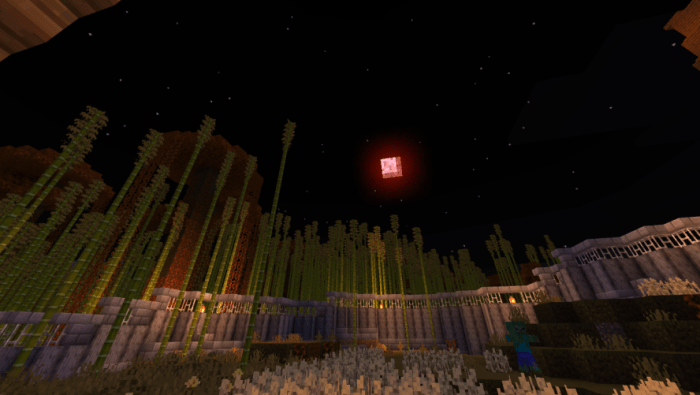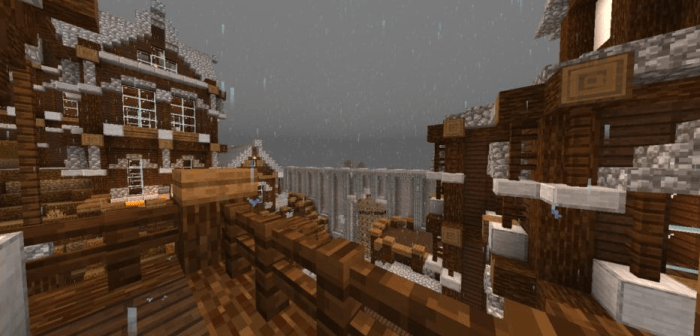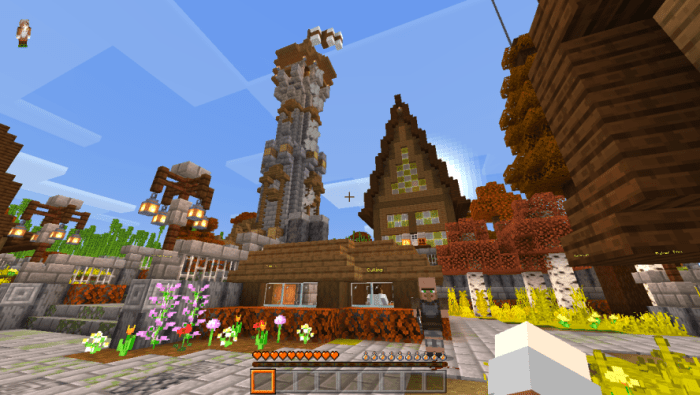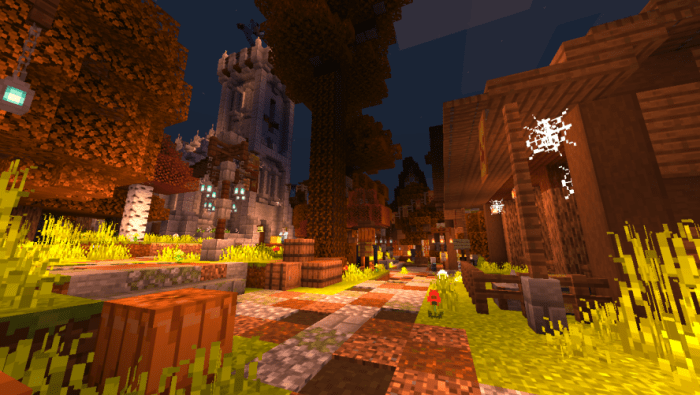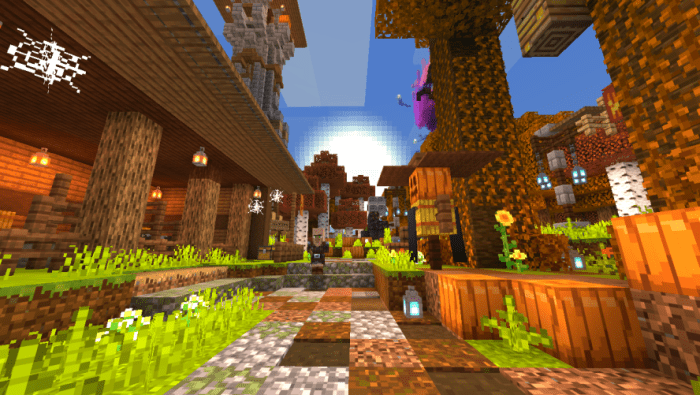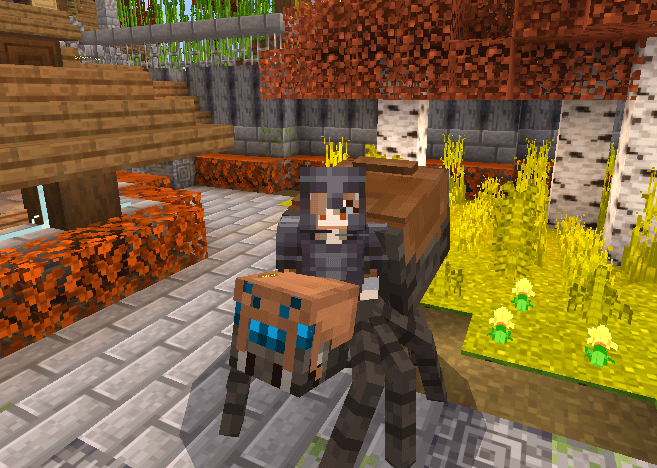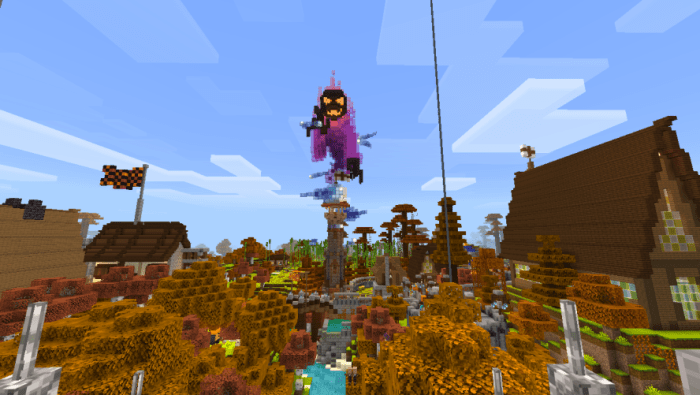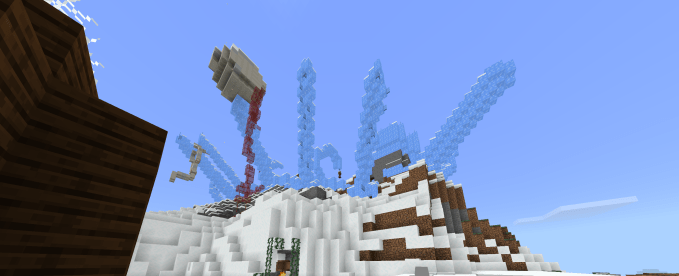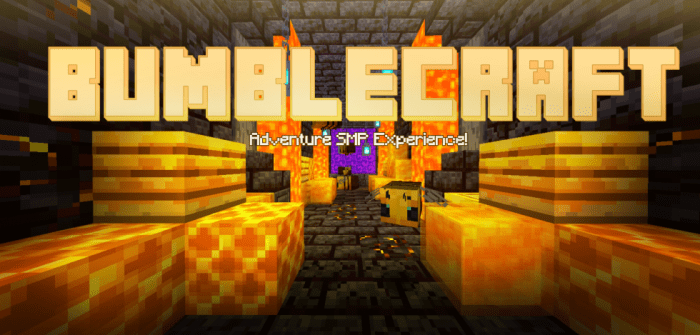 Join us as we expand and improve this project! Come and BUMBLE with us!

NOTE: You MUST join the Discord server and apply to be whitelisted. We cannot guarantee everyone will be whitelisted in a timely manner; bare with us!
Server Discord: Bumble Discord
- Winter has arrived in Bumble!!
- soundscape fixes!
- new community armor sets!
- new faction armor sets!
- new weapons!
- new quests!
- Forts overhauled!
- PVP settings fixed/finished!
- New exotic crops!
- Bloodmoons return!
- Stonk Market! (become a bumbillionaire!)
- and so much more!!

Come join one of the most ambitious Bedrock servers as we continue to push the boundaries of modded Bedrock Servers!!

- Harvest Season event came and went with limited time weapons!
- Autumn aesthetics now in full swing!
- Event timer set up allowing an overhaul on many aspects!
---- dungeon/world loot chests now refresh once every in-game day!
---- shops in Harvester Town now close at nightfall and open back up at dawn!
- New major town, Heveria, is nearly here!
- New dungeons and new quests!
- Become a mail-person and deliver mail between settlements for bumble coins!
- Improvements to factions and fort claiming!
---- The number of forts owned/currently claimed by each faction is now tracked and displayed!
- Harvester Quickwarps return!
- Numerous new items, mobs, and misc. changes!

Come bumble with us!

The Plush and Perils update is here!
- potopo collectible plushies added.
- Black Market returns!
- Armor Smith has arrived in Harvester!
- Villager Defenders added which protect villages and towns.
- Dozens of new hostile mobs!
- The first wave of community-created weapons are in!
- Autumn aesthetics applied to celebrate the harvest season!
- tons of fixes and new stuff!

come bumble with us!

- Added a fancy new Weapons Smith to Harvester Town who will now sell you a myriad of weapons in exchange for bumble coins.

- added bumble coin; the in-game currency used with traders and rewarded from quests.

- two new dungeons!

- black market trader temp disabled.

- various fixes.

Supported Minecraft versions
1.16
Server Name: Bumble! 0.7.9!
Map: Bumble