| | |
| --- | --- |
| Server IP | mcpe.dtgn.tk:25565 Connect |
| Version | |
| Status | Online |
| Players | 0/0 |
| Server Protocol | Other |
Downtime Gaming Network; One of the first hybrid servers! We accept MCPE Players, and Java players all under the same roof!
Here are some of the things you can do on DTGN:
– Survival
– Creative
– Zombie Survival
There's more to come soon. The server is still in beta mode, so be patient for development.
Proof that it's actually a hybrid server: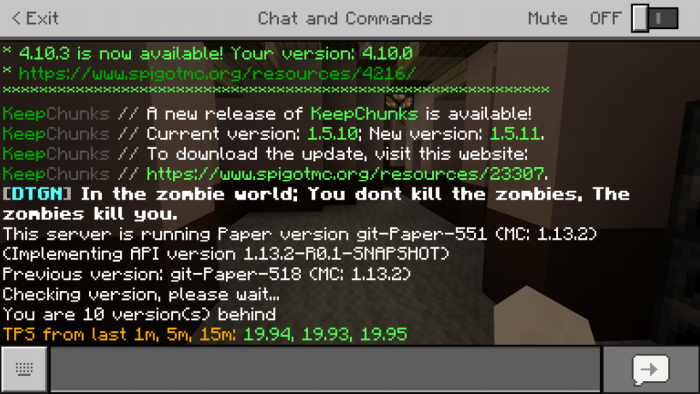 Who are we?
Downtime Gaming Network a non for prophet, non pay to win server who is ran by me as a hobby. The server is owned and hosted me: Andrew (Dafaq_U_Meen).
We are a community of people who like to build and play video games.
Our Gamemodes
– Survival
– Zombie Survival
– Vanilla
– Creative
– KitPvP (Underway)
– Mob Arena (Planning in progress)
Features we have, That other servers don't.
– Supports both Java, and Bedrock Clients, Although support for bedrock clients are unstable.
– We never wipe our maps, What you build on here you can come back years down the road and still see your builds!
– Backups of everything are done every day.
– We never reset worlds.
Our Rules
– Don't use cheats, It's not fair for the other players.
– Cuss words are ok to use, However be nice and respectful to players.
– Be respectful to players.
– No threats; Hack threads, Death treats etc.
– Don't grief the ITNs (Item Transfer Networks).
– Don't grief established bases.
– Don't over ask questions
– Don't ask for plugins.
– We don't accept plugins that come from you.
– For the love of god, Please don't ask us for a chat filter! We're a mature community.
– Don't tell us to get a new host, or a better CPU for the server. We know that the i3 2100 is slow, We can't afford getting a i5 or i7
Fixed connection issues. Added Kit PvP, Started work on Mob Arena, and did some fixes for Bedrock clients.
Supported Minecraft versions
1.9