Welcome to our most provided, unique minigame server that gives the things that you need to make this server fun. Before you continue we just want to note that this server remains in beta. Therefore issues can occur. In our server you can become the richest and there is a prize to that. You can become the richest by winning our MiniGames.
We absolutely need players to have fun in this lonely server and we encourage you to vote here! Vote for our server here
(https://minecraftpocket-servers.com/server/107267/)
And also join our discord server for the lastest server news. We're trying to grow our server to be the best for all of you.
————— DISCORD SERVER———
Our Discord Server PLEASE JOIN!!
—————————————————


On our server we provide right now four MiniGames that includes
> SkyWars
> Skyblockle
> Manhunt and Manrun [NEW]
> UHC Run Clans
> BedWars [HERE]
SkyWars
SkyWars is our game that includes very familiar maps and here you can unlock emotes and cages. Win 10$ for winning each skywars game. The goal is to try to win with the chests that provide you resources
Skyblockle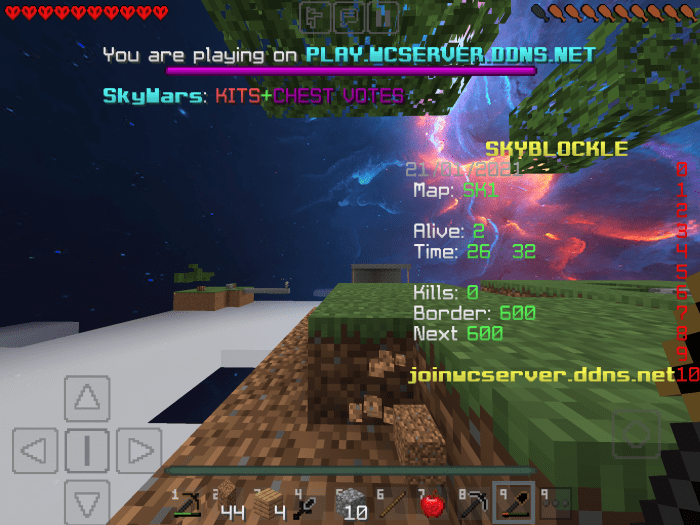 Skyblockle is a game in which you need to use the islands to gain resources and conquer all the islands. You must become the last player standing and win. Here you can create private games if you are an MVP or higher. You earn 20$ for winning a game.
Manhunt
Manhunt is our looked game. Here you must survive 40 minutes from hunters. The more the better. Each game will tell when a game is starting for manhunt so join that instead. You earn 30$ for winning a manhunt game.
UHC Run Clans
UHC Run Clans is the teamwork game in which you work for becoming the greatest clan in our server. Note: This game is currently offline. In this game you spawn on a land based area or in a ocean based area and gather resources to fight to the victory. Become the greatest clan to win $40 for each game.
BedWars
It is finally here our newest game with custom maps and the best experience. Make sure you stay at top.

We have so much to give you guys and we hope you can come and give us the best experience for our server. See you there.
We also have practice with
TNT JUMP

CLUTCHING

BRIDGING

Duels
It is finally here our newest game with custom maps and the best experience. Make sure you stay at top of the cash.

It has the following modes:
NO DEBUFF

BUILD UHC

GAPPLE

COMBO FLY

THE BRIDGE [SOLOS AND DUOS]
FFA
Select version for changelog:

Changelog
NEW UPDATED LOBBY WITH NEW SHOP
RACE CARS!!
CLASSIC ERRORS WITH SOME NEW FEATURES ADDED
UPDATED DISCORD SERVER LINK