The Single Potion Addon makes the new potion effects in Minecraft Pocket Edition version 0.11.0(+) more accisible. Through the simple use of a text command you can add any type of potion effect which you want to your character in-game.
Experience the rush of being super strong or jumping extra high.
Creator: Affogatoman, Twitter Account
How does it work?
To use the potion effects you need to use the following command in the text chat:
.effect [PotionEffect] [Time (sec)] [Level]
An example would be the following if you want to use the slowness effect for 30 seconds:
.effect slowness 30 3
(See full effects list further down!)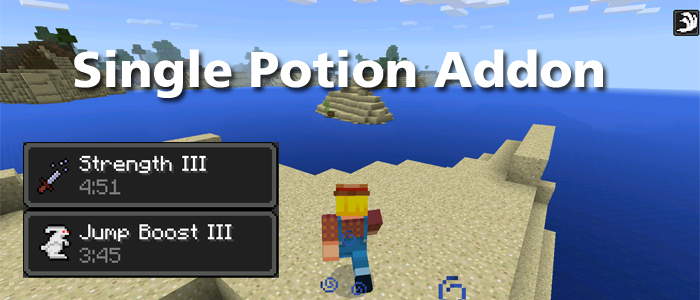 Potion Effect List
speed (1)
slowness (2)
haste (3)
mining_fatigue (4)
strength (5)
instant_health (6)
instant_damage (7)
jump (8)
nausea (9)
regeneration (10)
damage_resistance (10)
damage_resistance (11)
fire_resistance (12)
water_breathing (13)
invisibility (14)
blindness (15)
night_vision (16)
hunger (17)
weakness (18)
poison (19)
wither (20)
health_boost (21)
absorption (22)
saturation (23)
Important Install Note
This mod requires at least 0.11.0. Download the .apk file and run the file to install it on your Android device.