Are you tired of clicking the same old stone button every time you want to do something? Are you a server administrator, realm owner or just want your world to be a lot cooler? Well, now you can wave goodbye to buttons and levers with this Slapper addon from PixelPoly! Simply configure the addon to your liking as described below and it's ready to go!
Credits: PixelPoly Digital Pvt. Ltd.
Created by: Ash (Team CEO & Programmer) and Zarkmend (Team Programmer)
WEBSITE | TWITTER | DISCORD SERVER | YOUTUBE
For any queries related to this content, please contact us at [email protected]
Please make sure to read the license.txt and the changelog.txt for more information!
What does this addon provide?
– Configurable NPC which supports both in-game and external modification, currently, it's not possible to use your own skin with in-game NPC settings, however, you can still change it by simply replacing the original skins with your own.
– Color variants for both male and female NPC, there is in total 10 variants for both genders!
– Supports both the normal slapper mode and the new NPC mode!
You can always join our public discord server to ask for any help about this addon, we can provide much better and detailed solutions there!
How can I enable the new "NPC-Slapper mode"?
Please note, this mode is currently only supported in Minecraft 1.15+, so make sure you are you Minecraft Beta, 1.16.0 since the public release is still on 1.14.30.
To enable the new mode, just go to world settings and click on behavior packs, and then this "settings" toggle, there you can select both modes by sliding from left to right, by default the new mode should be enabled, if not you can simply enable it here.



How can I change the skin of NPC, in-game?
It's simple! Just right click/tap on the entity, and choose your outfit/skin for the NPC!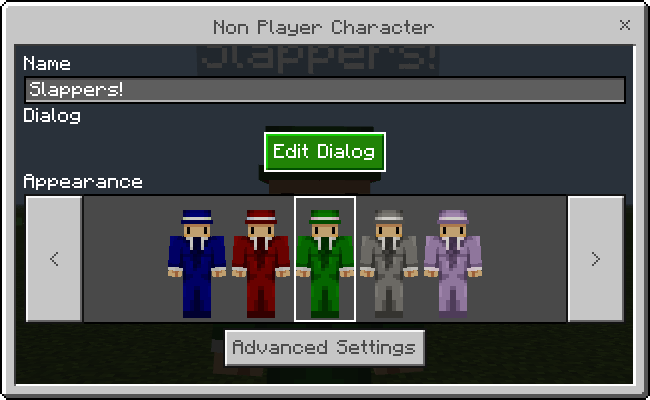 How can I add commands in the slapper, or dialogue/comment?
Right-click/tap on the NPC, open "Advanced Settings", and now just add your command.
Tip: you can even add any button that can be used for triggering that specific command!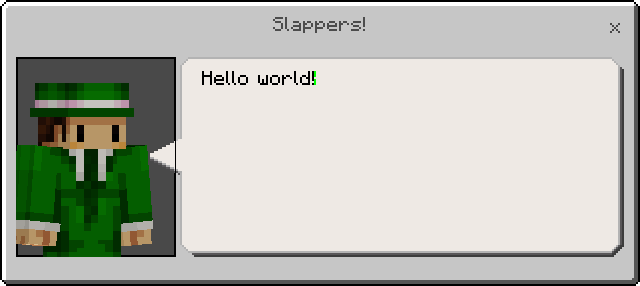 Additions:
Introduced a new mode for the Slapper, which is "NPC Slapper Mode", change-able in Add-On settings. [Only for v1.15+]
- This can allow you to customize the Slapper very easily without needing to modify the game's code.
Added various outfits and a female gender for the Slapper!
- For "normal slapper mode":
To summon them, please type "/summon entity:slapper_npc ~ ~ ~ variant_<0 - 9>"
For example, to summon the third variant, please type "/summon entity:slapper_npc ~ ~ ~ variant_2"
Changes:
- Ability to disable in only for creative mode players, this rule can be omitted with the command: "/summon entity:slapper_npc ~ ~ ~ can_be_disabled_by_any_player"
- Changed interact button text in most cases.
- Slapper entity's default cloth color is now blue instead of red.
- Slapper now has "look_at_player" animation, bob animation.
- Slapper Spawn Egg color has now been changed.


Fixes:
- Fixed several issues regarding the Slapper.
Downloads
Supported Minecraft versions
1.14
1.15 (beta)
1.16 (beta)