The Soldiers Addon implements a new mob to the game called Soldier. The Soldier is a neutral mob which will only attack if it believes it is being attacked. You can tame soldiers to create your own private army. There is an advanced promotion system which lets you give your soldiers different ranks and abilities.
Creator: Rexiar, Twitter Account
Credits: Vitalong (skin for the soldier)
How does it work?
Soldiers replace Skeletons, so this means that you will find them spawning naturally in your world, and often during the night.
You can recruit a soldier by giving it a Gold Nugget. This will turn it into a Deagle Unit. The soldier will stop from moving after it has been hired. To make it follow you, you will need to tempt it with a bone item.
You can promote your soldiers by giving them different items. Here's a list for the different promotions.
Promotions

Give Soldier an Iron Ingot (2nd Promotion) = Sniper Rifle (+10 attack damage, slow fire rate)
Give Soldier a Gold Ingot (3rd Promotion) = Machine Gun (+0.25 attack damage, fast fire rate)
Give Soldier a Diamond (4th Promotion) = Grenade Launcher (shoots small fireballs, normal fire rate, slows down the soldier movement)
Give Soldier an Emerald (5th Promotion) = Rocket Launcher (shoots fireballs, normal fire rate, slows down the soldier movement)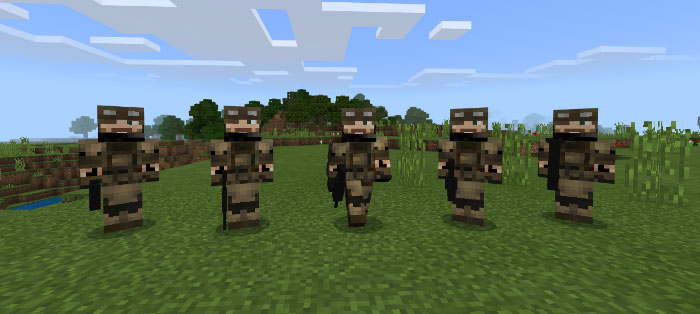 You might need to reload the chunk after you've tamed it make the weapon display in the hands of the soldier. This can be done either by restarting the world or traveling far distances to unload the chunk, and then returning to the same chunk.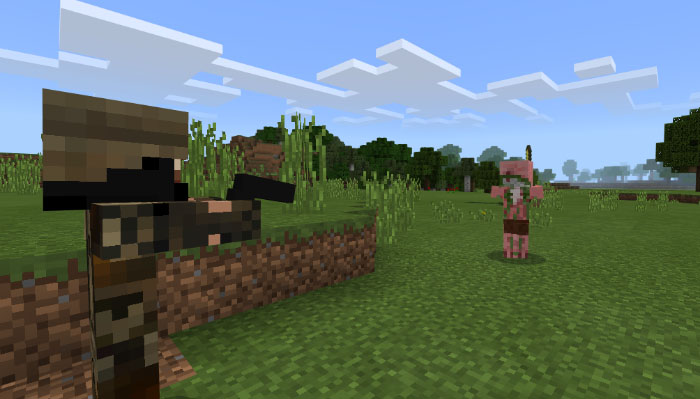 Recruited soldiers will fight for you by shooting hostile mobs with their different weapons. Soldiers have different abilities depended on their current rank / promotion level.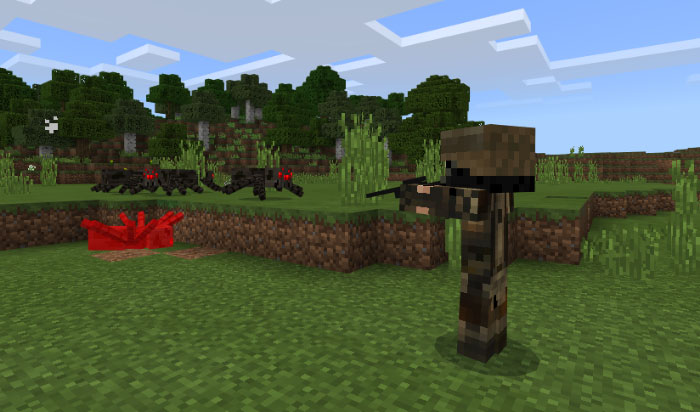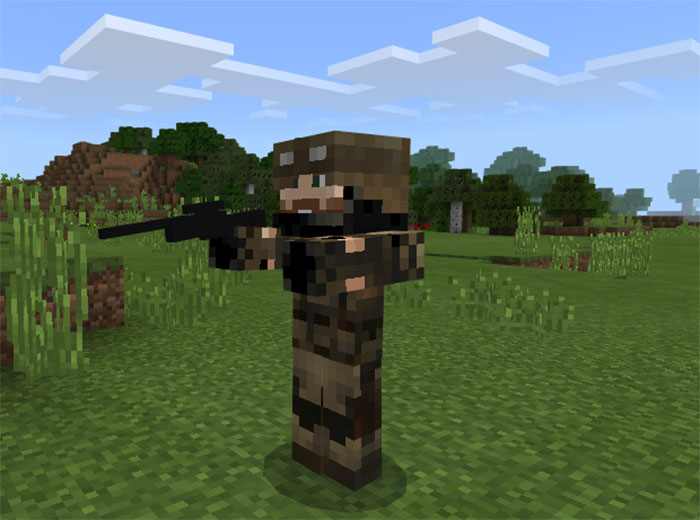 Features
Replaces Skeleton
Behavior: Neutral (attacks only if attacked)
Attack Type: Melee, nausea effect
Recruit a soldier by giving it a gold nugget and it will turn into a Deagle Soldier/Unit (+2 attack damage) (requires chunk to reload to display weapon in hand – re-enter map / go far away from chunk)

Promotions

Give Soldier an Iron Ingot (2nd Promotion) = Sniper Rifle (+10 attack damage, slow fire rate)
Give Soldier a Gold Ingot (3rd Promotion) = Machine Gun (+0.25 attack damage, fast fire rate)
Give Soldier a Diamond (4th Promotion) = Grenade Launcher (shoots small fireballs, normal fire rate, slows down the soldier movement)
Give Soldier an Emerald (5th Promotion) = Rocket Launcher (shoots fireballs, normal fire rate, slows down the soldier movement)
Installation
Apply the packs for a world
Create the world