This map is based on the Sonic Generations platform video game. It's mostly a parkour map but with a few mobs battles here and there. Try to collect all chaos emeralds from chests which are scattered throughout the map. The map uses custom textures and sounds so it feels almost like playing the actual Sonic game. You will definitely recognize many of the things in this map from the original game, assuming you've played it.
Creator: sonicthe122, Twitter Account
How to play?
When first starting you will notice that every sign in-game is in another language (my guess is Portuguese). But the idea of the map is just to complete the parkour challenges, collect Chaos Emeralds from chests and try to reach the end. On some passages you will need to use minecarts to get to the next level.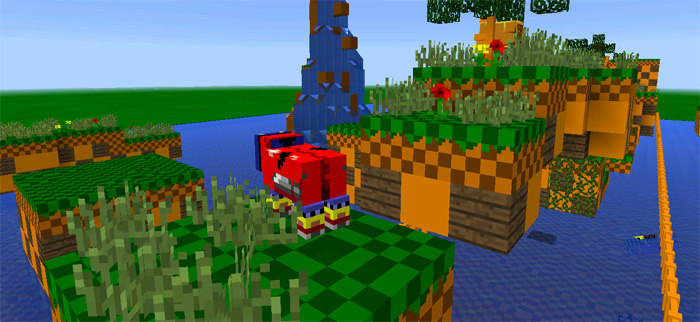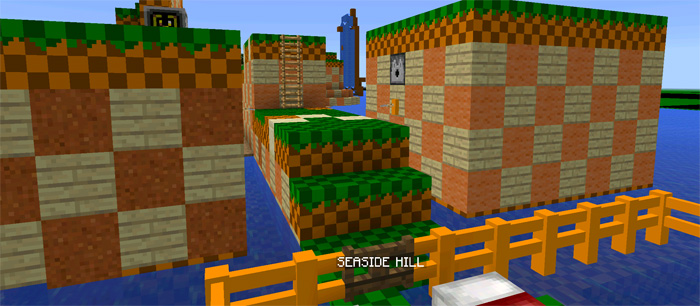 Install Guide
A huge deal about this map is the possibility to use the custom textures and sounds. For this you will need an Android device and the BlockLauncher app.
But yeah, it's possible to play it on other devices too but then you will miss out on the good stuff (Sonic textures and sounds).
Download the zip file. Use a file manager such as ES File Explorer to extract the zip file.
In total you should find three files in the zip file: SONIC GENERATIONS V1 map.zip (map zip file), sonic Generations sounds.zip (sounds zip, loaded like a texture pack), SONIC GENERATIONS (texture pack).zip (texture pack)
Make sure to restart BlockLauncher after you've done the installations (preferably, keep BlockLauncher closed while performing the map installation).