With this add-on we add to our Minecraft characters from the spider-man saga, this add-on includes spider-man villains either from comics or movies and spider-mans that appeared in the movies. 
Add-on created by ArathNido. (Twitter)(Youtube)
Warning:
This add-on was published on MCPEDL.COM, it is not allowed to publish this add-on on other websites or applications of Minecraft Addons without the permission of the creator.
If you will review this add-on for youtube leave credits, put the download link from mcpedl and not put the direct download link or create your own download link or you will receive a complaint.
At the moment there are only 8 versions of Spider-Man:
Spider-Man (Tobey Maguire)
Spider-Man Black Suit (Tobey Maguire)
The Amazing Spider-Man (Andrew Garfield)
The Amazing Spider-Man 2 (Andrew Garfield)
Spider-Man HomeComing (Tom Holland)
Spider-Man Far From Home (Tom Holland)
Iron Spider (Tom Holland)
Iron Spider 2 (Tom Holland)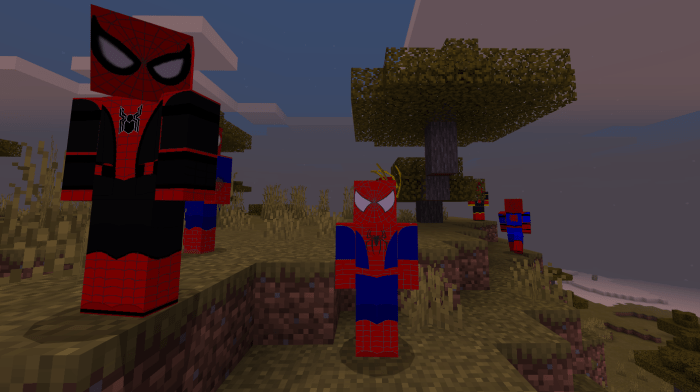 Features:
Health: 100
Damage: 8
They only attack villains and monsters.
Loot: Leather
Spider-Man villains:
We'll find them in our Minecraft world, they're aggressive, they'll attack the player and any Spider-Man they find.
Villains:
Green Goblin:
Features: Fly and shoot exploding pumpkins.
Health: 8
Kingpin
Health: 50
Damage: 20
Loot: Diamond
Morbius:
Health: 50
Damage: 20
Loot: Bone
Scorpion:
Health: 50
Shoots: Dragon fireballs.
Loot: Bone
Mister Negative:
Health: 40
Damage: 10
Loot: Diamond
Mysterio:
Features: Invoke zombie ironmans and dron.
Health: 150
Loot: Totem
Dron:
Health: 50
Features: Fly and shoot arrows at the player or Spider-Mans
IronMan Zombie:
Venom:
Health: 400
Damage: 6 – 12
Loot: Ender Pearl
Carnage:
Health: 300
Damage: 12
Loot: Netherite
Eddie Brock:
Health: 30
Damage: 4
Loot: Bone
Cletus Kasady:
Health: 20
Damage: 5
Loot: Bone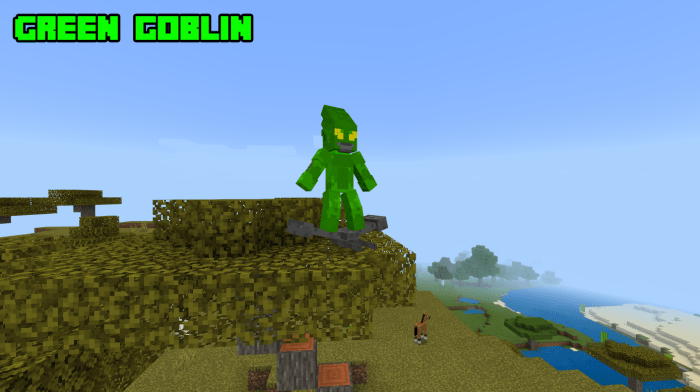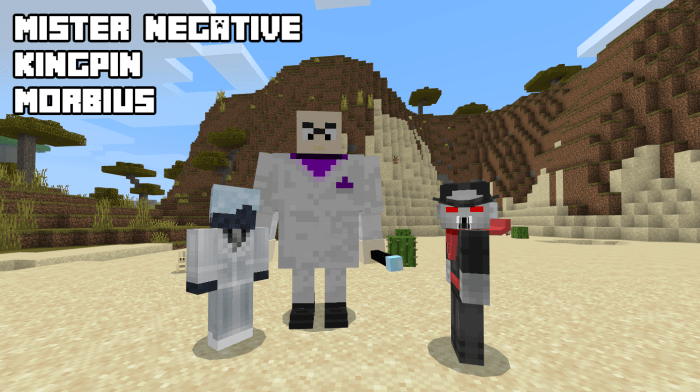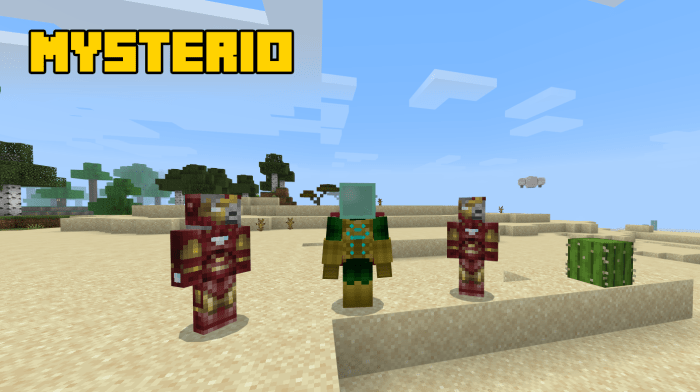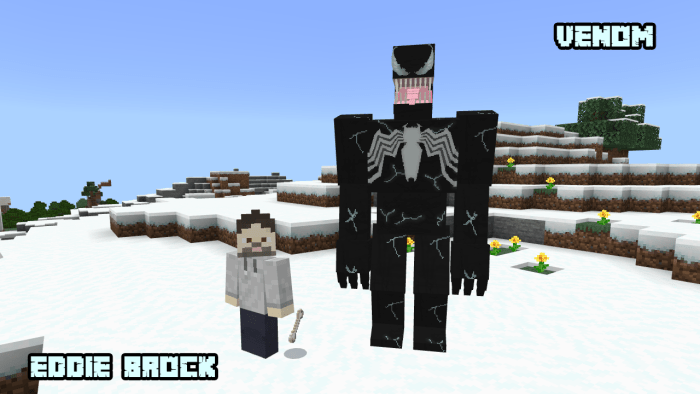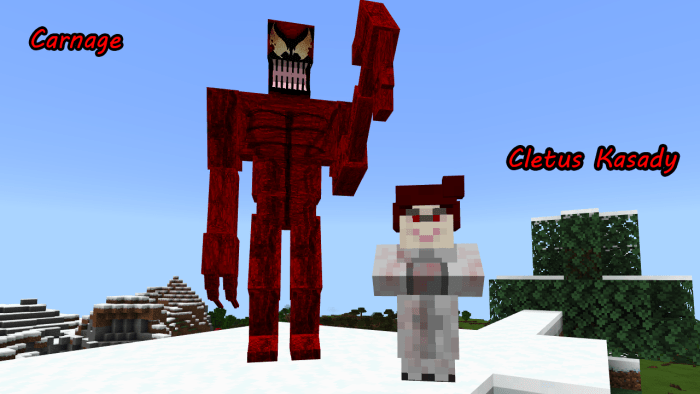 1° The animation bug was fixed and the mobs will release experience.
2° Several Spider-Mans will now appear in your Minecraft world
3° The health of the green goblin was reduced.
4° Four new mobs were implemented:
Venom
Eddie Brock
Carnage
Cletus Kasady
Installation
Download Resources .McPack.
Download Behaviors .McPack.
Apply the packs for a world.
Enable "Experimental Gameplay" in the world settings
Create the world.
Downloads
Supported Minecraft versions
1.16