With this add-on we add to our Minecraft Sponge Bob Square Pants, also add secondary characters of Sponge Bob as Patrick Star, Squidward Tentacles, Mr. Krabs, Sandy, Gary and others.
All the characters in SpongeBob can be found anywhere in our Minecraft world or can appear with spawns from the creative mode.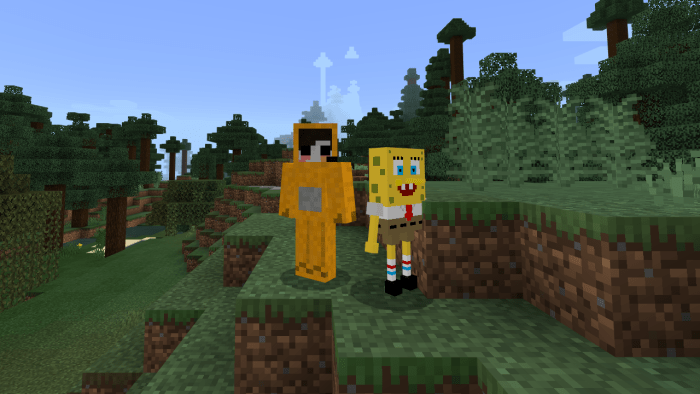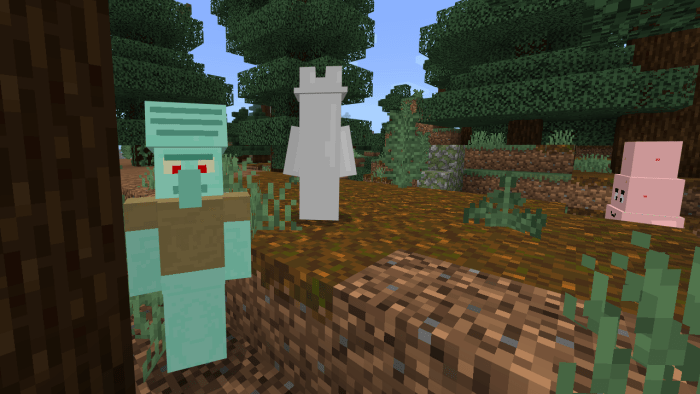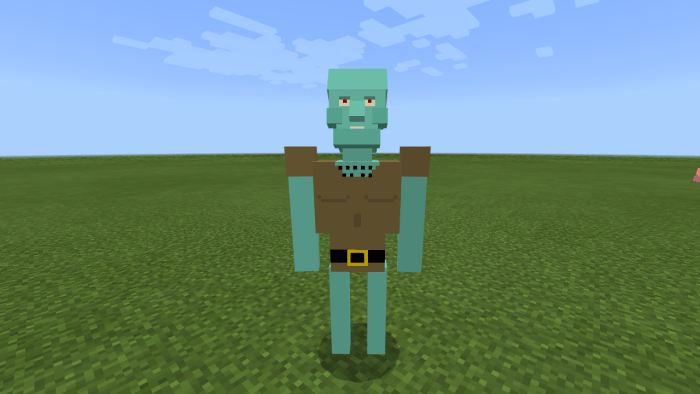 Passive sponge-bob characters:
Spongebob
Squidward
Patrick
Sandy
Mr. Krabs
Gary
Bubble Buddy
Kevin the sea cucumbe
Squidward Handsome
Features:
Health: 20
Damage: 4
Loot: Krabby Patty
Gary can tame him with fish, he will defend the player from monsters and he can ask to follow you or leave you sitting.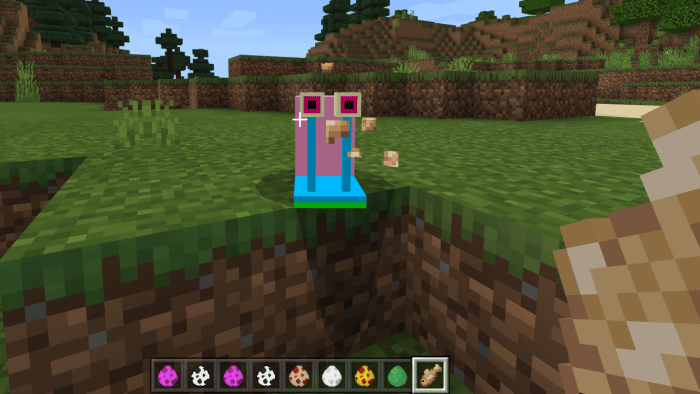 SpongeBob characters (aggressive):
DoodleBob
Features:
DoodleBob (With Pencil)
Features:
Health: 30
Damage: 12
Loot: RedStone
Plankton
Features:
Jellyfish (Pink/Blue)
Features:
Health: 10
Damage: 4
They fly.
Queen Jellyfish
Features:
Health: 10 0
Damage: 8
They fly.
Fodder
Features:
Plankton Robot
Features:
Health: 10
Shoot: Arrow
They fly.
Spongebob Robot (Boss)
Features:
Health: 900
Damage: 6
Invoke: Fodder and Plankton Robot.
Loot: Golden Spatula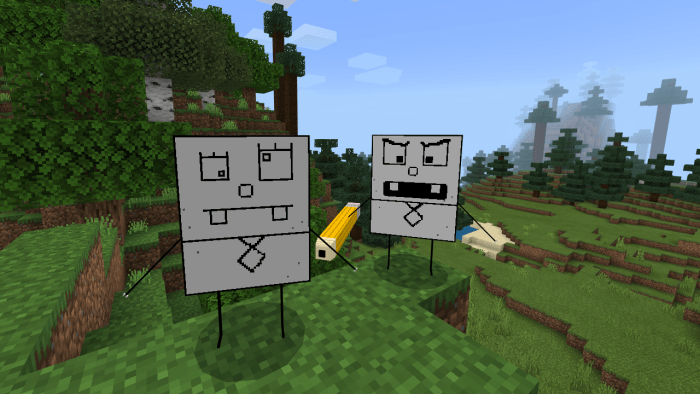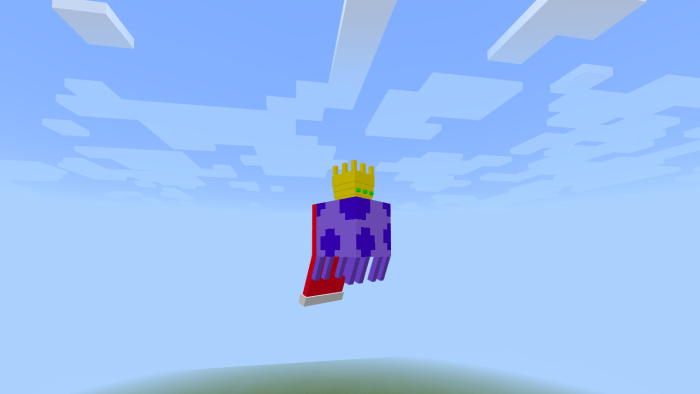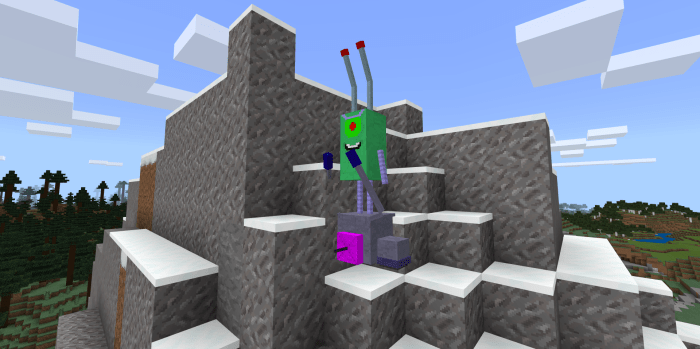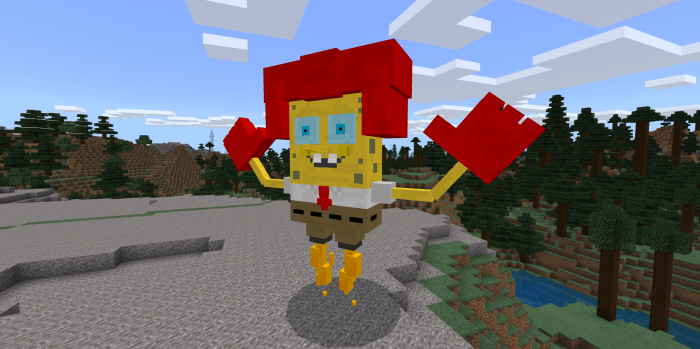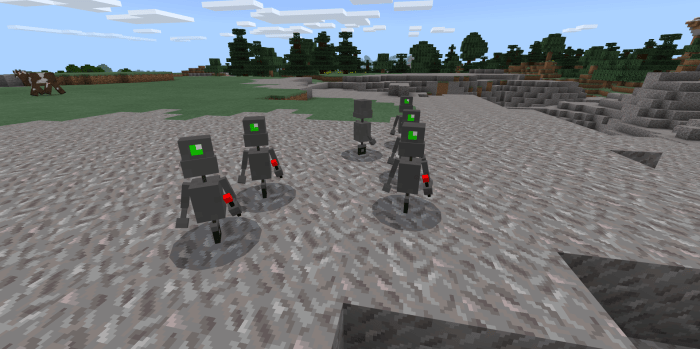 Golden spatula:
You can get it by killing a sponge-bob robot, you can use it to make enchanted apples.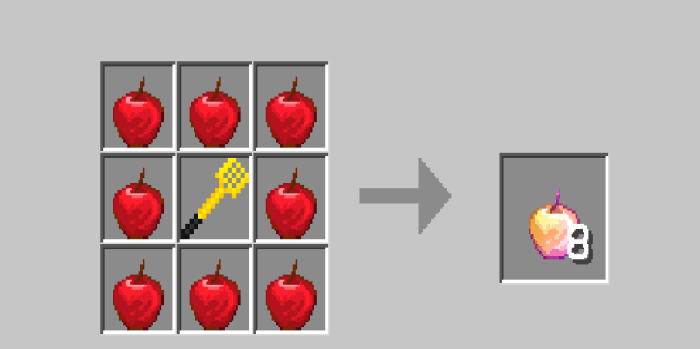 Colorburgers:
You can get them by trading with spongebob using emeralds, the colorburgers will give you potion effects.
Burger Blue:
Breathing: 300 Sec.
Burger Red:
Regeneration: 300 Sec.
Burger Green;
Jump boost: 300 Sec.
Burger Yellow;
Haste: 300 Sec.
Burger Orange;
Fire resistance: 300 Sec.
Burger Purple;
Strength: 300 Sec.
The color burgers were added.
Added the golden spatula.
Added 3 new characters: Fodder, Robot sponge bob and Robot plankton
Jellyfish were added.
Added Squidward Handsome
Added to Kevin the sea cucumbe.
Added to to the queen jellyfish.
The probability of spawn was changed.
Installation
Download Resources .McPack.
Download Behaviors .McPack.
Apply the packs for a world.
Enable "Experimental Gameplay" in the world settings
Create the world.
Downloads
Supported Minecraft versions
1.16