A long time ago, a scientist tried to create other bosses to the game, ended up failing the experiment and created a three headed aquatic boss! And it's your job, to stop it!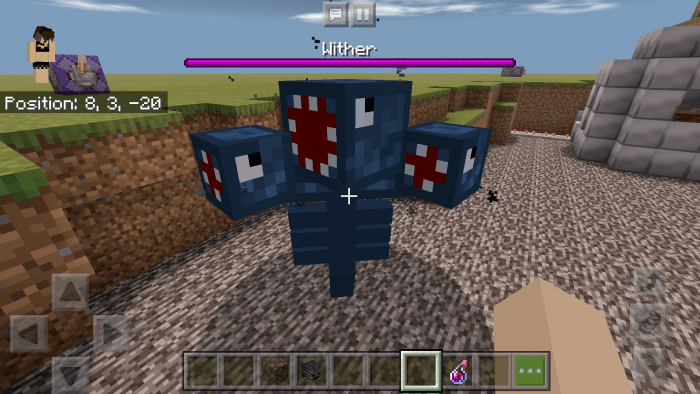 Name: Squid Boss
Has 900 HP
Attacks: Iron Golems, Snow Golems, Ender Dragons and Players.
Shoots Wither Skulls.
Squid Wither Boss replaces the normal Wither Boss.
Drops 0-1 Nether Star.
Version allowed: 1.8-1.12 (Turn on Experimental Gameplay for better experience.)
Weakness: Diamond Sword-Sharpness level 5 and Unbreaking level 1.
Toughness: Just like the Wither Boss, it has a force field for projectile protection when at half a heart.
This is how the Squid Boss looked like in-game. It may be hard to tell how it looks like, just because I used Assistive Touch to take a screenshot of it. It's hard, I tell you!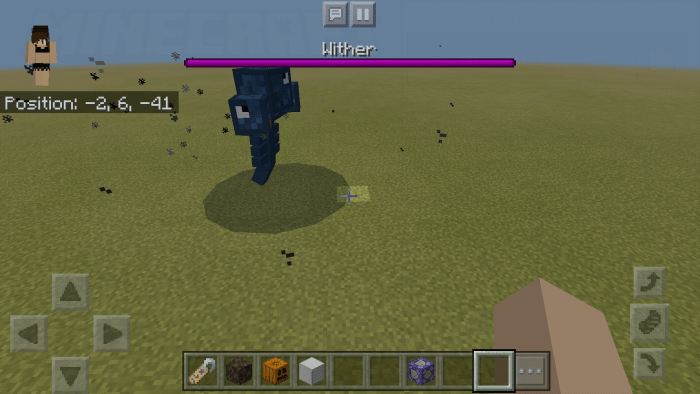 But, you get the point, guys…
Here's an example of the Squid Boss attacks not even close to scratching a dent on the Iron Golem! Like I said, it's attacks are kinda sloppy…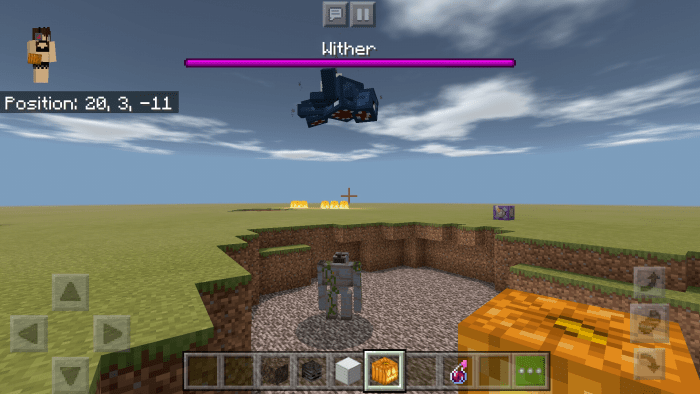 You are allowed to:
Use this addon to challenge other people's addons.
Review this for a video. Give me credit in the description to any of my social media.
Use this addon for your survival series.
You are not allowed to:
Modify the behaviors/ textures of the mob! I'm always watching…
Don't try this addon on Beta versions of the game. It's advised to always use this addon on full versions of the game.
• Screenshots that are not Minecraft related are now pictures that are Minecraft related. Sheesh.. Assistive Touch really is hard to use!
• Experimental Gameplay can either be disabled or enabled (It's recommended to turn on Experimental Gameplay, or the behavior of it will malfunction..).
• Hitboxes have been resized from being 20% large to 25% large.
• The Squid Boss now has it's own attack delay. (From 1-1.7 second delay to 1-0.3 second delay)
• The Squid Boss now only shoots the blue Wither Skulls. Will be changed soon.
• Now supports 1.13 and 1.14 beta.
• Shields or Totems of Undying are now recommended to be used when fighting it.
• Spawn rate in the Nether is no longer allowed.
• Both resource pack and behavior pack are now into one addon.
• The Squid Boss Addon with the update that adds the Squid Army will be delayed a bit. Be patient, though..
• Upcoming mobs soon (For version 1.1.0):
- Creeper Slimes
- Blaze Necromancers
- Giants
Installation
Use either Ad.Fly or Mediafire links. Do not use other links from unknown sources, as that can rewrite my work and suspend it.
Downloads
Supported Minecraft versions
1.10
1.11
1.12
1.13 (beta)
1.14 (beta)
1.8
1.9