Stained glass is a feature for Minecraft PC exclusively. This mod adds 16 differently colored stained glass blocks to Pocket Edition. They can all be accessed through the creative inventory or by crafting. The only downsides we could find was that there are no glass panes and sometimes the blocks are flickering.
Creator: Anonymous52, Twitter Account
Decorate your worlds with colorful glass blocks. All of the blocks can be crafted using one of the recipes found further down on this page.
Here is an overview of all the stained glass blocks.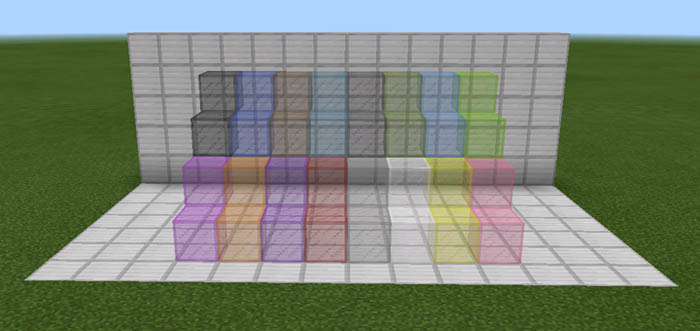 To see how it looks like with buildings I downloaded Mariner Castle and used a bunch of differently stained glass blocks to decorate the walls of the castle.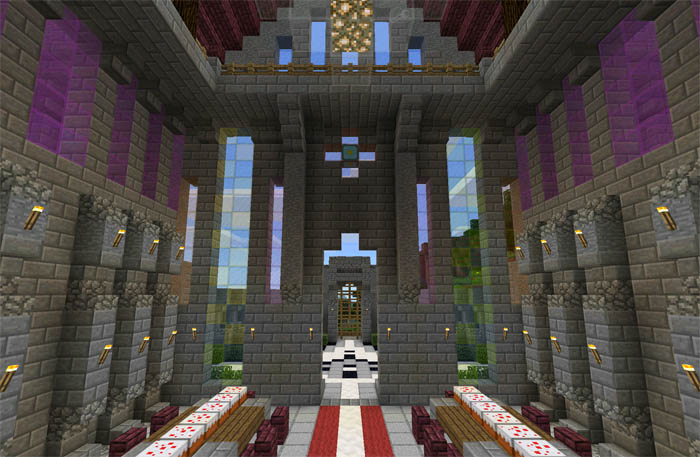 Block IDs & Recipes
Black Stained Glass (201) – 8 Glass Blocks + 1 Ink Sac
Blue Stained Glass (202) – 8 Glass Blocks + 1 Lapis Lazuli
Brown Stained Glass (203) – 8 Glass Blocks + 1 Cocoa Beans
Cyan Stained Glass (204) – 8 Glass Blocks + 1 Cyan Dye
Gray Stained Glass (205) – 8 Glass Blocks + 1 Gray Dye
Green Stained Glass (206) – 8 Glass Blocks + 1 Cactus Green
Light Blue Stained Glass (207) – 8 Glass Blocks + 1 Light Blue Dye
Lime Stained Glass (208) – 8 Glass Blocks + 1 Lime Dye
Magenta Stained Glass (209) – 8 Glass Blocks + 1 Magenta Dye
Orange Stained Glass (210) – 8 Glass Blocks + 1 Orange Dye
Pink Stained Glass (211) – 8 Glass Blocks + 1 Pink Dye
Purple Stained Glass (212) – 8 Glass Blocks + Purple Dye
Red Stained Glass (213) – 8 Glass Blocks + 1 Rose Red
Light Grey Stained Glass (214) – 8 Glass Blocks + 1 Lime Dye
White Stained Glass (215) – 8 Glass Blocks + 1 Bone Meal
Yellow Stained Glass (216) – 8 Glass Blocks + 1 Dandelion Yellow