If you're a classic SNES/N64 or a modern WiiU/Switch Starfox Fan this skinpack is for you! This pack allows you to play as Fox McCloud, Falco Lombardi, Slippy Toad, and Peppy Hare!
The Skins
This pack includes all four members of the Starfox team!
Fox McCloud
Falco Lombardi
Slippy Toad
Peppy Hare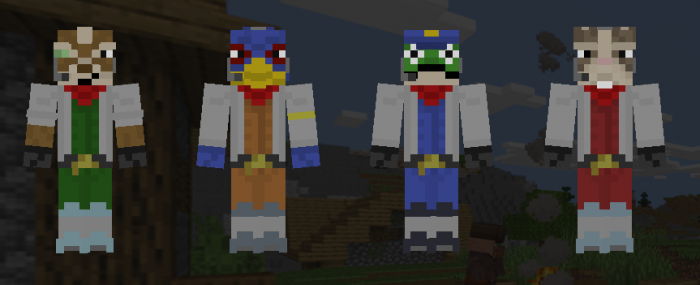 The Creator
Hello, I'm Minnesota! I'm a small youtuber and creator who loves to make things for the games I play! If you have any question or would like to see me channel just use the links below!
My Personal Discord (Chats for MCPEDL users!)
Note: This was only uploaded to MCPEDL.com. If you see this anywhere else it was without my permission.
I've had multiple things uploaded to other sites without my permission, had to update the description because of this.
Installation
Download the .mcpack

Open the .mcpack

Minecraft will open and it should say that it is importing at the top

Once imported the skin pack should be ready for use
Downloads
Supported Minecraft versions
1.11
1.12