"The Statue Of Liberty Enlightening the World"
Welcome to the New York Harbor, fed by the Hudson Bay. Adventure the BEST Statue of Liberty creation for ONLY Minecraft Bedrock Edition ever made. 🤓
Preview
ALL PHOTOS WERE CAPTURED BY REALDAJUAN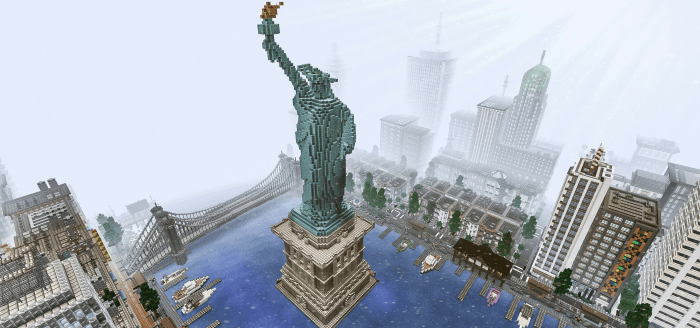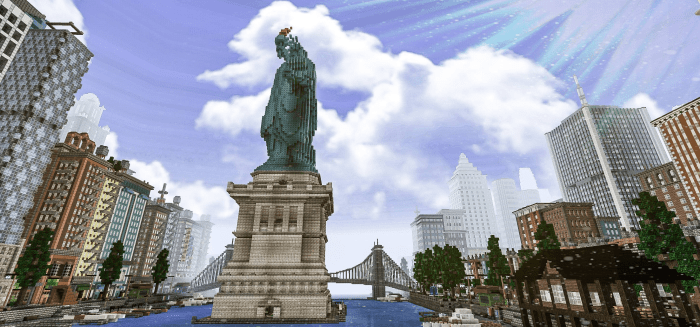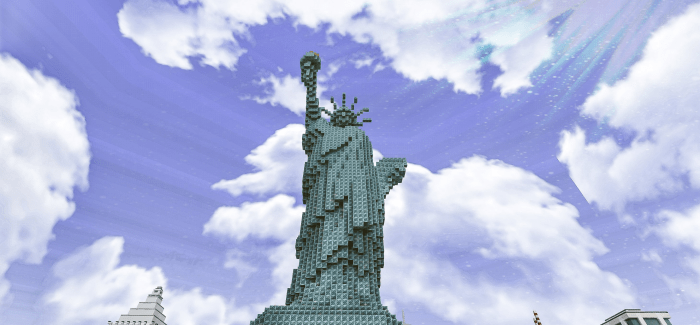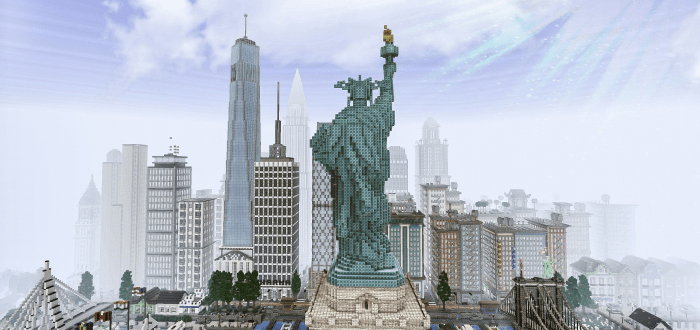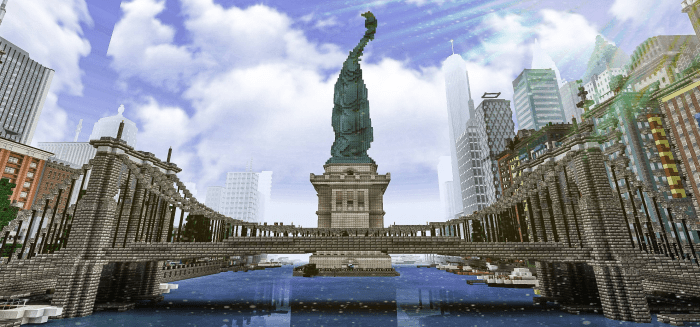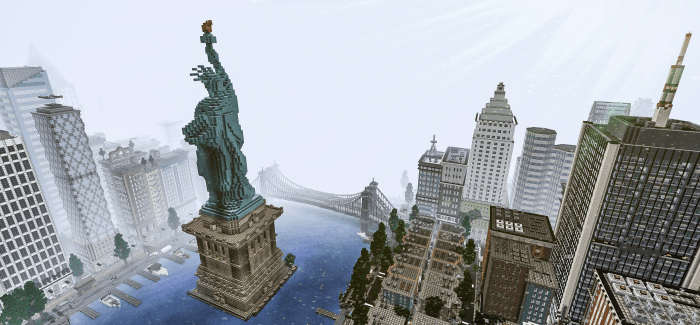 Main
Did you ever want to adventure or travel to the great Statue of Liberty? Of course you have. It took me a month to build the at least presentable version of the map and give you a Statue ONLY tour. As you know, it's only locked to the Statue as I've fenced off the outskirts due to the fact that I've built this baby in Patriotville Downtown.
When you download the Statue of Liberty map it will be in Adventure Mode, making it impossible for you to get out of the tour unless you tweak the settings. I've made a more realistic Statue to resemble the official version. This map has tours that you won't find in the regular Patriotville Bedrock Edition [BETA] map and I'm excited for you to tour around the Statue.
Big Data Maps
I build my maps with high detail with a lot of blocks just to give you guys the utmost quality & attention to detail backed by a realistic experience with the 1 and only Texture Pack Partnership I have stated below. As a result my maps will require a big amount of memory to Download.
Credits
M7MOGAMER – Aero Star Modern Texture Pack
– M7MOGAMER wrote, This texture pack is not for survival mode or medieval/rustic style building, so please do not use this pack in stuff that's not related to modern/futuristic building style.
– RDJN wrote, Do not use the Texture Pack without giving M7MOGAMER full credit and be sure to link your project to his MCPE DL project.
(SEASON 1 ADVENTURE 2)
*Minor Update, I've changed the link via the credits section for my nickname RDJN.
*Minor updates to the description.
*Performed a download link quality check.
Placed more blocks to give you all the best details possible.
Performed a download link quality check.
Updated the description for quality. 
Performed a quality check for the download links.
Updated the main photo to something more detailed.
*I've given the easiest way for IOS visitors to download with Mediafire.
*Not a major update guys, I've decided to stay loyal and exclusive to ONLY MCPEDL so I've removed the Planet Minecraft Link.
*Changed the Category to Adventure Map as it best suited this world.
*Fixed the link problem with Planet Minecraft
*Did a final link check and updated better to suite quality and faster download
*Patriotville Transit Authority Preparation for the Statue of Liberty connection will be coming soon!
You guys can now choose to DOWNLOAD one of these files:
*.mcworld
*.zip
*Fixed a major issue with my DOWNLOAD process.
*A way to access the Patriotville Transit Authority comming soon.
*Digging continues underneath the Statue for my worlds biggest Transit Center.
You can now easily access my DOWNLOAD files 😁, Have a great one guys!
Made major changes to my DOWNLOAD link. You guys should be able to download now. Sorry for the inconvenience. 🙂
Installation
Download Instructions
To Install this map, I've given you 2 options. Choose one. You can DOWNLOAD the .mcworld file or .zip

For the .mcworld edition you should be able to import it. For the .zip edition you can download it, unzip it and move the folder inside to your MinecraftWorlds folder. Hopefully this was convenient for you.
Downloads
Supported Minecraft versions
1.16 (beta)