Hello! It's been several months since we first announced that we were working on a new submission system for the website, and we are now happy to let you know that it is running live on the website.
Giving content creators the great flexibility to be in total control of their own content has been an idea for a long time, so it's nice to finally be able to launch it.
The New Features
New user control panel: All user information is managed in a new user interface: https://my.mcpedl.com/. Here you can edit your profile details and manage your submissions.
Update: We'll make it so that you can login with both the username or the email. Please allow some time for us to make this update. – Fixed!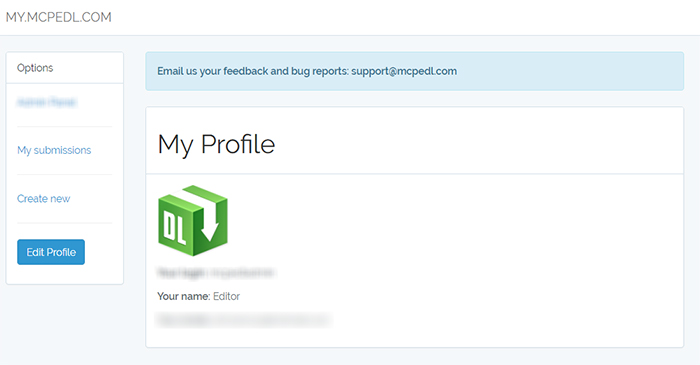 New submission system: Accessible via https://my.mcpedl.com/. It was created to give users an easy way to manage the content they have submitted for posting on the website.
Here are some of the key features:
Total control of all your content in a simple to use control panel (

https://my.mcpedl.com/submissions

)

Post types: Add-on, World, Texture Pack, Seed, Skin, Skin Pack, Server, ModPE, Script

Each new post type has different post formats and requirements.

Post versioning (with beautiful changelogs on post page)

Select supported versions (now also possible for visitors to sort content by support Minecraft versions)

Option to upload files (max file size: 10 MB) (you can of course continue using the option to use external links such as MediaFire and link shorteners!)

Schedule posts to be published on a specific time and date.

And much more!
Claim Feature: Old posts were never assigned to a specific users. This means that you need to find your old posts on the website and press the green "Claim" button near the title. (Make sure you're logged in as a user or else you won't be able to see this feature).
It will then take up to 24 hours for the Claim to be reviewed. If all is OK, then it will be visible in your user control panel (https://my.mcpedl.com/submissions)
New User URLs: Users with at least one accepted submission have their own customizable profile page (example: http://mcpedl.com/user/netherninja/). Here you can find information such as social links and all their accepted submissions.
Currently we use a very simple layout for this. It will be something more fancy in the future.
New Features for Comments: Creator tag when replying to comments on your own posts. Comments are sorted by latest first (will be fixed tomorrow). You can't rate your own content with star ratings.
There might be some additional features/changes that we have forgot to mention here.
Known Issues
This list only includes the most important issues for users. There is a longer list, but that one is private. 🙂
Fixes are being worked on!
Comments aren't transferred from old posts to new claimed ones. This needs to be fixed or else people users all their ratings/comments. This should also be fixed on posts which have already been claimed and accepted.
Forgot password is bugged, user doesn't receive reset email.
Profile picture not always visible, one reported incident. Appears to be related to Gravatar.
Registration captcha bugged (doesn't let user login even though they complete the captcha). – Fixed
Comments not sorted by latest. – Fixed
Feedback
There are still some small issues here and there which need to be worked out, but as a whole we are satisfied with the implementation and we hope that you are as well. If you come across any bugs, issues or have other feedback to share please send us an email to [email protected]