Snap. With one single command, the rest will trigger – destroying your world. Encased with 7 different runtimes, this function may crash your game. As Thanos' snap, you have the power too – but in Minecraft.
This is an Add-On that contains commands that will surely lag your game. As you run this single command, many things will collapse, and more landscape would be destroyed.
The Snap in Minecraft
The Snap originally was from Thanos' snap. I am not a big fan of Marvel or anything with it. I originally created this pack to show my friend's Thanos' power – by crashing their game! Although, please make backups of your world before executing this onto any world if possible.


This was tested on the Minecraft Bedrock beta 1.12. So, it may work differently on pther versions (such as 1.10 or 1.11)

Effects Upon Snap!
World Destruction: will destroy your world where mob's sit in, and destroys their home habitat.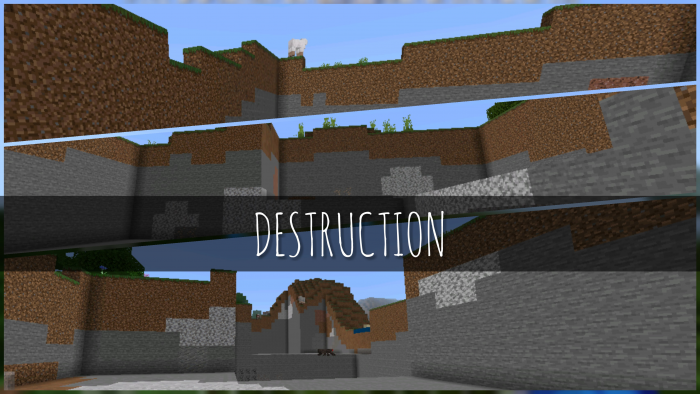 Bomb's Explosion: summons TNT everywhere, multiplying, and multiplying. Destroying everything in its sorroundings.
Heavy Lag: mobs will freeze, anything will become unresponsive, creating many entities around your world and prespective, causing lag – specially on medium and low-end devices.
Game Crash: eventually, players joined in your world, including you, may get their game crashed.
Aftermaths & Other Information
Your world will not be destroyed, this is just a temporary effect as long as the game do not Autosave it while the effect is active.
Based on testings on two devices, low-end devices are more likely they'll crash their game. While on the other hand, medium to high end devices may take some time to crash, or maybe it wont. In any case you survive the lag effect, as stated above, you'll experience the rest of the effects and may heat your device.
Create a backup of your world before doing anything. This is intended only for fun and trolling friends.
Installation
Wait for 5 seconds. And click the Skip Ad button on the top-left corner, you should be redirected to a mediafire page where you can download the pack.
You are advised not to accept any notifications when asked, as well as download anythinf that is not relevant from this pack.
Read the READ-ME.txt for more information.
Downloads
Supported Minecraft versions
1.12
1.9