TNT Toss is an exciting multiplayer minigame where teams have to throw explosive TNTs at each other's ships to ultimately destroy them. The ship is essential for a team's survival since falling overboard will result in an immediate death (and if it happens to the entire team then it's a game loss). As a whole, it's an enjoyable and well designed minigame which has been optimized to work for low-end devices (4 chunk render distance).
Creator: AutoGrind (Twitter), VanillaGrinders (Twitter)
How to play?
This is a multiplayer minigame which requires at least two players but the more the better. Wait for everyone to join, split up on two teams (blue vs red) and then enter through the portals to get to your team's ship.
It's recommended to initiate a countdown in the text chat before starting a game. Every few seconds or so you will automatically receive some throwable TNTs and once in a while a jump boost.
Throw TNTs at the other ship to destroy it. The TNT explosions don't cause harm to players so you must find a way to destroy their ship and make the opposite team fall into the water.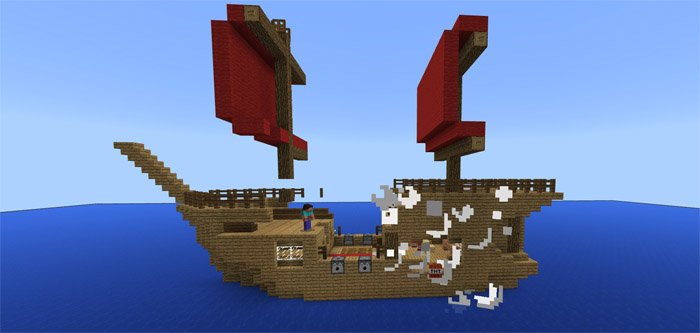 On the ship there are also cannons. Press the button on top of the cannon to use it. If it doesn't work then you might need to reload it with some more TNTs (simply open the dropper to do that).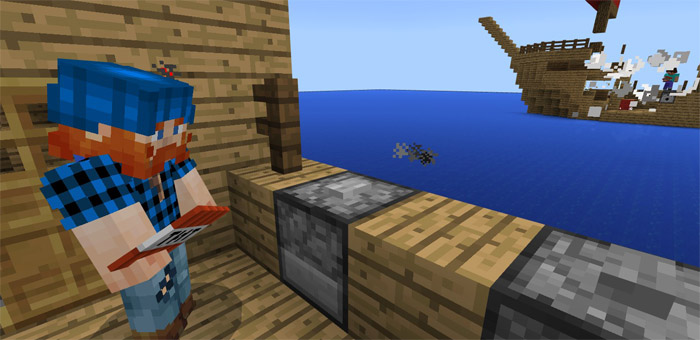 Players immediately die if they fall into the water. Once dead they'll spawn at a spectator location. Don't press the button there until a game has been completed.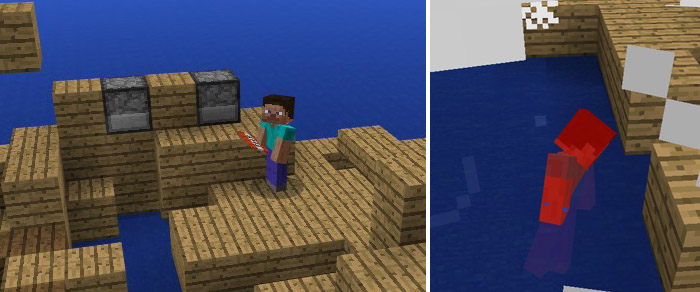 Once a game is completed then you can reset it by pressing the reset button in the game hub.

Installation