Too Many Items is the best mod there is to have complete control of your items and blocks in your inventory. It also adds features for management of your gameplay such as switching between day and night and accessibility to a large variety of buttons to simplify your gameplay.
Creator: MrArm, Twitter Account
If you liked this mod don't forget to check out the Toolbox Mod by clicking here!
All Features
Get any item/block you want (even items/blocks added in mods!)
Switch between day/night, creative/survival
Heal button & kill
Set spawn
Ride animal (gives you an item which you can tap with on an animal to ride it)
Entity manager (advanced mobs adding system)
Settings allow you to change the button positions
How to use?
In the bottom corner of the screen there will be a new button named M. Press it to show all the different options the mod got to offer.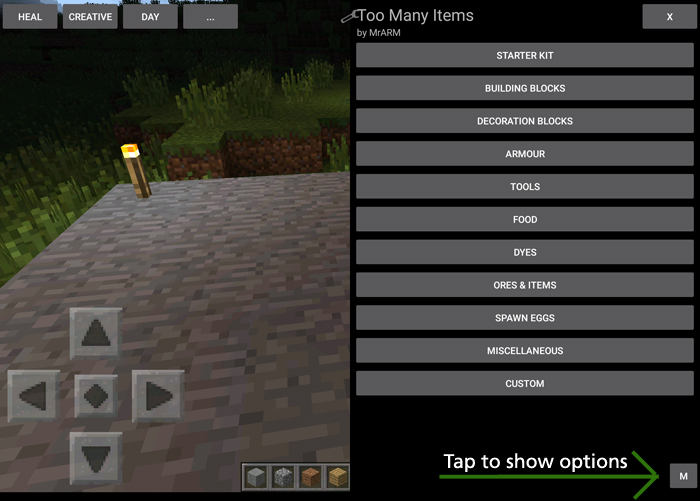 In the top-left corner there are three quick buttons; heal, creative/survival, day/night and a dropdown (...) including options like kill, set spawn and ride animal.
The main options are split up in several different categories displayed on the right side of the screen. Tapping on either of those will bring you to a second menu where you can more precisely choose which items you want to get. The majority of the options are self-explanatory within the mod except for one, the CUSTOM option.
How does the custom option work?
The custom option will ask for three different values:
Item ID - Visit this site to find IDs. The list is for PC but the same IDs applies for MCPE. Keep in mind that not every item or block found there is available yet in MCPE.
Item Damage - Default 0, keep it like that.
Item Count - The amount you want to receive. Tap the Full Stack button below to apply 64 instantly.
Once you've entered all the needed values you can tap Add and you will receive whatever items you chose in your inventory.
Download (Dropbox) (Recommended)
[download label="Download (MCPE DL)"]http://mcpedl.com/wp-content/uploads/2014/04/toomanyitems.js[/download]
Download (GitHub Code)