Villager trading is one of the features which exist in the PC version for Minecraft but not yet in Pocket Edition. This addon adds trading to Minecraft PE and it is definitely a must-have if you want villages to be more useful. Each villager will sell different items depending on his profession. This means that you can buy everything from food to weapons.
Creator: Gona, Twitter Account
How to trade with villagers?
Begin by finding a village. There are plenty of seeds which you can use to spawn right next to a village. One of my favorites are "johnny appleseed".
Each villager trade different items depending on his profession. To trade with a villager you will need an emerald.
iOS / Android: Equip an emerald in your active slot, long press on a villager and then press the Trade button to trade with him.
Windows 10: Right-click on a villager while holding an emerald to make the trade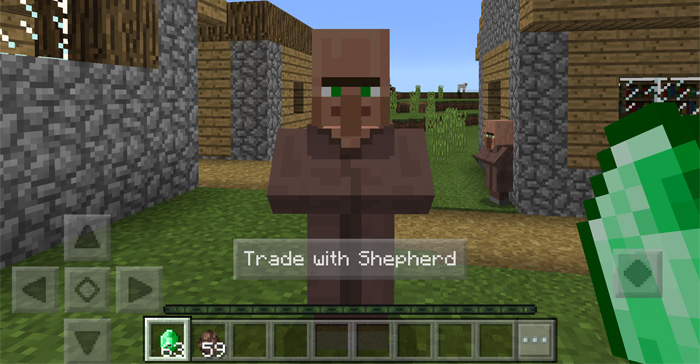 In this case I decided to trade with a shepherd. A shepherd is someone who takes care of sheep. In exchange for three emeralds I got 2 white wool, 2 yellow wool and 1 shears.
You can't pick which items to purchase as it's all random. More valuable items such as shears have a less drop rate (%) than less valuables ones such as wool.

Tradable Items
Even though you can't choose specifically which items to trade you can choose by category. For example, if you are interested to get some meat then you should find a butcher to trade with and if you need a saddle for your horse then go visit a leatherworker.
Armorer
Chainmail Leggings
Chainmail Boots
Chainmail Chestplate
Chainmail Helmet
Iron Chestplate
Iron Helmet
Butcher
Cooked Porkchop (3-8)
Porkchop (6-12)
Cooked Beef (4-10)
Beef (8-14)
Cooked Mutton (4-10)
Mutton (8-14)
Cooked Chicken (6-12)
Chicken (10-20)
Cleric
Compass
Book (2-10)
Rotten Flesh (2-10)
Redstone (2-10)
Ender Pearl (1-3) (v1.0 only)
Gold Ingot (1-5)
Diamond (1-3)
Diamond (1-3)
Clock
Farmer
Cake (1-4)
Cookie (6-12)
Pumpkin (3-6)
Bread (3-8)
Diamond (1-3)
Pumpkin Pie (1-4)
Fisherman
Fish (3-25)
Salmon (2-15)
Clownfish (1-10)
Pufferfish (1-5)
Cooked Fish (3-15)
Cooked Salmon (2-10)
Diamond (1-3)
Fishing Rod
Fletcher
Feather (3-25)
Flint (2-15)
Arrow (8-15)
Bow
Leatherworker
Saddle
Leather (1-4)
Leather Helmet
Leather Chestplate
Librarian
Compass
Book (2-10)
Paper (1-25)
Diamond (1-3)
Clock
Shepherd
Any type of wool (3-10)
Shears
Toolsmith
Diamond Pickaxe
Diamond Hoe
Iron Hoe
Iron Pickaxe
Diamond Pickaxe
Iron Shovel
Weaponsmith
Diamond Axe
Diamond Sword
Iron Axe
Iron Sword
Installation
Activate pack for a world in-game