Having trouble chopping down your trees? climbing or stacking your blocks just to get those logs?  this add-on is just for for you! you can chop trees using your axe and you can bring the whole tree down and there are 3 new stuff added to this add-on to make it more fun.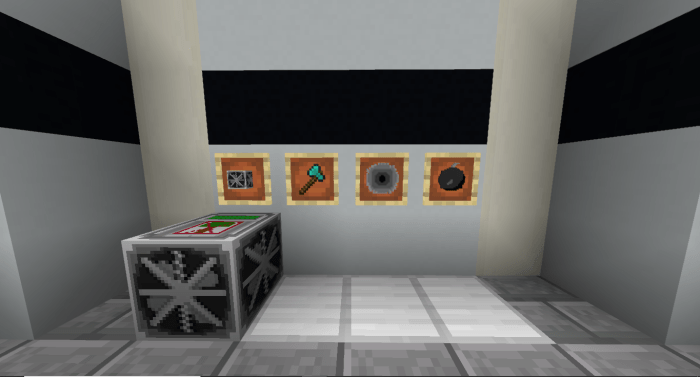 This add-on brings a faster way to chop down trees!
You can use any axe to chop down trees.
To chop down a tree you need to sneak first to avoid accidentally chopping down important stuff.
Here is a video of the chopping in action:
Here are the 3 new things that will be added in your game:
1. Cutter Item (Throw-able)
This Cutter item is a throw-able item whenever you throw it towards a log of a tree it would break the whole tree. You cannot retrieve the item when thrown the item also damages mobs and players.
Crafting Recipe:
4x Iron Ingot
=
3x Cutter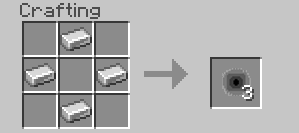 2. Tree Bomb (Throw-able)
This item is named tree bomb if you are asking "can I use this to explode trees and get all the logs?"
Yes and No, this item is literally a bomb it just explodes stuff in a certain radius and it drops the blocks destroyed.
Crafting Recipe:
4x Iron Ingot
1x Gunpowder
=
Tree Bomb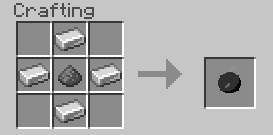 3. Tree Cutter Block
UPDATE for 1.16: In this video the tree cutter block is no longer a block but still has the same functionality.
This block automatically cuts down trees for you it chops down trees next to this block.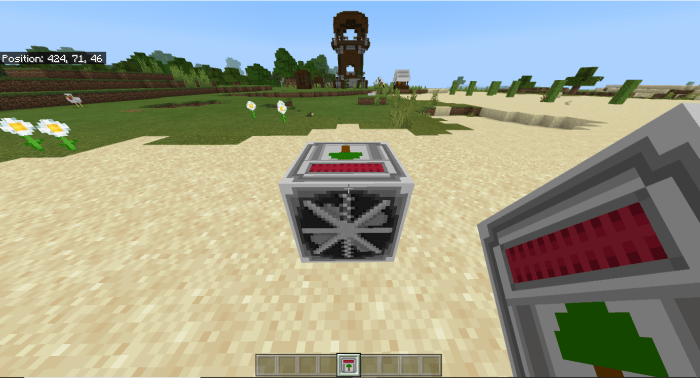 Only for 1.16:
To place the block long tap the screen/right click while holding the tree cutter block item.
When placing the block you should be on solid ground and no water or else it would teleport.

You cannot stack this block on each other.
Breaking the block:
Interact with the block using any kind of pickaxe or a breaker item from my omnitools addon.
Activating the Block:
When the block has been placed down you would see a red bar that means the block is currently turned off. To turn it on interact with it using a lever.
Reminder:
sometimes it does not break all the blocks in the tree.
Crafting Recipe:
7x Iron Ingot
1 redstone dust
1 dropper
=
Tree Cutter Block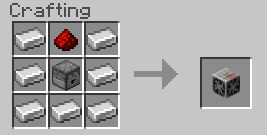 4. The Lumberjack
The Lumberjack is a new mob that has a work schedule, Work, Store, and sleep.
During the working hours (0-11000) the lumberjack will chop down trees, gather wood and replant saplings that has drop from the ground.
After working hours (11000-12000) the lumberjack will comeback to its home and if there is a lumber chest nearby it will store the gathered wood inside if there is no lumber chest nearby it will go to sleep.
After the storing hours (12000-0) the lumberjack will sleep.
In order for the lumberjack to sleep you need to make a home for it. The lumberjack is like a villager it needs a bell and a bed and it also count as an inhabitant if you are in a village.
If the lumberjack has no home it will proceed to venture off far away.
The lumberjack has also a preferred block to path which is a grass path and the most least preferred block is sand,stone, and bed.
How to summon the lumberjack: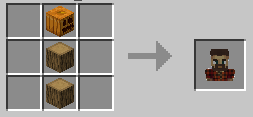 After crafting this item you can proceed to right click/hold the screen with the item in hand.
It will summon the lumberjack.
Recommended:
Before summoning have a home ready (beds and a bell).
Each lumberjack needs a bed.
Have the perimeter of the house enclose so it will not wander far away.
To tell if the lumberjack is working it has a log carrier on its back.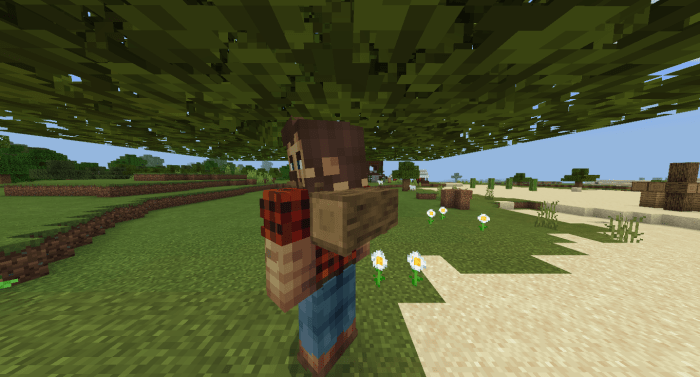 5. Lumber Chest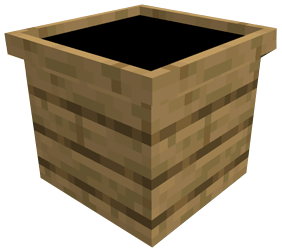 This is a lumber chest this is use by the lumberjack in order to store logs.
To break the lumber chest you can use any kind of axe and interact with it or use the omnitool breaker.
Crafting Recipe: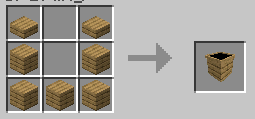 You can place it anywhere near the home of the lumberjack or in a forest where the lumberjack likes to go.
Lumberjack storing items in the lumber chest: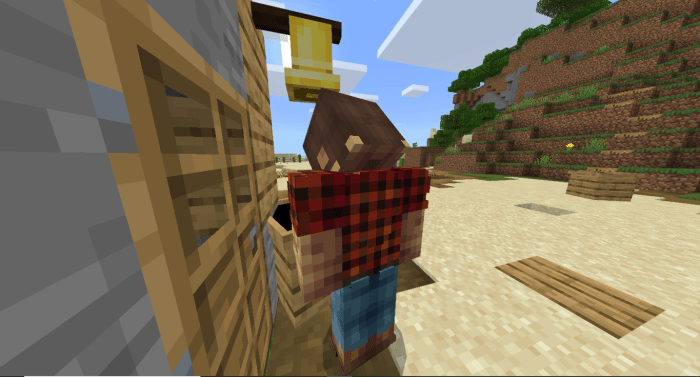 Warning:
Be careful using this add-on when you have a house made out of logs or part of your house are logs. Use these items away from your house because you might accidentally break your house.
Added a small detail in the post about on how to break the lumber chest. 
The Lumber jack Update:
Added the LumberJack mob
Added the Lumber Chest entity block
Can now chop down the newest logs in 1.16 the crimson stem and warped stem.
Added a new entity block the loader (kinda  chunk loader) which is experimental and only available through commands.
Can now use any kind of pickaxe to destroy the tree cutter block.
The addon is now compatible with the new version 1.16.
The tree cutter block has been changed into an entity.
Added cutter,bomb, and tree cutter block.
Improved destroying trees to avoid accidents.
Installation
Before playing with this add-on:
The world must be on experimental mode
Downloads
Supported Minecraft versions
1.16