Hey! Welcome to the Ultimate Map collection. It contains a parkour,  a dropper, a maze, a find the button, a puzzle, a mob arena and extras, such as a dungeon, an abandoned village and diamonds guarded by monsters. 
The "tornado" parkour. A parkour I made up, which, as you can see, has the shape o a tornado. The colors represent the difficulties of each section of the dropper.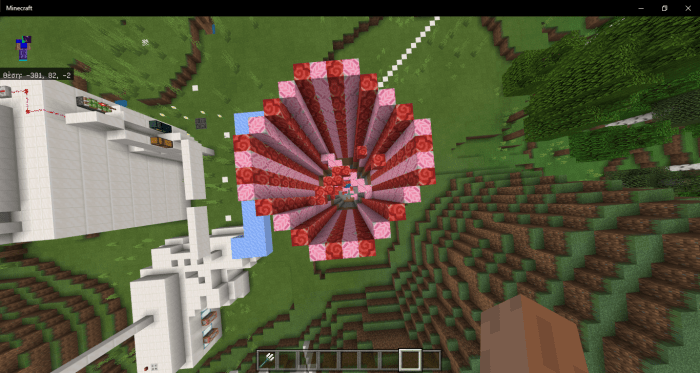 The dropper. A small dropper, which may or may not contain trolls and lapis instead of water.
The rest of the maps are underground, in caves, or contain answers (puzzle), so I won't post an image of them.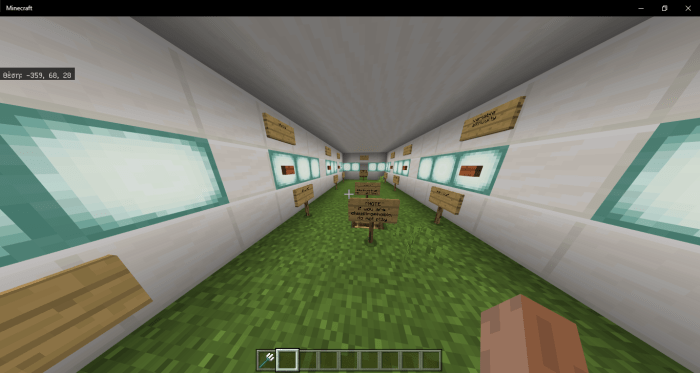 Finally, the main lobby. From here you can access all maps. If you die, you get sent here, so be careful.
At the end of each map, you will collect trophies, such as obsidian, diamond tools and other stuff. In the end, you have to test your Minecraft knowledge to solve the last puzzle. Tip: throw glass in the dropper.
My redstone and command knowledge is limited, so massive unnecessary redstone buildings and annoying command errors are a problem. If you can, help me fix it. By the way, this is my first map!
Hope you enjoy!
FINAL UPDATE IS HERE!
- Changed the Puzzle ending a bit.
- changed some difficulties.
- Added a new escape ending.
-changed the image on display.
That's all. The map is finished. Part 2 is almost ready!
- Dropper now has a retry button at the bottom, bu is also a bit harder to reach the gap.
- KILLED THE WANDERING TRADER!!! Now that's what i call success.
- Put a weird bedrock structure. DO NOT TOUCH IT!
- Added some more loot in the village.
That's all! Final update coming in August!
In this update HUGE changes happened!
- dropper is harder, as you have to land from straight at the top right into the water to complete it. In the next update i'm planning on putting a respawn button.
- Puzzle is forever changed:
1. More iron and coal added
2 Meet Mike, the " not suspicious merchant" . He can give you 20 sweet emeralds for only a stone pickaxe. Be careful, as it is an one-time offer, and he can't give you emeralds a second time.
- Mob arena (the last system, where you put mob drops into item frames to proceed) has now new commands, which don't allow the player to put whatever thing they want in the frames.
That's all! Oh, and if you see a suspicious Wandering trader, please kill him. He's been bothering me fo the entire building proccess. Hopefully he despawned
I put a Mediafire link instead of just downloading the map.
Also, the puzzle had one more problem. This is now fixed.
Last update I forgot to upload the file. Whoops!
Anyway here's what's been added in the previous update that didn't have the file
- Maze is easier ( shooting gives you 10 tries instead of 3)
- Fixed a bug in puzzle
- Fixed some commands
-Also, in this update I added some more loot in the dungeon
- You start in survival, instead of adventure mode
- IN the enchanting room, you are given XP Bottles to get 13 levels to enchant the pickaxe with..whatever it needs, you'll figure it out:)
- Maze is now a little bit easier ( shooting gives you 10 arrows instead of 3)
- Fixed a bug with puzzle
- Commands fixed
That's all. Don't forget to check out the extras!!!
Updated the world, fixing a crucial error, which wouldn't let you win. Enjoy now!
not big changes, just a few redstone errors solved, a command not working, and more loot in the dungeon
A more detailed description, as well as an extra dungeon. A second part, containing an elytra course and other cool stuff, coming soon!
No changes:) not at all! When it has changes' i'll inform you.
Installation
Just click the link and download the file. Then open it and it will be automatically imported to minecraft!
Downloads
Supported Minecraft versions
1.16