VERSION 1.2 IS OUT!
This skin pack contains skins from the whole Undertale universe, so..if you don't want to get spoiled on something, use it when you've completed both Undertale and Deltarune Chapter 1.
This skin pack is obviously inspired by the Undertale games.
What is Undertale? You may ask.
Well, if you live under a rock, Undertale is a role-playing game developed independently by Toby Fox.
Let's not waste any time just jump on the description!

Well, you heard him.
This skin pack is totally for you Undertale fans!
There are the skins of the main characters of Undertale and Deltarune Chapter 1 and there are like, no exceptions!
Below this description there are some screenshots. Be sure to check 'em out if you don't want to get dunked on, if you know what i mean.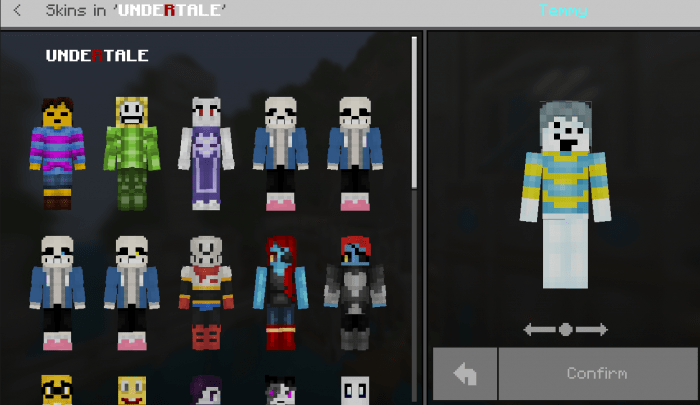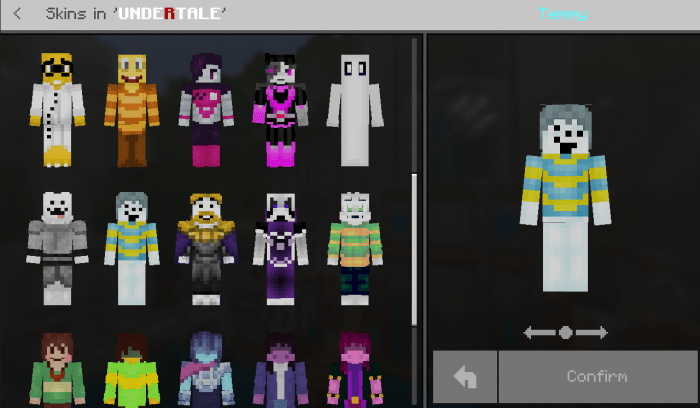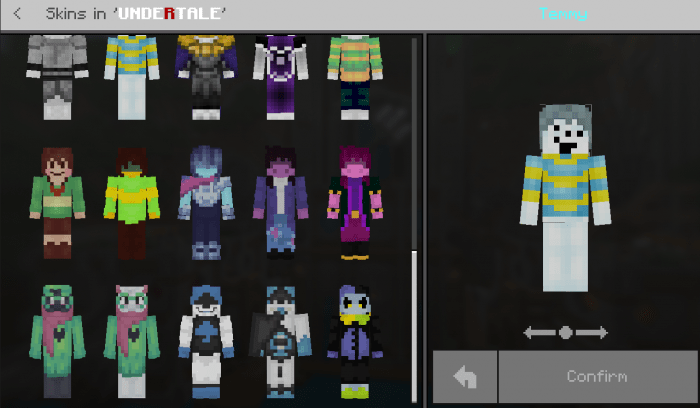 Created the skin pack with the following skins:
Frisk, Flowey, Toriel, Sans (with 2 alts), Papyrus, Undyne (with an alt), Alphys, Mettaton EX, Asgore, Asriel, Chara, Kris, Susie (with both their casual and lightner versions), Ralsei, Ralsei without the hat, Lancer, The King and Jevil.
Hope you're gonna have a good time with this pack!
Added:
4 new Sans skins, Monster Kid, Lesser Dog, Temmy. the boss version of Asriel Dremurr and coloured text in both the title and the skins.

Fixed the links, i hope they'll work for now.


Made a

new

featured image! It will be used for every future version.

(please mods change the old one)

Added

Napstablook

!
Added

Mettaton NEO

!

I hope you'll have fun with this skin pack!
Fixed some bugs and changed the links for problems with my shortening website.
Installation
(.MCPACK)
1. Click "Download Skin Pack .mcpack"
2. Wait like 5 seconds to get redirected to mediafire
3. Download it
4. When the download is completed, tap on it
5. Minecraft will open up automatically and it will say "Importing UNDERTALE" on top.
6. Wait for the import to complete and then..enjoy!


IMPORTANT:
If you already have the skin pack and you want to update it, delete the old version by going to this directory:
Android :
games/com.mojang/skin_packs 
iOS:
Minecraft/games/com.mojang/skin_packs
Windows 10
This PC/Local Disk (or something like that)/Users/YOUR USERNAME/AppData/Local/Packages/Microsoft.MinecraftUWP_ALOTOFNUMBERS/LocalState/games/com.mojang/skin_packs 
Then download the new version by clicking one of the links. Have fun!
Downloads
Supported Minecraft versions
1.11
1.12
1.13