The United States navy hero ship form WW2 
USS ENTERPRISE is here for your command!!
Uss enterprise (cv-6) AKA "Big E" "lucky E" and  "Grey Ghost". She was launched in 1936 and was a yorktown class aircraft carrier.she was one of three American carrier brought into service before WW2 which survived the war she took part in more fight agianst japan than any other U.S. ship.
Enterprise earned 20 battle stars.this was more than any other U.S. warship im WW2. She become the most glorious and honored ship in the history of United States Navy….
First you must dowload "Artillery addon"and "kancolle addon" before play this map to make this enterprise ready for battle.Then build more or whatever you want
My enterprise inspired by "master jam designed" you can follow and subscribe him in TheShipYard-minecraft.
Here some picture form my enterprise.
Enterprise map.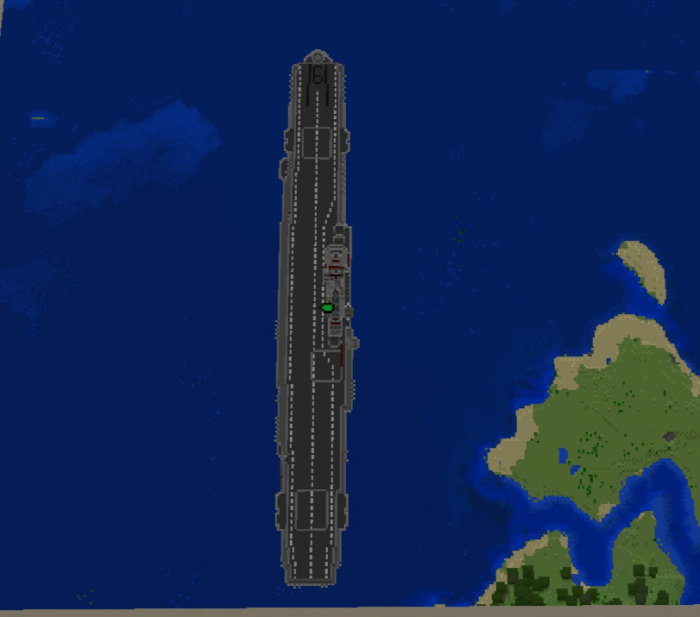 Bow part form Arial view.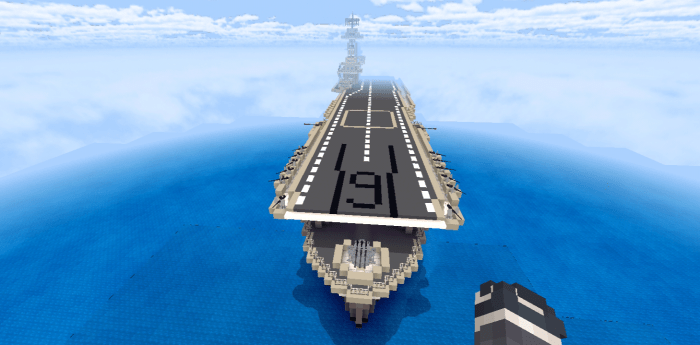 Type 96 Japanese tripple anti aircraft gun in fornt of island.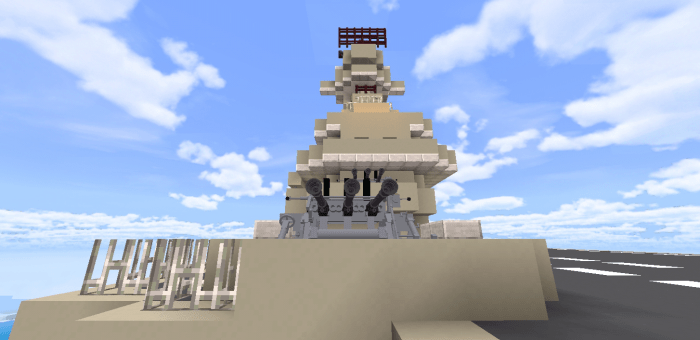 Starbordside view.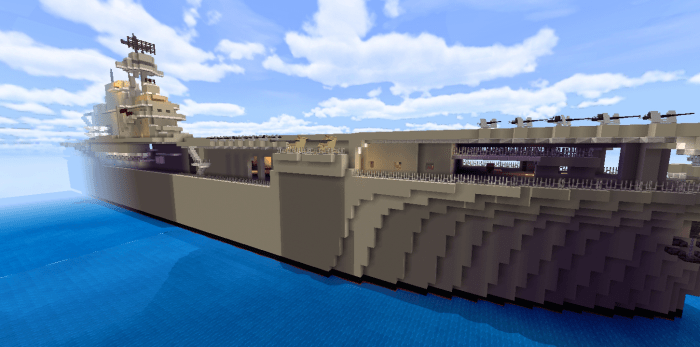 Bunch of f4u crossair.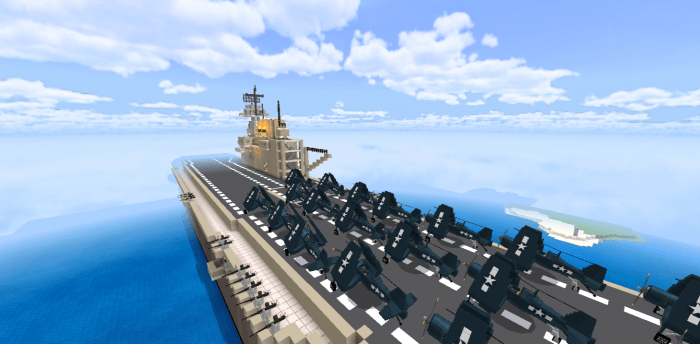 The "3.7 cm flak 37 anti aircraft gun"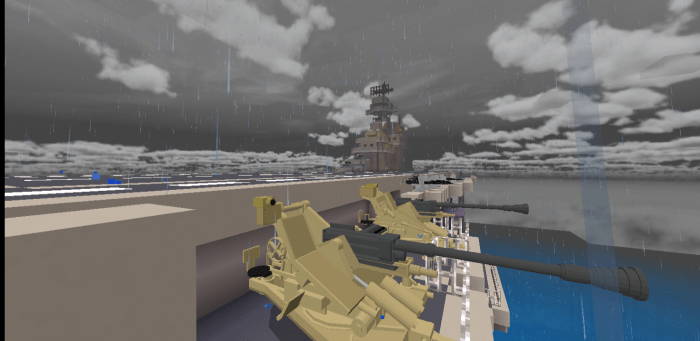 Arial view of island.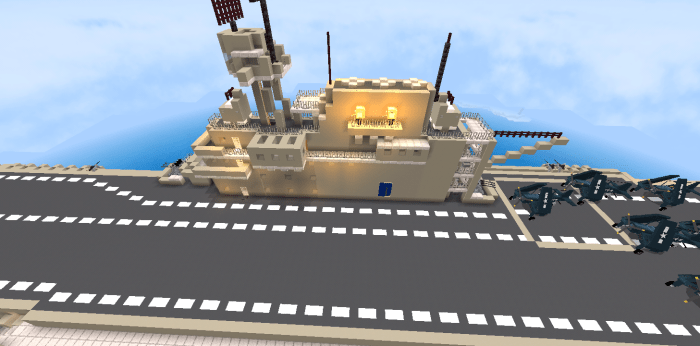 Propeller of enterprise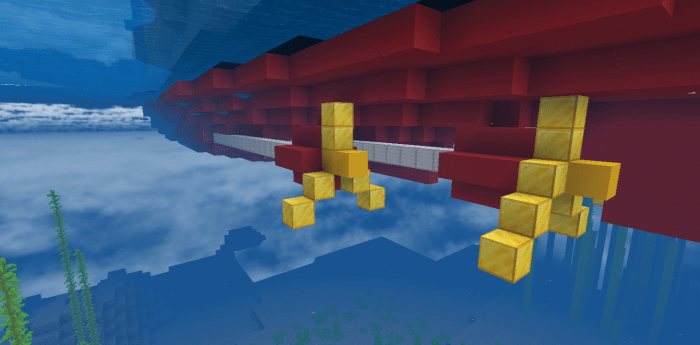 Inside hangar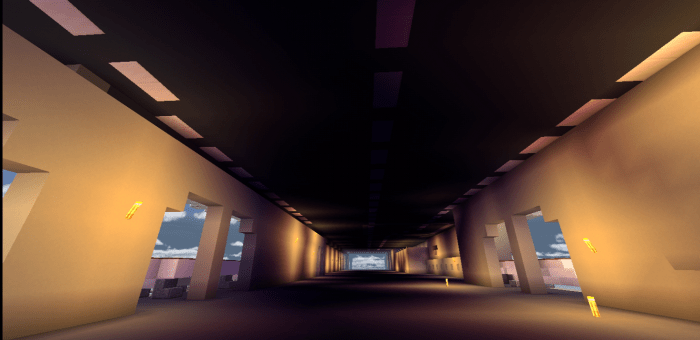 Arial view of flak 37 and "orekon 20mm anti aircraft gun"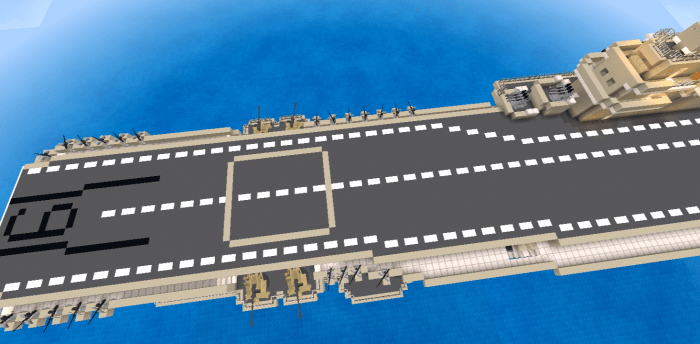 Bow view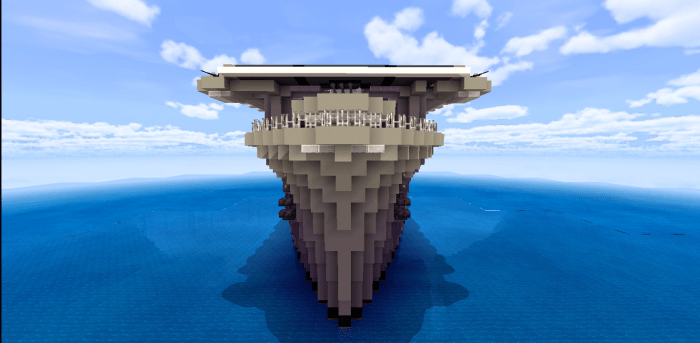 Stern view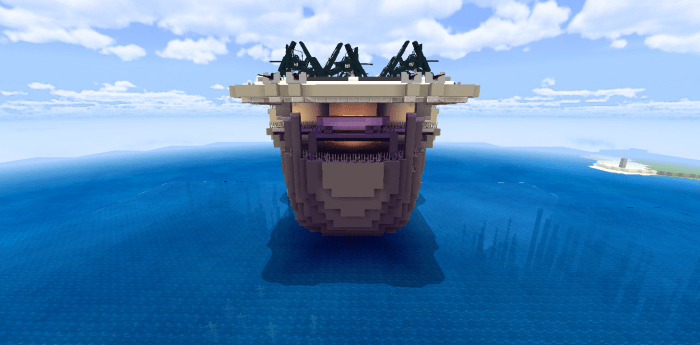 "Strom before great battle"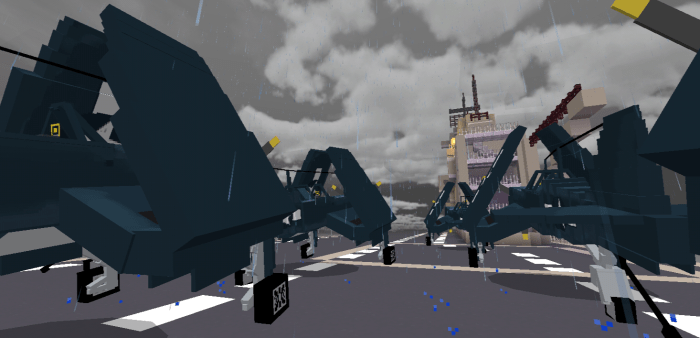 "6" symbol of U.S. navy hope"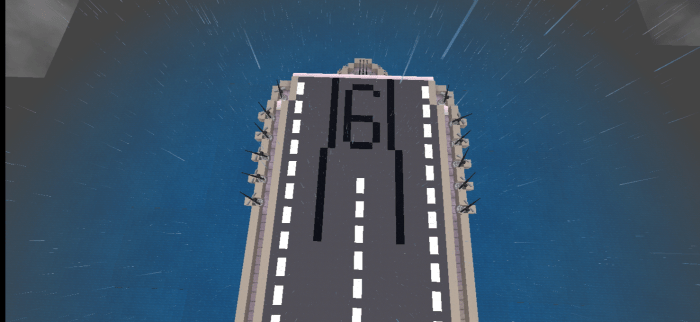 Enterprise island.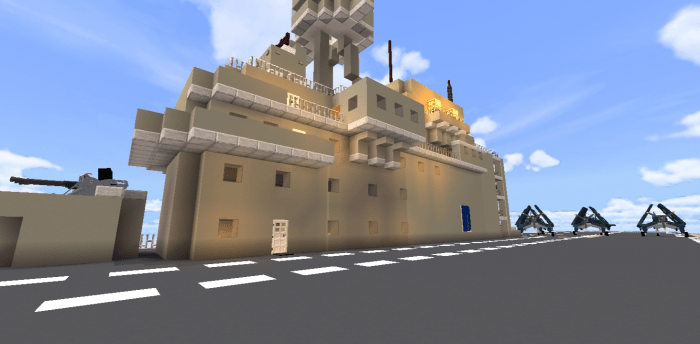 Enterprise during construction.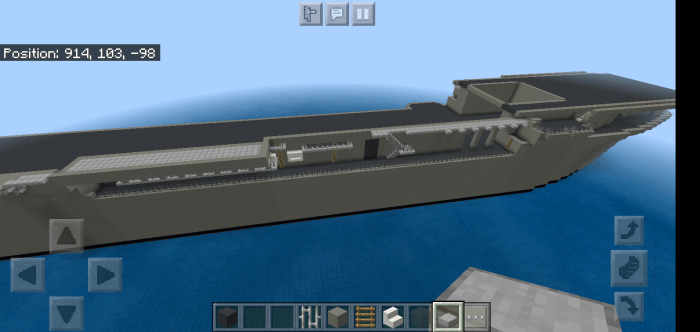 Pictures of artillery and kancolle addon with my enterprise has permitted by ivon582 the addon owner.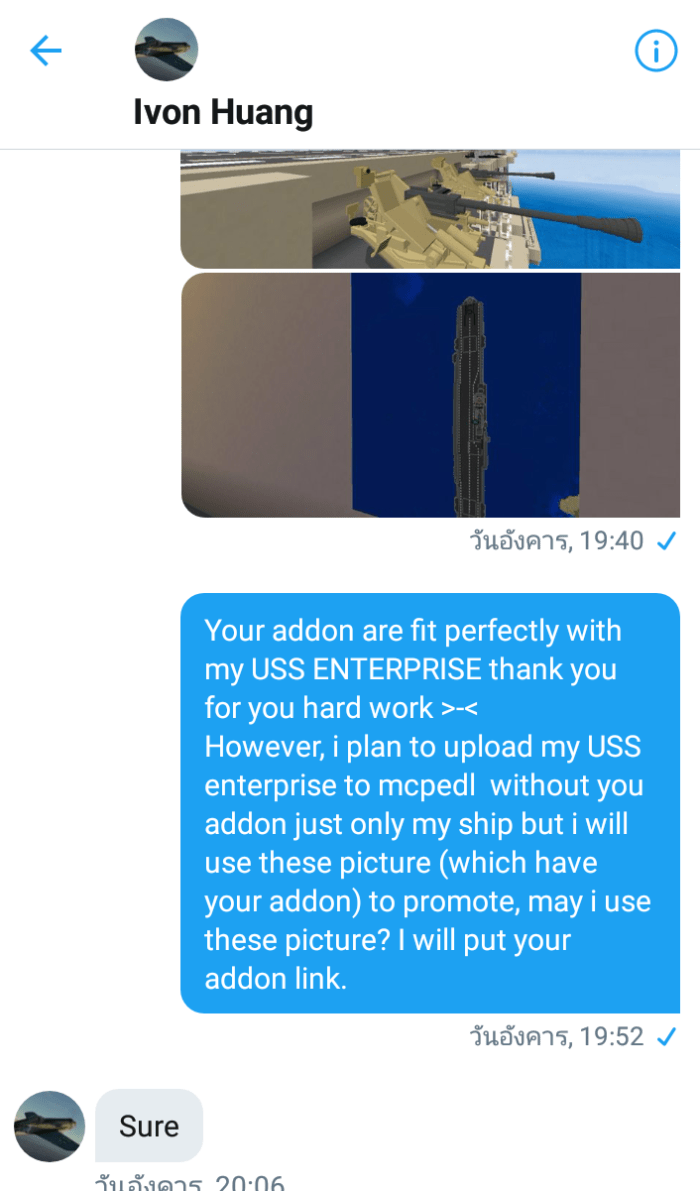 UPDATED: USS ALASKA CB-1
USS ALASKA (CB-1) was the lead ship of the Alaska class of large cruisers which served with the United States Navy during the end of World War II. She was the first of two ships of her class to be completed, followed only by Guam; four other ships were ordered but were not completed before the end of the war. Alaska was the third vessel of the US Navy to be named after what was then the territory of Alaska. She was laid down on 17 December 1941, ten days after the outbreak of war, was launched in August 1943 by the New York Shipbuilding Corporation, in Camden, New Jersey, and was commissioned in June 1944. She was armed with a main battery of nine 12 in (300 mm) guns in three triple turrets and had a top speed of 33 kn (61 km/h; 38 mph).
starbordside view.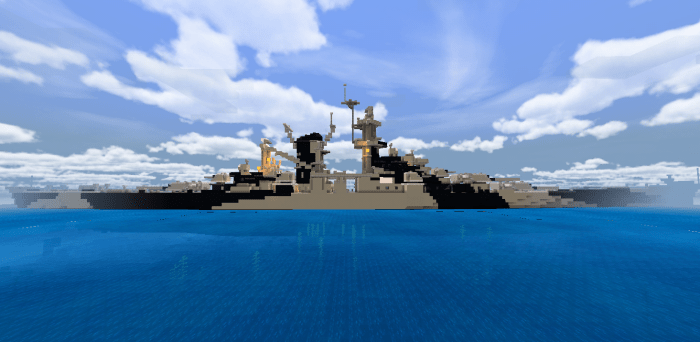 Alaska view form enterprise island.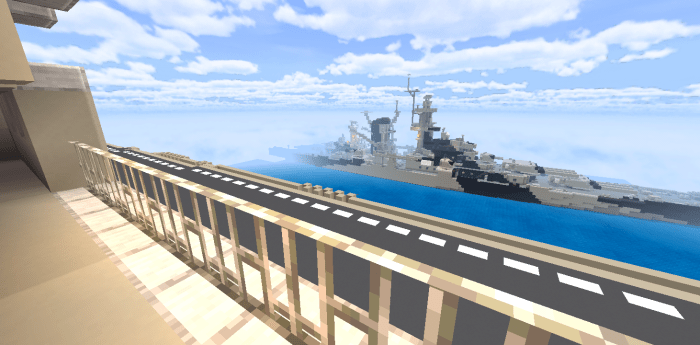 Arial view of stern.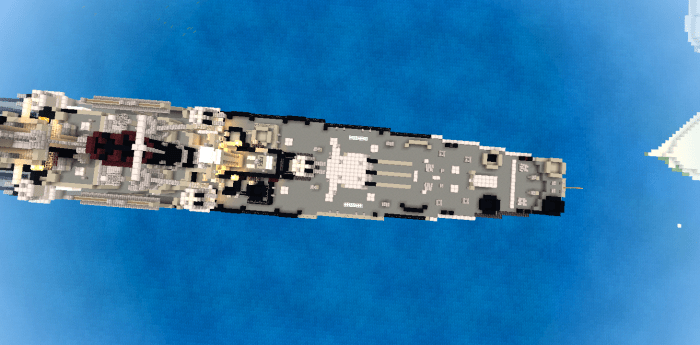 Alaska and BigE.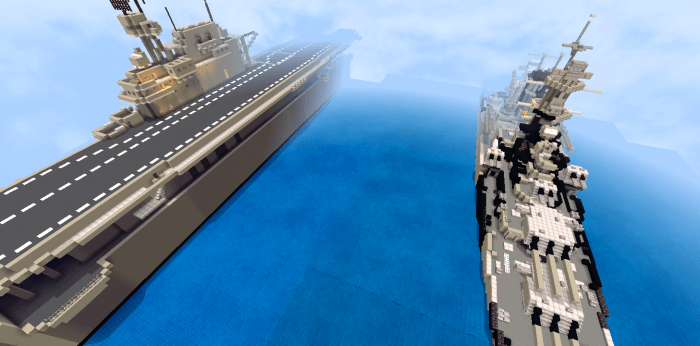 Secondary gun of alaska.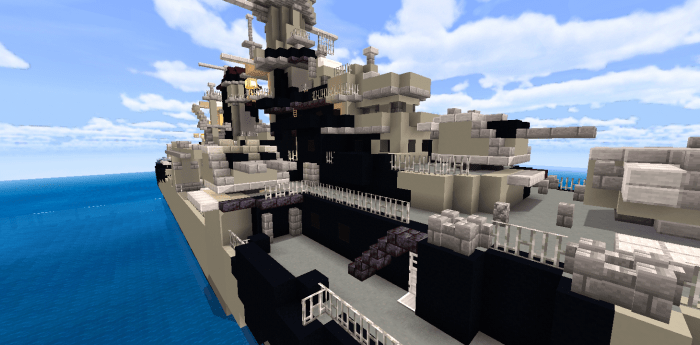 "The cruiser killer"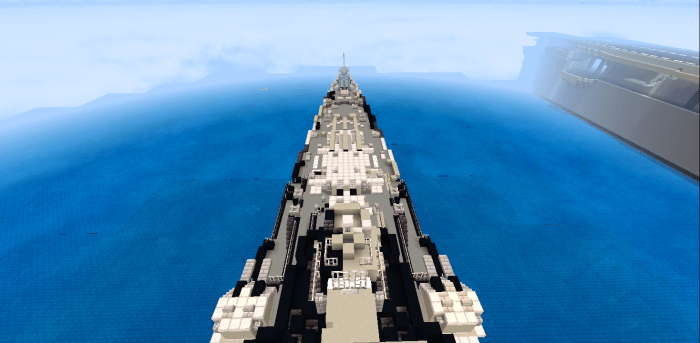 If you want to contact me
Here, My_twitter.
Add new ship "uss alaska cB-1 the large cruiser" 
Fix some text and add more dowload link.
Change title name.
Change file to .zip instead .mc
world and fix some text.
Show the real  permission form addons owner in text.  And fix some dowload link
Add artillery and kancolle addon dowload link for Proof of permission  including other content creators addons.
I'm add direct dowload link , insert more images and fix some text.
I'm delete some website link for make text unique and not published on any website 
Installation
Click dowload link (if you want to support me).
Wait for 5 minutes then don't click any "allow".
Wait for a few seconds  the mediafile link dowload will show.
Dowload 
Extract to minecraftworldmap.
Enjoy! 
Downloads
Supported Minecraft versions
1.16
1.6
1.7
1.8
1.9