The Valliars are brand new mobs which replace all of the current baby mobs. They are extremely rare and can only be found on few occasions. However, if you do find one make sure to quickly tame it because there are lots of beneficial ways you can use them. The features are cool and unique and that makes it one of the best mob companion addons.
Creator: Falkenvergh, Twitter Account
Taming
Valliars are new mobs which replace the current baby mobs and also adds new ones for monsters which don't have babies. The spawn chance is set at 5% which makes it extremely rare.
You will know that you've found a Valliar in case it looks like a baby and is running away from you similarly to an ocelot. A hot tip here is to sneak!
Use an enchanted apple to attempt to tame it (50% tame chance).
iOS / Android: Hold an enchanted apple, long press on the mob and press Tame
Windows 10: Hold an enchanted apple and right-click on the mob to tame it
Once it is tamed it can be turned into three different sizes by using any of the following items.
Cookies – Baby Form
Cocoa Beans – Adult Form
Prismarine Crystals – Fairy Form
Armors and Weapons
Equip the Valliar with some armor by giving it armor parts for any of the following armors.
It's only the core armor which will be added and not any additional enchantments.
Leather Armor
Iron Armor
Gold Armor
Valliars are not that useful unless it's equipped with a weapon. Here is a list of different weapons which they can use.
Bow
Wooden Sword
Iron Sword
Golden Sword
However, just giving a Valliar a weapon isn't enough. It needs some training before it can properly wield the weapon with proper skills.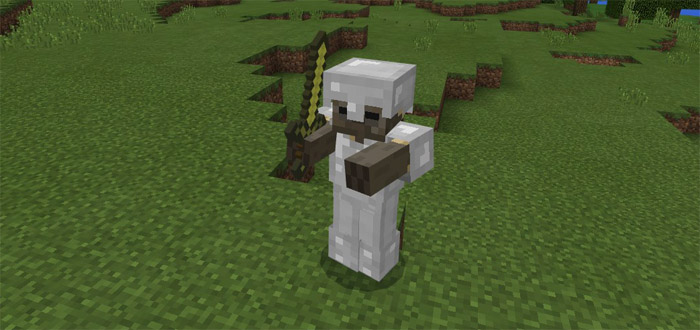 Training System
Damage
After you've given a Valliar a weapon it's time to teach it some knowledge about the weapon to make it a skillful soldier in battle.
Here are the different items you'll need to give a Valliar in order to train it and to improve its skills.
Zombie – Iron Ingot
Skeleton – Arrow
Husk – Gold Ingot
Stray – Snowball
The weapon damage will improve over time and you will know it has reached its full potential once it wields a diamond sword. You can use Blaze Powder to accelerate the training speed. However, it will require quite a bit before reaching the best level.
Speed
Agility is an important part of being a useful warriors. And that's where speed comes into to play. Here is a list of things you can use to start the process for increased speed.
Zombie – Gunpowder
Skeleton – Rabbit Foot
Husk – Magma Cream
Stray – Sugar
You will know that it has reached its max potential when it wears diamond boots. You can give it some Glowstone to accelerate the leveling process.
Health
Another characteristic which is important is health. You can give it one of the following items to set in motion the process for increased health.
Zombie – Fermented Spider Eye
Skeleton – Poisonous Potato
Husk – Glistering Melon
Stray – Golden Apple
Even though it will increase over time you can give it Ghast Tear to accelerate the growth process. You will know it has reached its full potential when it wears a diamond chestplate.
Sitting on Shoulders
You can give a Valliar a rabbit hide to make it sit on your shoulders. To remove it you can give it some wheat seeds. This is currently an experimental feature and might not work entirely.
Installation
Activate the packs for a world in-game
You can get a .ZIP file for this pack here.