Villager Quest is an add-on which adds two new villager types (and soon more) to Minecraft. It really makes the villages much more interesting since you will be able to obtain a bunch of new items which otherwise would be quite hard to obtain. So far it only adds two new types but in the future there will be more.
Creator: Kingbudderjr, Twitter Account
How does it work?
The new villagers include the Alchemist and the Tinkerer. These villagers trade a different range of items and usually more rare ones which are difficult to obtain. You will notice the new villagers by their clothes. For example, the Alchemist wears a red lab coat.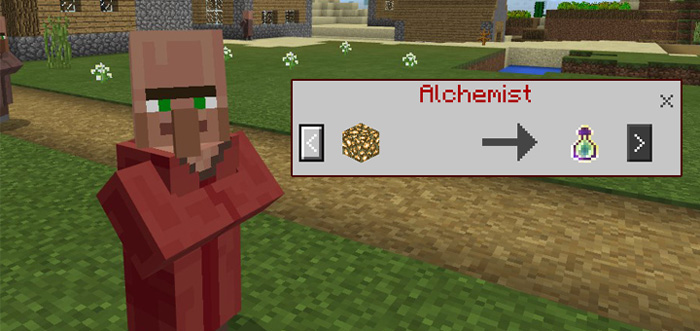 Villager Types
Alchemist:
2-3 iron ingots > 1 gold ingot
2-3 gold ingots > 1 diamond
1 obsidian block > 1 ender pearl
1 glowstone > 1 experience bottle
Tinkerer:
1 redstone block > 1 minecart
2-3 chests > 1-2 hoppers
4-7 iron ingots > 1-2 dispensers
5-7 redstone torches > 1-4 fireworks
2-3 iron ingots > 1 gold ingot
2-3 gold ingots > 1 diamond
1 obsidian block > 1 ender pearl
1 glowson > 1 experience bottle
Here is a list of future features:
Enchanter
Time Traveler
Civilian
Guard
Installation
Activate the packs for a world in-game