This mod adds 17 furniture blocks which can be used to decorate your creations in Minecraft. One thing which makes this mod stand out is that they are all 3D blocks. This is especially noticable for the furnace and tables. It's still in its early stages of development and as a result it's a quite basic mod and doesn't provide much use beyond just looking really cool.
Creator: ThunderModPE, Twitter Account
How to get the 3D furniture blocks?
All of the new blocks have crafting recipes but they can also be accessed through the creative inventory. You can see recipes further down on this page. One downside is that they can only be placed in one facing direction, meaning, it's not possible to rotate them.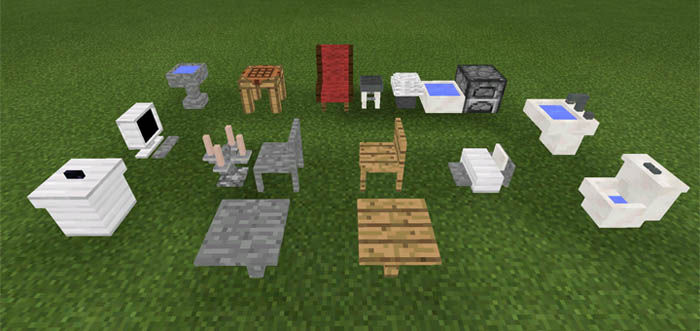 Even though the furnace can't be used it's probably one of the most cool blocks in the mod. Here you can really see that it's 3D as it is shallow on the inside.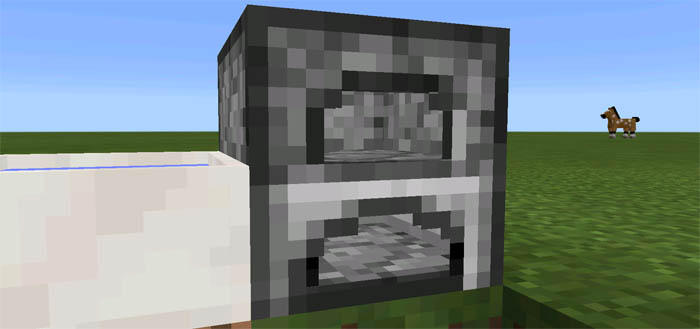 IDs & Recipes
Bin (2100) – 7 iron ingots + 1 stone
Furnace (2101) – smelt 1 furnace in a furnace
Bench (2102) – smelt 1 crafting table in a furnace
Bird (2103) – 5 stone blocks
Computer (2104) – 7 iron blocks + 1 glass pane + 1 redstone
Bath (2105) – 5 quartz blocks
Grand Chair (2106) – 4 red wool + 2 oak wood planks
Bar Stool (2107) – 3 gray wool + 3 cyan stained clay + 2 quartz blocks
Lamp (2108) – 5 white wool + 1 glowstone + 1 obsidian block
Basin (2109) – 2 stone button + 1 iron ingot + 4 quartz blocks
Toilet (2110) – 5 quartz blocks + 1 stone button
Candle (2111) – 3 white stained clay + 4 cobblestones
Printer (2112) – 5 stone blocks + 1 paper + 2 iron blocks + 1 redstone
Wooden Chair (2113) – 6 oak wood planks
Stone Chair (2114) – 6 stone blocks
Wooden Table (2115) – 4 oak wood planks
Stone Table (2116) – 4 stone blocks