After seeing that many of you enjoyed my Nacht Der Untoten recreation I figured I'd make another recreation. This time I decided to recreate Verrückt from COD: World at War. I tried to stay as true to the original as possible while also staying true to Minecraft and I believe it is a good mix.
*DISCLAIMER*
I IN NO WAY MAKE ANY MONEY/PROFIT FROM THIS PROJECT. THIS IS JUST A PASSION PROJECT/SIDE PROJECT THAT I WANTED TO MAKE FROM THE GAME FRANCHISE THAT I LOVE SO MUCH (Call Of Duty)
ALL CREDIT GOES TO ACTIVISION FOR SOUNDS
This is a "recreation" of the classic COD zombies experience: Verrückt, the second zombies map ever in a Call of Duty. It includes buyable areas, buyable wall weapons and equipment, a working and movable "Mystery Box", a working power system, buyable perks, working electric traps, a "revive/respawn" system, a lobby spawn room to ready up before the start of a game, and a few small Easter Eggs similar to the ones from the original map! Play alone or with friends to combat the undead.
It is worth noting that the weapons are just the regular tools/weapons from Minecraft, just renamed like the ones from COD. For Example, the "Colt M1911" is an enchanted pickaxe.
Things to Know:
LOBBY ROOM: The Lobby Room is the first room you spawn in when joining/ opening the world and the central hub for the whole map. There, you can: set how many players will play (from 1-4), check out the map credits, check out how to report bugs/feedback, turn on music while you wait for friends to join, teleport to the tutorial room, and load up the map so you can play by going into the "ready up" pod with the correct number of players.
TUTORIAL ROOM: Whether you haven't played any of my maps, are new to zombies, or just want to know how this map works, the tutorial room is the best place to get the basic rundown of how everything works. To get to it, press the button on the GOLD BLOCK in the Lobby Room. If you want to get back to the Lobby Room, press the button on the DIAMOND BLOCK once you're ready.
SEPARATED SPAWNS: This map is unique because it features "separated spawns". What I mean is that there are two possible sides of a door that players can spawn on at the start. With those two sides, there are two groups of players that form if you're playing multiplayer (2 players on one side and two players on the other). The players can meet up again by reaching the power room.
Included in the download are:
-The world itself
-A map specific RESOURCE PACK
-A map specific BEHAVIOR PACK
-A free skin (WaW Marine)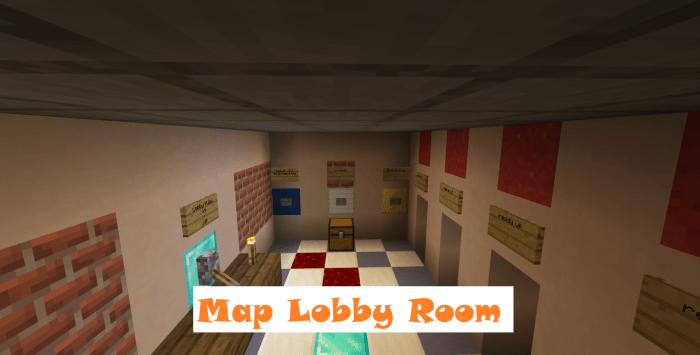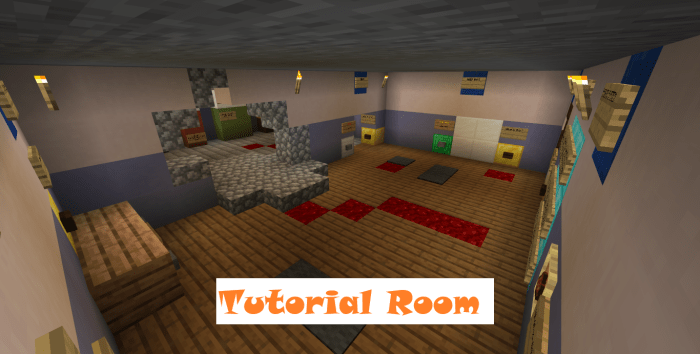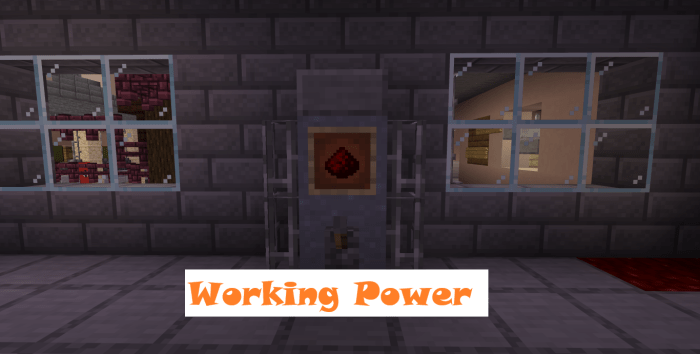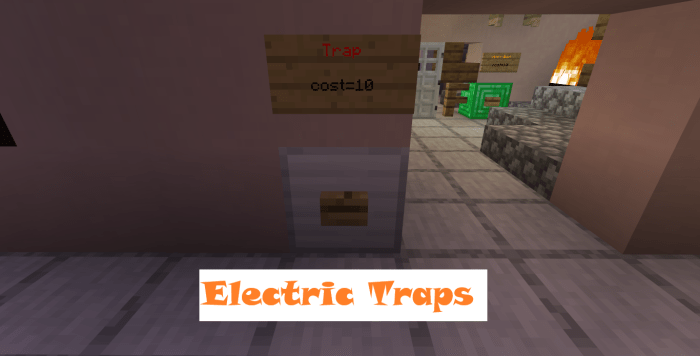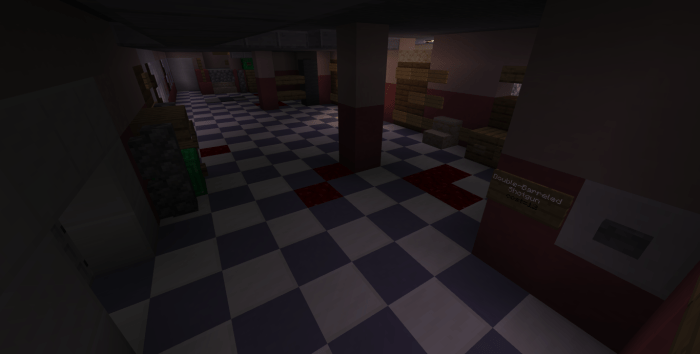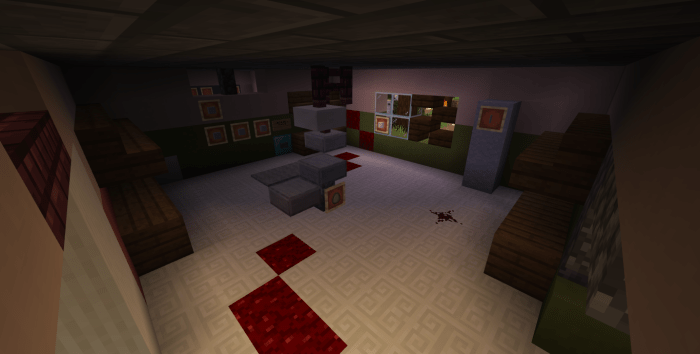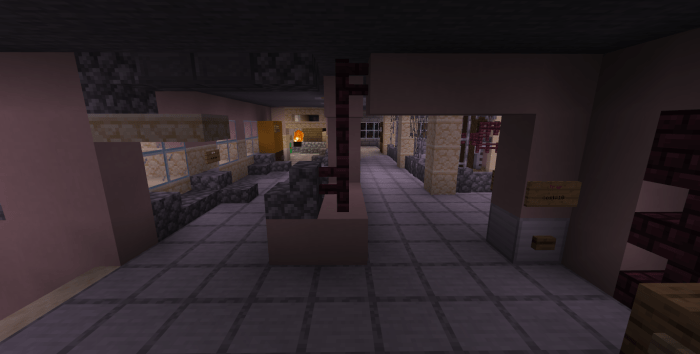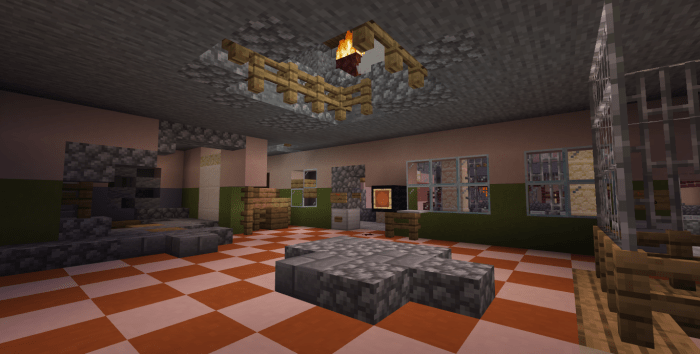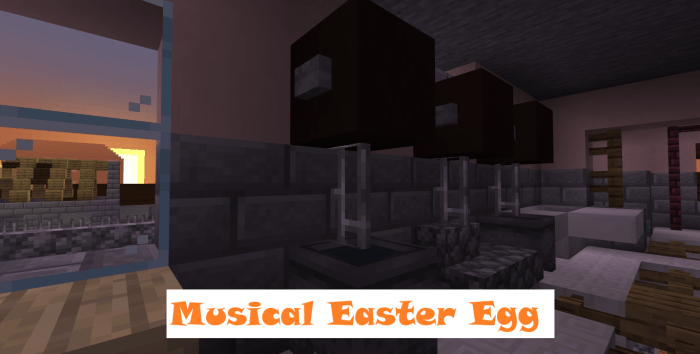 IMPORTANT: if you want to continue to replay the map as it is intended to be played, make a COPY of the ORIGINAL and keep the ORIGINAL. That copy will be the one you will play on, so add the Resource Pack and Behavior Pack to the copy of the world. If you die in the copy of the world and want to play again: Exit out of the world, delete the copy, make a new copy of the original world, and load it up again. You must do this every time you want to play the map as there is no "Exit without Saving" feature in this version of Minecraft.
Update 9: Small changes to the maps
Universal changes (changes to all maps):
-Updated buy system to more accurately charge the person who pressed the button when purchasing something.
-Miscellaneous spelling mistakes on the maps
-Updated perk icons to look more like the originals
Map specific changes:
-Samantha will no longer laugh when trying to buy the electric trap before turning on power
-Samantha will no longer laugh when trying to buy the electric trap by Double Tap Root Beer while it is in use
-Fixed an issue which caused player to not hear the buy sound after buying arrows in the Jugger-nog room
Update 8:
-Thanks to this "Nether Update", Minecraft sounds seem to be a bit off, at least when it comes to my resource packs. There seems to be a sound limit present which prevents certain sounds from playing at the same time. Because of this, I've temporarily removed the map ambience noise in order to prevent it from interfering with other sounds. This won't effect gameplay by any means! On the bright side, it makes the resource pack size significantly smaller. On the downside, it takes away from the atmosphere of the map. Meanwhile, I'll be figuring out how to get around this, if possible, or figuring out if this is a bug that can be fixed. If anyone knows what might be going on, feel free to message me (StoicTester154) on Xbox.
Update 7ish:
-Updated the description and installation description of the world submission.
Update 7: Quality of life changes across the board (as in all current maps)
-Added feature that prevents player from "buying" the area after it has already been bought (Shout out to the person who recommended it, you know who you are)
-Reduced/increased over all sound volume for resource pack custom sounds to be more in line with normal Minecraft sounds
-Changed how Max Ammo/Ammo Buy works slightly. You will now no longer be able to drop arrows before buying more/ getting a Max Ammo to obtain over 64 arrows.
-There's been some issues relating to how the sound works in Minecraft, buying/activating something, and command blocks. (For example: If playing multiplayer, you would often buy something, get charged for it, but not get what you paid for). I've done my best to fix this now.
-Effects will now be cleared before the start of the match.
Map Specific Changes:
-Changed how the electric trap works. Now instead of having lightning shoot down and damage/kill the zombies in the doorways, there will be a particle effect that imitates the electricity from the actual map. Zombies still die from walking through them and players can die too, this just helps reduce lag by a lot.
-Fixed issue that would cause player(s) to hear the mystery box song when opening a door by power room.
-Fixed issue that would cause some players who automatically respawned after being in the dead room for too long to spawn outside the map instead of the German side (Jugger- nog side).
-Fixed issue that would sometimes cause the wrong player to get charged when one purchased a trap. I did my best to fix this.
-Fixed an issue that would cause players who joined late to not get their starting weapons.
Update 6:
-Added new download for IOS and Android only
Update 5: Lots of changes! 
-Zombie overall health has been dropped from 20 to 16. 
-The 1911 has been changed from a wooden sword to a wooden pickaxe, this of course has made it slighlty less effective, but then again, it is a starting weapon. 
-All bows (except for the M2 Flamethrower) have been buffed by a "+1 power" enchant (Ex: the PTRS-41 buffed from "Power 4" to "Power 5"). 
-There is now map specific ambience noise (Except for IOS and Android version of map, due to file being too big) that can be heard while playing the map to add more atmosphere. 
-Changed how Revive/ Respawn system works. Now after a certain amount of time after dying, you will automatically respawn if not revived. For more info, visit the Tutorial Room in the world. 
-Added a feature that clears your inventory before you are teleported/spawned into the map. No more diamond armor cheating! 
-Changed how Max Ammo/ Buying Ammo works. Now instead of just giving stacks after stacks of arrows each time, it will only Max out your current stack of arrows (Ex: if you have 49 arrows in your inventory and get a Max Ammo or buy arrows off the wall, your arrow count will now be 64 exactly. If you have 64 arrows and get a Max Ammo or buy arrows off the wall, your arrow count will stay at 64). 
-Nerfed the amount of flesh you can possibly get from using the Combat Knife. 
-Added a delay/warning to when you are being revived so that way you can prepare and not just get thrown back in without advanced notice. 
-Took out the ability for zombies to turn into super charged runners (Speed 3) after a certain amount of time. 
-Removed pressure plates from zombie barriers that allows them to go through barriers. They still go through the exact same way, but now without the pressure plates. Now they are more sneakier when they go through. 
-Reduced sound of ambient screams/ghosts that can be heard.
-Added a free skin for download.
Update 4: Fixed disclaimer (It is now located in the description)
Update 3:
-Added disclaimer for this project at top of page.
-Added map story/background in the form of a signed book.
Update 2:
-fixed both download links (.zip and .mcworld). They should be working fine now.
Update 1: 
-There was a block missing in an area that allowed you to see almost all the map redstone. This has been fixed.
Installation
If you are new to downloading maps. PLEASE READ- 
Clicking on the link should take you to Media Fire which is where you will download the map. Once there, click on the GREEN download button to download the map. 
*NOTICE*: Upon clicking on the green button, a new tab might open. This has nothing to do with the map so, if a new tab does open, simply close it and click on the GREEN download button again if you need to in order to start the download. You then must choose a file location to save the world in. 
For ".zip": Once you download the ".zip" file, find it, right click it, and press "Extract all". From there, take the extracted map folder itself (COD WaW-Zombie Verrückt) and place it inside your "minecraftWorlds" folder. To access you Minecraft worlds for Windows 10 copy and paste this link  
C:\Users\"username"\AppData\Local\Packages\Microsoft.MinecraftUWP_8wekyb3d8bbwe\LocalState\games\com.mojang\minecraftWorlds\ 
"username" must be replaced with the user you are currently using on your device/computer 
For ".mcworld" :simply choose a destination and double click it to automatically begin the import process to your Minecraft.
For the skin, just extract the "WaW Marine" file and import it to through Minecraft.
Downloads
Supported Minecraft versions
1.16