Want a cape in minecraft bedrock but don't want to edit apks and possibly get in trouble? Use this addon. It adds cape like banners in your world that spawn in random locations in the overworld.
The Wearable Cape Banners Addon implements banners which can be worn like capes. They are essentially new entities which you can craft. As soon as you craft it, place it down and then you can walk up to the Cape Banner to wear it on your back. You can also dye the banner in 41 different colors/patterns! Unfortunately you can't use this addon on servers to show off your fancy cape, but if you have friends, you can play on a multi-player world with this addon installed!
How does it work?
A new item has been added to the game and it functions similarly to a cape, but it looks like a banner! You can craft and place it on the ground. Walk up to a cape banner and it will automatically be positioned on your back. To remove it, sneak/shift.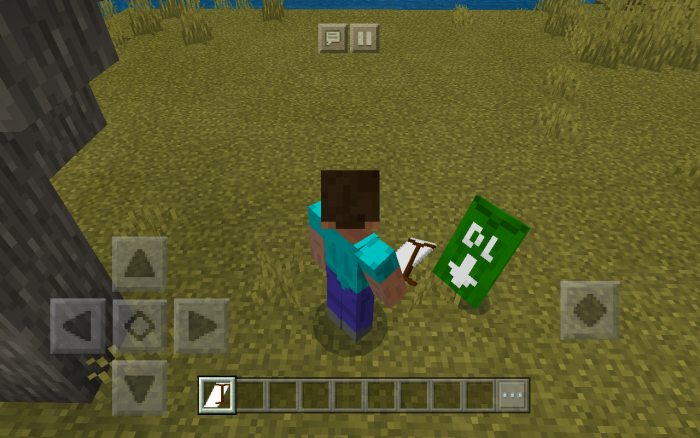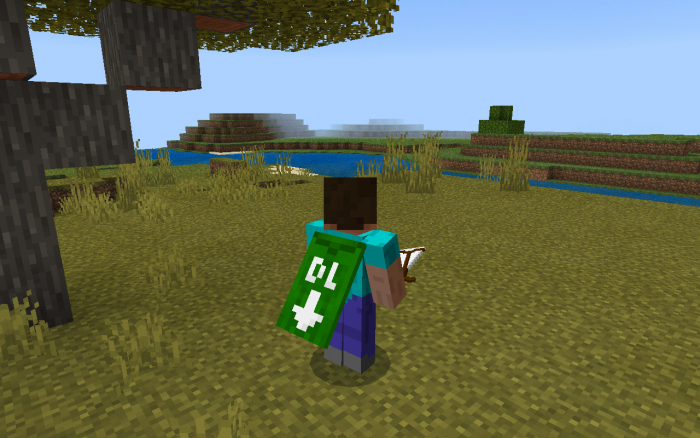 How to dye:
Touch: Press and hold with dye
PC: Right click
Controller: Left Trigger
How To Craft:
Thanks to the 1.12 update, custom crafting recipes are now possible! To craft the cape banner you need 3 string, 1 white banner, and a leather chestplate as shown below: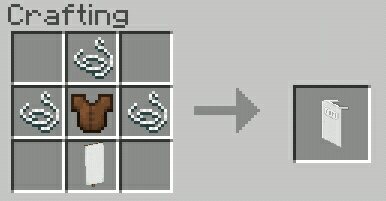 You can dye your banner cape in any of these 35 colors/patterns:
Any of the basic 16 dyes. Use the corresponding dye to the color you want. (Example: orange dye=orange cape)
MCPEDL Cape: Cactus
Creator Cape: Steve Skull
Creeper Cape: Creeper Skull
Shulker Cape: Shulker shell
Golden Picaxe Cape: golden pickaxe
Diamond Sword Cape: Diamond sword
Tie-dye Cape: Quartz
"Missing Texture Cape": black banner
X (10th) Birthday Cape: Cake
Bamboo Cape: Bamboo
Pillager Cape: Crossbow
TNT Cape: TNT
Command Block Cape: Command Block
Redstone Cape: Redstone Dust
Rainbow Wool: White Wool
Spider-Man Cape: Spider Eye
Ghost Cape: Ghast Tear
Grass Block Cape: Grass block
Null Potion Cape: Potion of decay II
Drowned Cape: Trident
Magma Cape: Magma block
Checkered Cape: Coal
Chess Cape: Bone
Youtube Cape: nametag labled "youtube"
Emerald Sword Cape: Can only be obtained if you have the emerald tools addon installed with an emerald sword
Despawn Stick:
The despawn stick is a craftable item you can use to remove a cape from your world. If you hold or right click the cape will disappear and drop some of it's crafting items on the ground.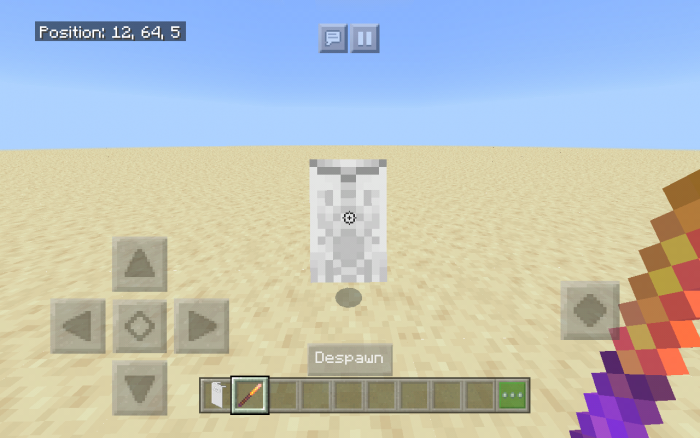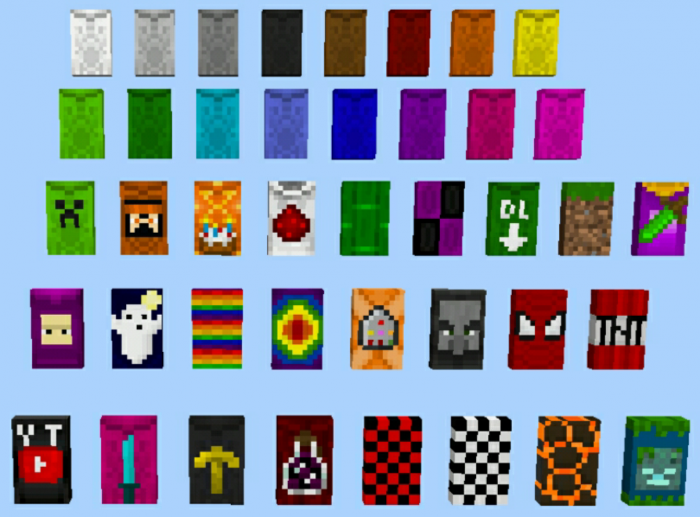 If you are unable to remember 41 items listed above like me, use this command "/function cape_items" and you should receive all of the items that you need to change the texture! 🙂

Creator Notes
Mays and may NOTS:
You may review this addon.

Post MCPEDL link! Not mediafire or Adfly

!

You may NOT alter the files and call my work your own.
You may NOT use my textures for any other packs without my permission.
You may NOT alter my download links and upload them to other sites.
Give credit.
You may have fun! 🙂
(Also, just so you know, I watch all reviews of my stuff even if it's in another language, so if you break my rules, I will find you and correct your mistakes)
If you have any questions, comments, or even criticism tell me @NetherNinja – Twitter. I'm always open to reviews
Note: I believe my add-on is staying within Minecraft's EULA (End licence user agreement). I'm not selling it, the capes are entities (not actual capes), I'm not altering the internal files of minecraft, and I'm not exploiting in any way. I just want to add fun "concepts" into the game. There may be many similarities, but there's also many differences compared to the actual capes given by Minecraft. If you work for minecraft and somehow you come across this and you fear there's a problem DM on twitter @NetherNinja.
Video Showcase
Changelog
v0.0.4.:
Overhauled textures and models by popular demand
Updated file format for minecraft 1.10
Fixed a "bug" that made a "cape" regain health after being re-dyed
More patterns!
Tie-dye capes now use quartz instead of a name tag
Optimized file size and performance
Changed a few dye inputs
Update v5.0.0
Added 10 new cape textures
Added Cape recipe (1.12 only)
Updated item texture
Improved animation
Get ready, it's a big changelog.
Changelog:
Bug Fixes:
-Fixed a bug that prevented players from shooting
  targets with projectiles if they had a cape attached
  to them.
-Fixed an issue with the animation clipping into the player's skin.
-Fixed a typo in the /function command.
Gameplay:
-Capes no longer take explosion damage.
-Capes no longer take projectile damage.
-Capes no longer take fire damage.
-Capes can only be removed from the world by using the
  "Despawn Stick".
-Reduced cape's hitbox.
-Added loot tables to give you back most of your items
  once the cape has been destroyed.
-Emerald sword texture can be obtained only if the emerald tools
  addon is installed on the same world.
-Sped up the cape animation.
Additions:
-Despawn Stick: This items allows the player to right click
  or hold on a cape if he or she wishes to remove it.
-Despawn Stick can be craft with one blaze rod and one stick.
-New patterns: Magma, Drowned, YouTube, Checkered, Chess, and
  Emerald Sword.
-Gave the magma and drowned capes a "glowing" texture.
Installation
(This link use tmearn, you may not be familiar with it. If you're having problems with installing it, watch the video above)
Downloads
Supported Minecraft versions
1.10
1.11
1.12