The Wither Turrets Addon adds three turrets to the game. The turrets can be used for providing a better security for your base. For example, you can place down a turret (using a spawn egg) on different locations at your base. If the turret detects any type of hostile mob it will start firing wither heads.
Creator: Jujustyle7, Twitter Account
How does it work?
Three of the mobs in Minecraft have been replaced by turrets. A turret is basically a machine (or in this case a mob) which can be placed out on strategic positions. It will then automatically open fire at any hostile enemies which come too close to your base.
Wither Turret Max: This is the most powerful turret which creates the most aerial damage. It's recommended to have them stationed far away from your base seeing as they might accidentally destroy parts of your base while defending it.
Replaces wither skeleton
Shoots explosive wither heads (big explosions)
Health: 150 hearts
Attack radius/range: 70 blocks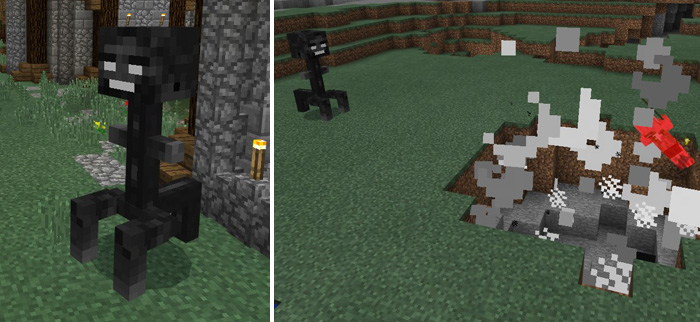 Two-headed Wither Turret: This turret kills individual targets fairly quickly. It will literally spray wither heads at its enemies and usually it should take no more than a few seconds to take down the target.
Replaces stray
Sprays wither heads (small explosions)
Health: 150 hearts
Attack radius/range: 70 blocks

Basic Wither Turret: The following turret is the most easy to find seeing as it spawns in the Overworld (since it replaces skeletons). It fires wither heads at its enemies and it's not as efficient as the other turrets in terms of reloading.
Replaces skeleton
Shoots wither heads (small explosions)
Health: 150 hearts
Attack radius/range: 70 blocks

Installation
Activate the packs for a world in-game