Turn Minecraft into a world of magic with 16 magical items and three potions where each item brings its own unique power or ability.
With the new set of items you can easily get the feel of a more mysterious and wizardry world. Control the time by using the Sun Orb and the Moon Pearl or why not swing the Freezarite Sword at a mob to freeze its movement for a few seconds. It's a fun mod with many different magical functions possible to take advantage of.
Creator: Sidi4eyess
Potions
Drinking potions will give you special abilities. Currently there are three different potions with one unique ability each.
Tear of Cure/Goddess Potion
When drinking it you will gain some extra health.
Crafting recipe: 1 mushroom stew + 4 diamonds + 2 steaks + 2 cooked porkchops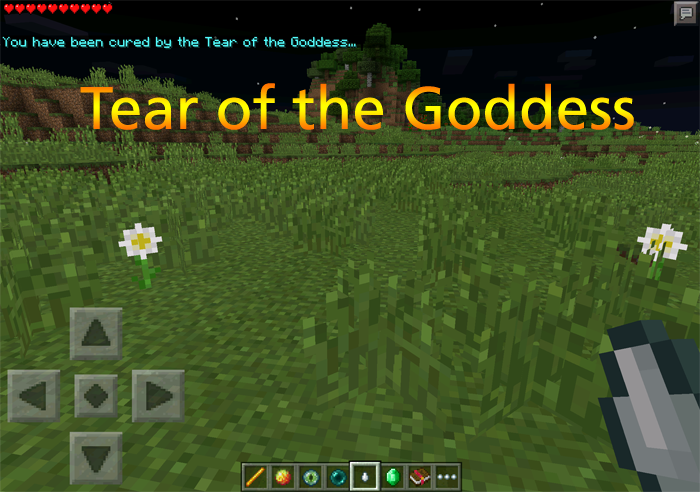 Potion of Ensmalling (ID: 429)
Can be used to turn a fully grown animal into a baby version of it.
Crafting recipe: 1 glass bottle + 1 water bucket + 1 redstone + 1 sugar + 1 snowball
[gallery columns="2" link="file" size="large" ids="8531,8530"]
Potion of Embiggening (ID: 430)
Turn a baby animal into a full grown version of it. Basically the same as the Potion of Ensmalling but the reversed.
Crafting recipe: 1 glass bottle + 1 water bucket + 1 redstone + 1 sugar + 1 cake
Magical Items
The mod adds a total of 16 new items (excluding the potions) which each got its own magical power. Down below you can find a list of all magical items, IDs, their recipes and a short explanation of each.
All Item IDs & Crafting Recipes
Fire Staff (409): Tap on the ground to set it on fire. - 2 sticks + 1 flint and steel + 2 glass panes
Sun Orb (408): Switch from night to day. - 1 coal + 1 flint and steel + 4 gold ingots
Orb Of Death (381): Use on any living mob to kill it instantly. - 1 diamond sword + 4 obsidians
Moon Pearl (450): Switch from day to night. - 1 diamond + 2 bones + 2 feathers
Natures Crystal (388): Plants an oak sapling. - 1 oak sapling + 4 dead shrubs + 4 snowballs
Book Of Necromancy (403): Unleashes the undead. - 1 book + 1 bone + 2 potatoes
Orb Of Diamonds (382): Spawns tons of diamonds wherever you use it. - 1 nether reactor core + 4 diamond blocks
Air Staff (369): Replaces blocks and mobs with thin air. - 2 sticks + 1 diamond + 1 string
The Star of Wither (399): Explodes.. - 1 diamond + 4 glass blocks + 4 glowstones
Spellbook Of Slowness (404): Things get slow. - 1 book + 7 strings
Orb Of Instant (384) - 1 diamond pickaxe + 4 obsidians + 4 glass panes
Freezarite Sword (407): Freezes enemies. - 1 stick + 1 diamond + 4 snowballs + 2 strings + 1 water bucket
Magic Broom Stick (424): Lets you fly. - 2 sticks + 2 wheat + 2 feathers + 2 strings
Water Staff (426): Spawns water. - 2 sticks + 1 diamond + 1 water bucket + 1 water bucket
Teleporting Pearl (428): Tap on the ground to teleport. - 1 snowball + 4 diamonds + 4 coal
Glass Bottle (374): Used to make potions. - 3 glass blocks
Banishing Orb (431): Banishing mobs. - 1 diamond + 4 redstones + 1 blaze rod + 1 birch door + 1 orb of instant (new item)
Potion Of Ensmalling (429): Enlarge mobs. - 1 glass bottle + 1 water bucket + 1 redstone + 1 sugar + 1 snowball
Potion Of Embiggening (430): Shrink mobs. - 1 glass bottle + 1 water bucket + 1 redstone + 1 sugar + 1 cake
Tear Of Cure (370): Heal yourself. - 1 mushroom stew + 4 diamonds + 2 steaks + 2 cooked porkchops
[gallery columns="2" link="file" size="large" ids="8519,8527,8525,8524,8523,8522,8521,8520"]