For anyone that needs a bit of ZAP in their Minecraft lives, we now have … Wizards! If you thought witches were cool (and who doesn't) well, these guys will most happily set them on fire. You too, if you happen to be in the way.
You can find these pyromaniac devils in swamps, if you're lucky, daylight hours (they're a bit scared of the dark). They like emeralds, quite a bit, so if you'd like them on your team be prepared to pay up. Just 'tame' them like you would a pig or tiger or a Keeper Creeper and they'll be yours for life. Three sorts of friendlies – white, green, grey (most common, garden variety wizard).
They will attack ANY hostile mob. They're not the least bit fussy. But if one gets too close they'll run for it, and resume their fireball shenanigans once they've reached minimum safe distance.
You can heal them with their favorite foods – pumpkins and baked potatoes. They'll also, sometimes:
quaff down a healing potion if they're a little under the weather
drink an invisibility potion if they get hit by a projectile
guzzle a fire resistance potion if they get set on fire
And then there's the evil wizards! These horrors also spawn in swamps (when it's dark) and in forests (also when it's dark; spooky). Hostile to anything neutral or peaceful or looks like … you.
A big thank you to odarmamx for identifying a bunch of bugs with these wizard dudes and a bunch of other addons too! You can check out his youtube channel here.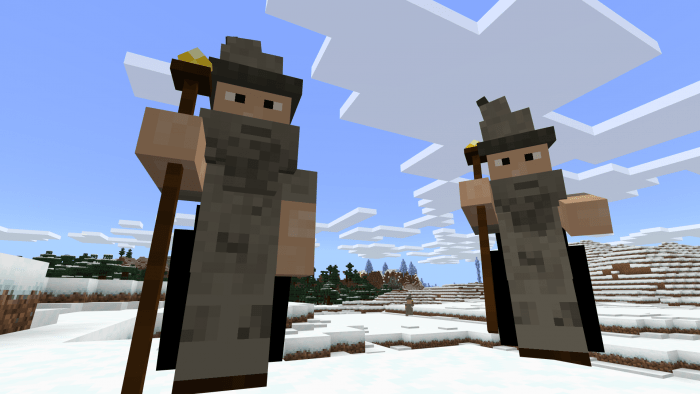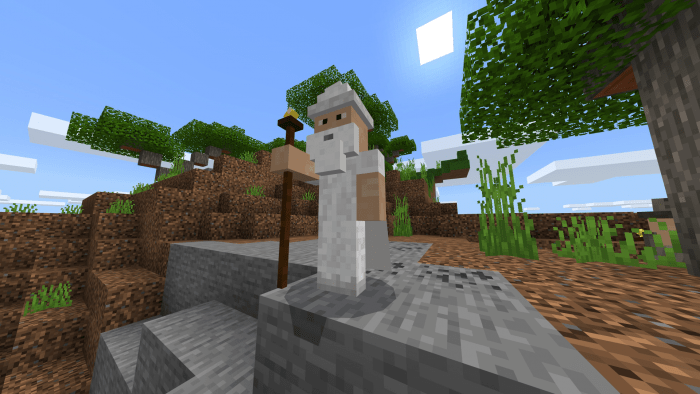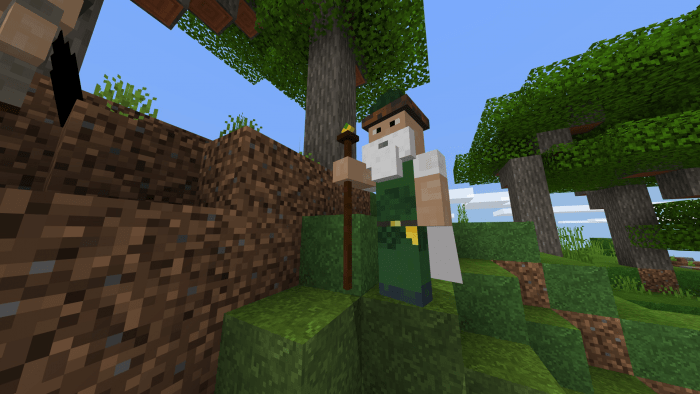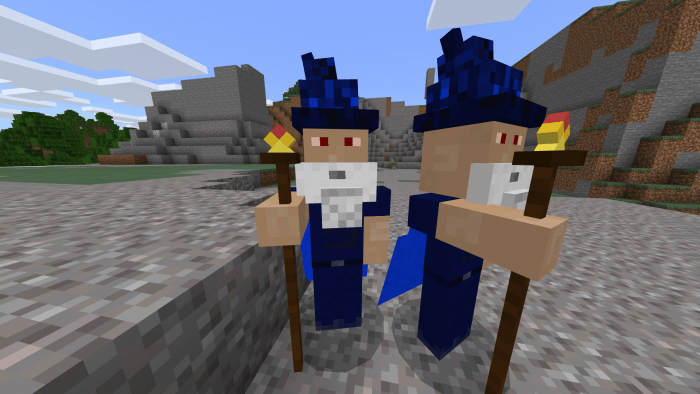 To the magic youtubers out there, if you do a review/showcase, thank you! Please link back to *this page* on mcpedl. Cheers!
Fixed a bunch of bugs (thanks odarmamx!), added some new behaviors to the friendly wizards allowing them to drink different potions under some circumstances, smoothed out some animations, improved sparkle behavior (clearly the most important change).

Re-uploading Android/iOS content due to import issues on some devices.


Confirmed working in 1.14. Improved sparkles, bugfix for fireballs not disappearing, added custom fireballs and added smoke trails on them.

Added sparkle particles when they walk. They're wizards!! Of course they have sparkle particles. Other minor tweaks.

Minor tweaks to the evil wizard (tougher, added more sounds, creepier than ever), properly fixed the wizard stupid coughing sound.

Added some new wizards (white, green), removed the stupid cough sound that sounded like a mob being whacked. Replaced it with a different stupid cough sound.

Added some new sounds for both wizards; the evil wizard now has unique (and evil) sounds.

Added evil wizards, fixed a few minor issues, added animations, sound fx.

Downloads
Supported Minecraft versions
1.16